Focused on student involvement, SGA president is ready to lead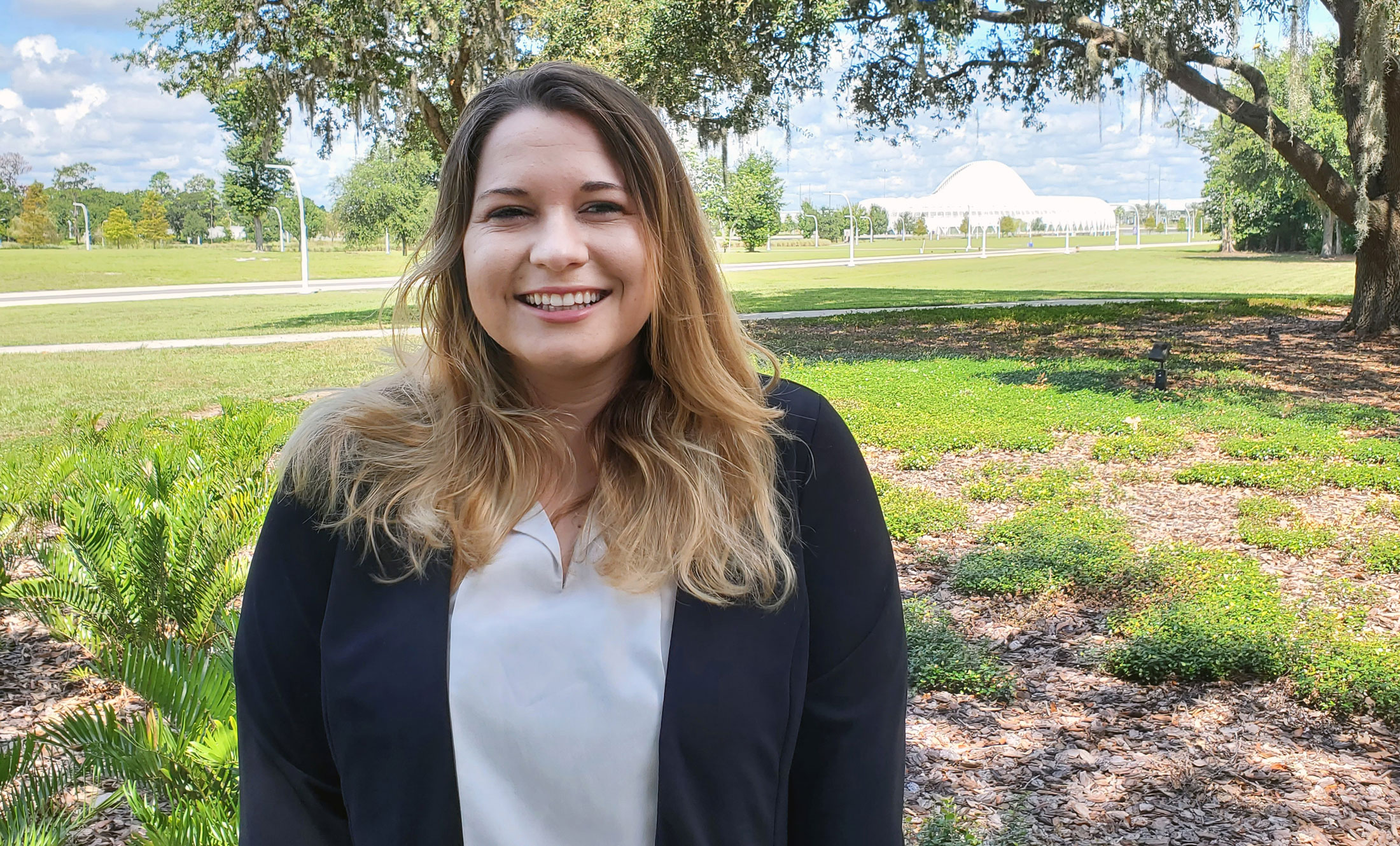 With an agenda that includes strengthening student organizations, increasing student resources, and helping the University community move beyond the COVID-19 pandemic, Samantha Ashby has hit the ground running in her new position as Student Government Association president at Florida Polytechnic University.
"Right now, the big focus is coming back after a year of being partially online because of COVID," said Ashby, a senior majoring in mechanical engineering. "We are coming back with events for students and worked with CAB (the Campus Activities Board) over the summer for Purple Fire events."
As student events return to campus, Ashby said there is one important action all students should take to ensure in-person activities can happen as planned.
"The biggest thing we can say over and over again to students is to please get vaccinated for COVID-19," Ashby said. "For us to host large events this semester, students have to be vaccinated so it can occur in the manner that they want."
Free vaccination clinics were held on campus on Aug. 21 and Aug. 23, and student leadership will be also working on ways to incentivize vaccination, she said. Additionally, Ashby is encouraging all larger events to have smaller components so that students who may not be comfortable in larger crowds can still participate.
The back-to-school activities are only the beginning of the big plans Ashby and SGA have in store this academic year.
"My biggest priority is increasing student involvement on campus and bringing back the clubs and organizations that were affected by COVID and expanding them," she said. "There will also be a big focus on expanding student services."
Ashby said additional priorities include addressing student housing and food insecurity, and working with the University to help students affected by COVID-19.
As a natural-born leader, her desire to help others and make a difference on campus was a big reason Ashby chose Florida Poly for her education, she said.
"When I was looking at Universities, I saw in Florida Poly a blank slate where if there is something you are really passionate about, you could probably make it happen," said Ashby, a graduate of Timber Creek High School in Orlando, Florida.
Ashby joined the SGA in her freshman year and never looked back. Among the accomplishments the association has achieved while she has been a member were creating Phoenix Link, an online home for clubs and organizations, and changing the format of Club Row to increase student involvement.
Ashby's time is at a premium this semester with campus employment, SGA duties, coursework, and projects, but she said she wouldn't have it any other way. She encourages all other students who want to get involved to find what interests them and join in.
"It's hard to succeed when there's not also something that you're really enjoying and that you're passionate about," she said. "It's an exciting time to be on campus, and if there's a student that has an idea of something they really want to do, all they need to do is reach out and get involved."
Contact:
Lydia Guzmán
Director of Communications
863-874-8557