Chemistry practice wins national award for lab innovation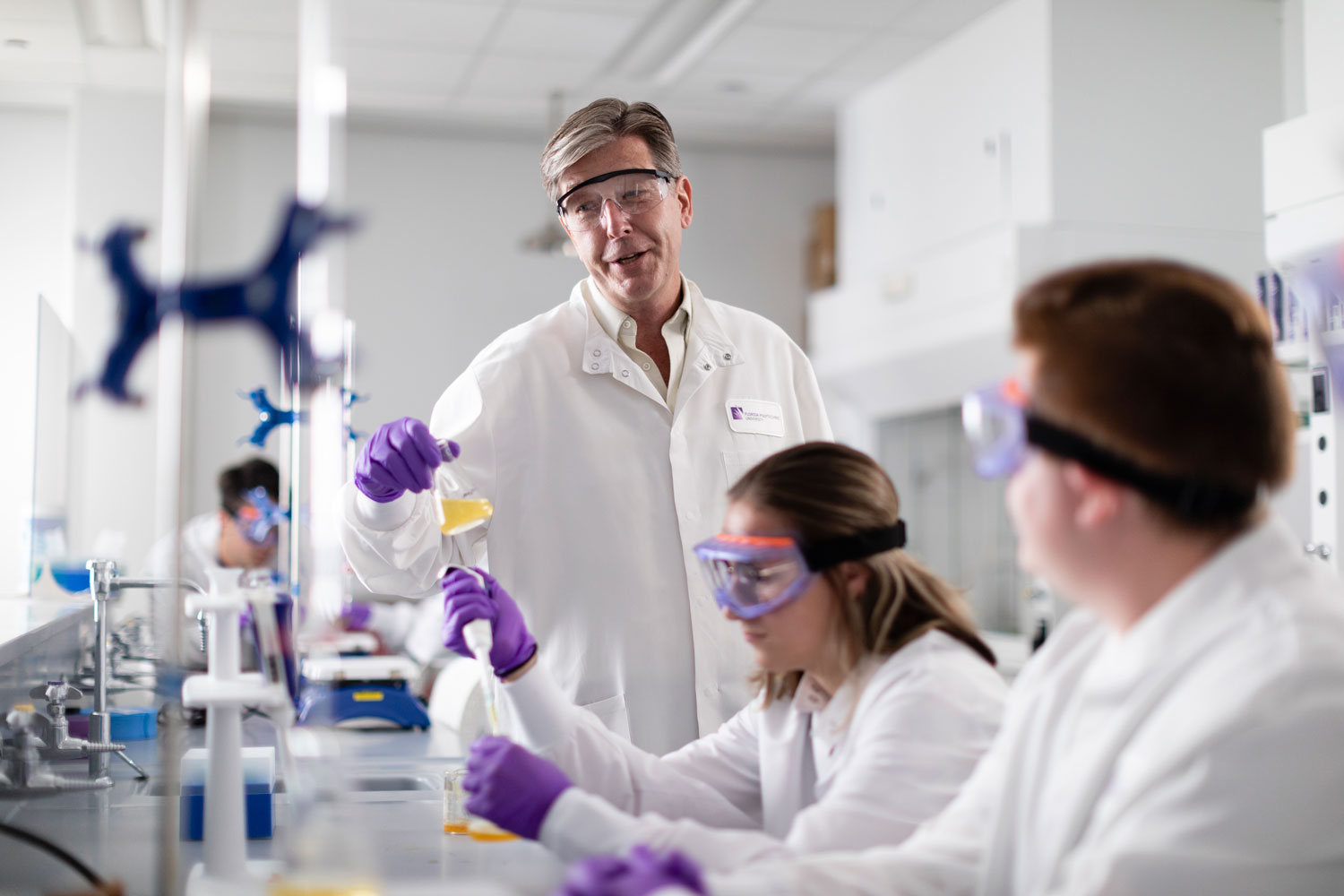 An effort to shift chemistry lab practices and reduce the amount of hazardous waste produced during the completion of student lab experiments has won Florida Polytechnic University Environmental Health and Safety (EHS) a national award for innovation.
Dr. Scott Wallen, chemistry lab staff in the Department of Environmental Engineering at the University, and the team received the 2021 Innovation – Resource Enhancement (Small College) Award from the Campus Safety, Health, and Environmental Management Association (CSHEMA).
"When universities perform labs, we generally dispose of all the hazardous wastes afterward," Wallen said. "This idea is basically using a circular economy paradigm for managing the lab itself. Under our process, the waste from one lab can be used as starting material for another lab."
In 2016, Wallen and EHS received a CSHEMA commendation in the Innovation Award category for the idea. The current accolade is for the way Florida Poly has put the idea into practice over the past several years.
In one experiment, a power circuit board fabrication lab, students would produce a large amount of waste each semester that was collected and removed by a hazardous waste disposal company. Wallen decided to swap the iron chloride reagent in this experiment with copper chloride, which is reusable and generates a different waste product that can be used as a starting reagent in different experiments in Chemistry 1 and 2.
"We went from tens of gallons of waste per semester to about a liter of waste per semester, and that liter of waste is being reused," he said.
The effort has expanded beyond the initial laboratory experiments and has been used in experiments for different courses. Wallen said the results have been positive, leading to reduced hazardous waste production, savings on purchased materials, reduced overall costs for implementing undergraduate science laboratories, and introducing engineering students to sustainable processes.
"This shows our commitment to sustainable approaches in the lab," Wallen said. "I think all lab management should be done in this way. This can be accomplished for the majority of labs in general chemistry."
In the last several years, Florida Poly students also have participated in developing the process, he said.
Wallen said institutions that try to work toward the goal of sustainability should look beyond a single focused laboratory course and expand these concepts to lab management. He said very few labs nationally are even attempting to implement sustainable practices like these.
"If you could do a zero-waste approach while maintaining educational outcomes, administrators would see that as a positive thing because it reduces the costs of waste itself and the cost for chemicals," he said. "I am very proud we are at the forefront of this important work in sustainable lab practices."
Wallen will present the work at the American Association for the Advancement of Sustainability in Higher Education's (AASHE) 2021 global conference in October. He also is preparing a journal manuscript to share the work with colleagues at other universities.
Contact:
Lydia Guzmán
Director of Communications
863-874-8557