Students, employers connect at hybrid fall career fair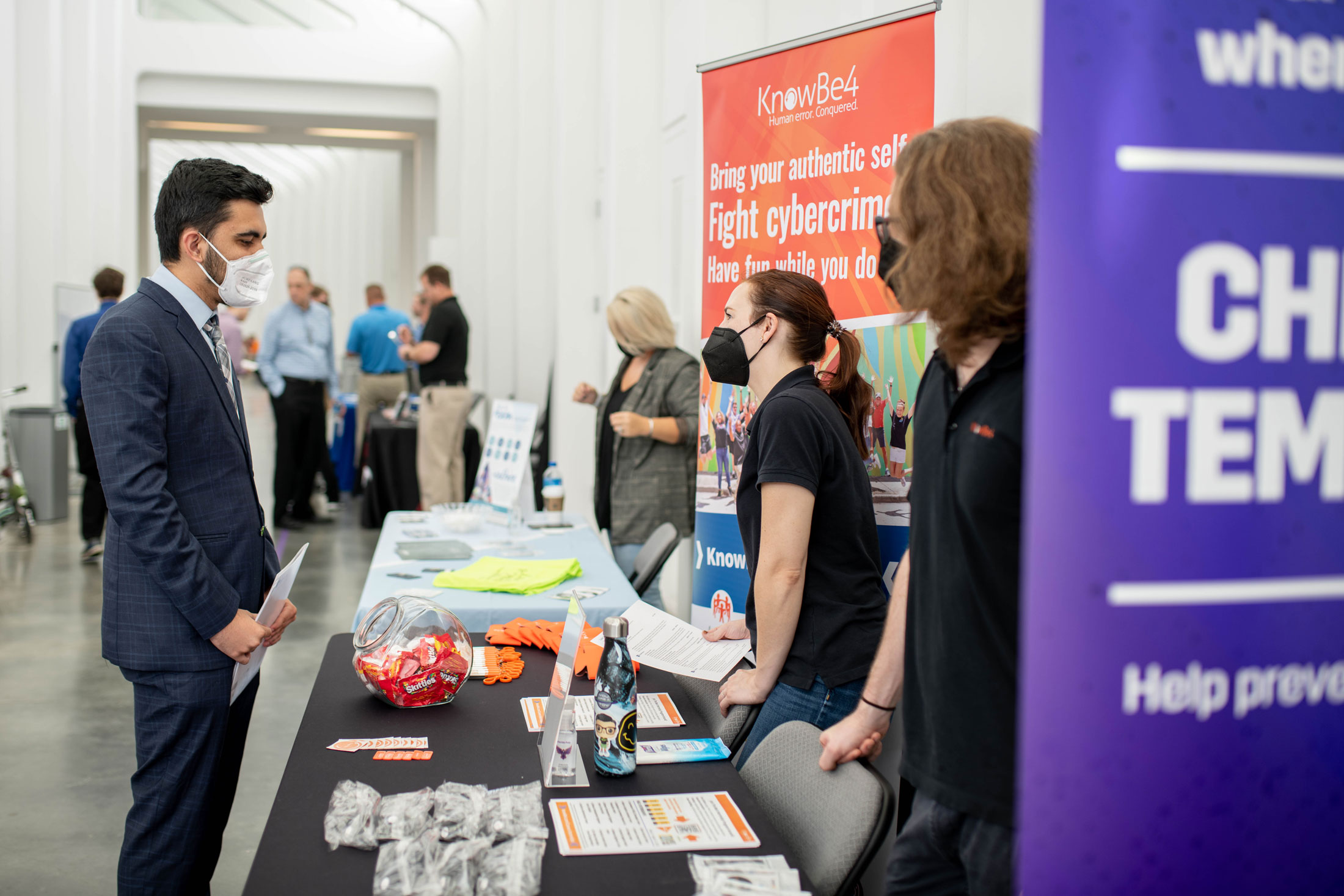 Ryan Sobolewski donned his sharpest business wear and set out to impress the recruiting representatives from high-tech companies looking for team members at the Fall 2021 Career and Internship Fair at Florida Polytechnic University on Thursday, Oct. 7.
Although he was eager to meet with many of the companies present, Sobolewski had his heart set on making a connection with the state's largest employer.
"Disney has a booth and my dream is to be part of their Imagineering team," said the senior computer engineering major, who currently works as a lifeguard at the company's Central Florida resort hotels. "I've always been inspired by the magic and have wanted to be a magic maker. I love my job so much and I can't imagine how amazing it is when it comes to engineering."
The Walt Disney Company was among the more than 40 companies who participated in the hybrid career fair both in person and online. It was the campus' first in-person career fair since fall 2019.
"Having a career fair in person really shows the level of commitment the University has for our students," said Pairris Jones, Florida Poly's associate director of career development. "We are making this happen in a safe and enjoyable way for the students and recruiters on campus."
Among the employers present at the event was engineering firm Chastain-Skillman.
"We recently learned about Florida Poly's environmental engineering program and we wanted to get our name out there and talk with students who might be interested in joining our team," said Chastain-Skillman recruiter Pamela Rodriguez, who attended in person.
For senior Brandon Ervin, the event was a bounty of opportunity.
"I am graduating, so I'm looking for a job and have talked to three or four companies that are looking for logistics positions so far," the business analytics major said. "I know exactly what they want and I know exactly what to tell them. It's going well."
Kaitlyn Rockey, a junior majoring in mechanical engineering, was hopeful that she would find an internship opportunity at the career fair, and encouraged other students to attend similar events in the future.
"Even if you don't get an internship from this, it's a good opportunity to network with employers outside the University," she said. "It's a great way to connect with different companies and see where it goes."
Contact:
Lydia Guzmán
Director of Communications
863-874-8557