New applied mathematics chair brings wealth of research, curriculum experience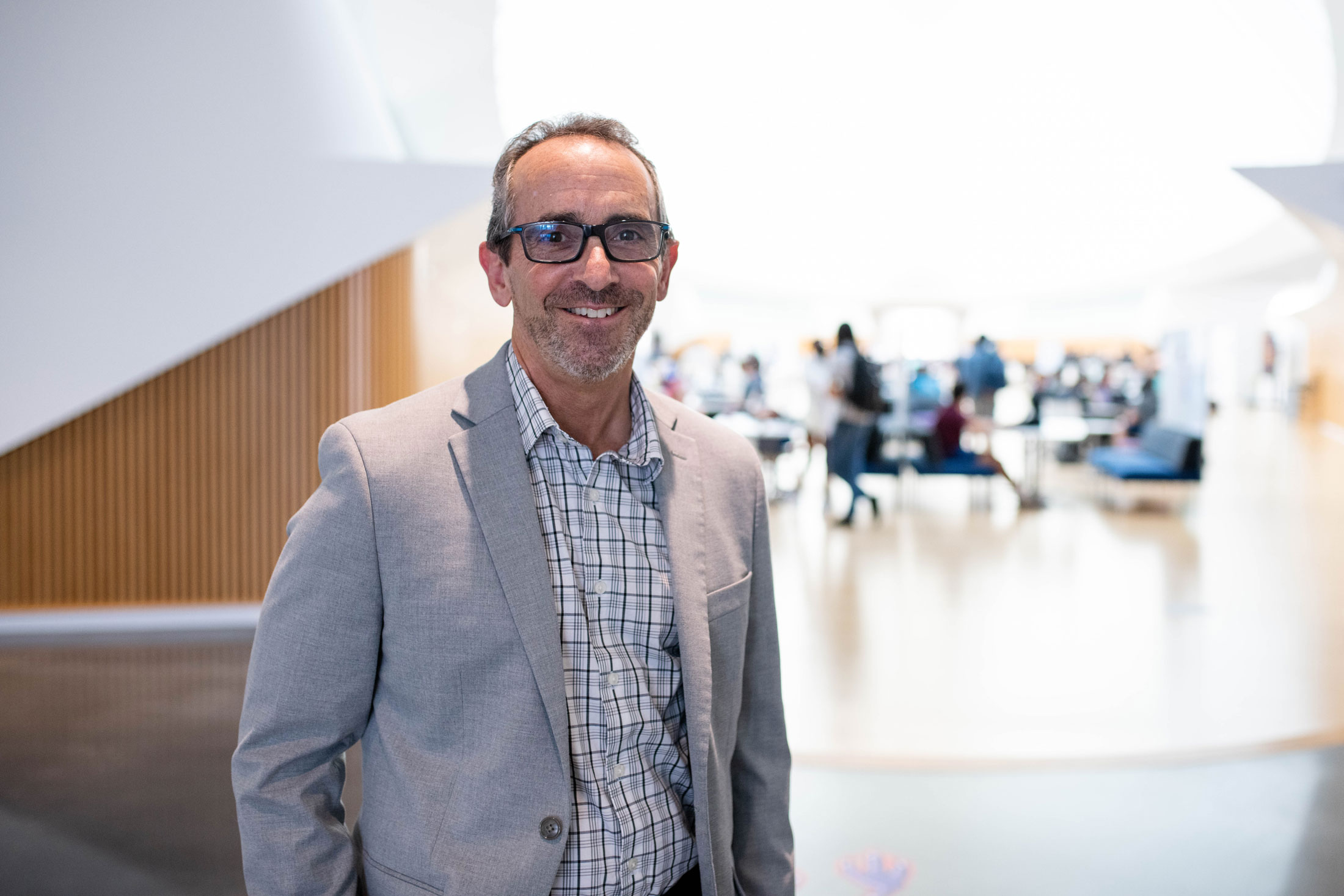 As the new chair of Florida Polytechnic University's Department of Applied Mathematics, Dr. Michael Brilleslyper is working on a formula to elevate the department to the next level.
"The idea is that applied mathematicians are versatile," said Brilleslyper, who joined the University this summer after a 21-year career at the Air Force Academy. "Students with an applied mathematics skillset can contribute across multiple STEM fields."
While at the Air Force Academy, Brilleslyper served as a professor, academic director, senior academic advisor for strategy, and division chief in the Department of Mathematical Sciences. Brilleslyper's recent research has focused on topics such as summation formulas, coprime graph labeling, and unimodular roots of quadrinomials. Additionally, he has published work and been invited to present on topics including curricular reform, technology implications, and teaching innovations in mathematics and calculus.
Soon after arriving at Florida Poly this fall, Brilleslyper began working on a plan to update the department's curriculum to reflect the versatility of the discipline. This work is a continuation of a department-wide effort at the Air Force Academy to modernize the curriculum in response to a nationally high rate of failures among calculus students pursuing majors outside mathematics.
"We realized the problem wasn't with the students; it was with the curriculum," Brilleslyper said. "Mathematics can seem abstract and often feels disconnected from practicality. We worked with recognized experts in the field to modernize the curriculum to make it accessible, relevant, and current."
This means shifting focus away from relying exclusively on algebra skills in teaching calculus and instead showing how it relates to modeling, computing, and data.
"You have to show how the math is applicable to data, and that doesn't just mean statistics," Brilleslyper said. "The way modern STEM fields are done is with computers, so if we're teaching all mathematics that looks like the 19th century, there's a disconnect."
One of the first big changes he has already made to his department is transitioning the engineering mathematics major to a degree in applied mathematics.
"We've given it a broader focus and one of the things we're really excited about is students who choose to be mathematics majors will have to do a four-course interdisciplinary sequence in another department," Brilleslyper said. "The idea is that applied mathematicians are very versatile, so students can pick something they're interested in – maybe data science, mechanical engineering, or advanced physics courses – and they can put together a four-course, upper-division sequence in that."
Brilleslyper, whose industry-recognized work includes curricular reform and teaching innovations in mathematics and calculus, said Florida Poly is an ideal setting to bring to life an outside-the-box approach to mathematics.
"This is a perfect environment to have a very modern, progressive, integrated curriculum that meshes with engineering, physics, and computer science," he said. "We're a small school. We share the same students. We should be able to really have a nice fit between what the various departments are doing."
Brilleslyper said he and his wife, Mary Ann, are happy to be settled in and getting to work in Lakeland, Florida.
"I feel optimistic that we can do some really cool stuff here at Florida Poly," he said.
Contact:
Lydia Guzmán
Director of Communications
863-874-8557