Renowned engineering academic joins Florida Poly as department chair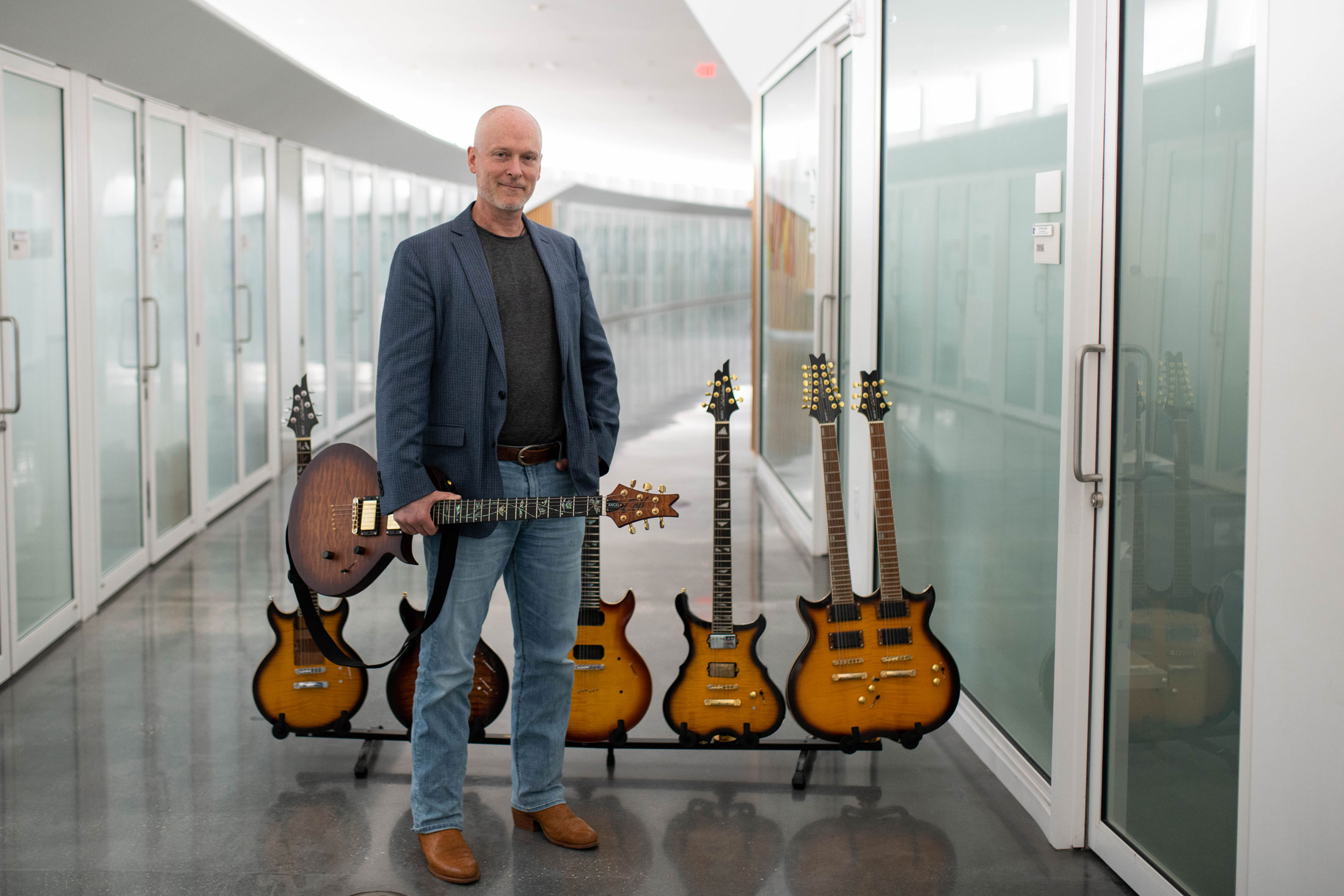 When introducing students to electrical and computer engineering, Dr. Bruce Jacob has an eye-catching visual aid that grabs their attention.
"I walk out with an electric guitar, point to the front, and say, 'This is electrical engineering.' There's a powerful inductor, which is a type of antenna that's good at picking up disturbances in magnetic fields and it produces a signal in time with the strings' vibrations," he said. "Then I show them the backside of the guitar where there's a bunch of circuit boards there to simplify the wiring and say, 'This is computer engineering.'"
"I explain these fields are not necessarily what they think they are. They are really broad and have a lot of stuff going on," he added.
Jacob joined Florida Polytechnic University this fall as the new chair of the Department of Electrical and Computer Engineering. Recognized internationally as a leading expert on computer memory systems, the Harvard graduate comes to the University after spending 25 years at the University of Maryland as a professor.
Jacob is founder of the annual International Symposium on Memory Systems, has written two textbooks on memory systems, and published more than 80 articles. He is a Fellow of the Institute of Electrical and Electronics Engineers and currently designs system architectures and computer memory-system architectures for both industry and government.
"In Maryland, I built my personal research program. But I want to build a department – something that has more impact than just me, and Florida Poly is the perfect place," Jacob said. "When I was considering the job, I was told we want to do whatever we can to turn Polk County into a high-tech corridor, solving industry problems and encouraging entrepreneurship. This is what I've been trying to tell my students for years."
Under his leadership, the electrical and computer engineering department is poised to take its next steps in expanding its research and industry presence.
"We have really smart students and I've been encouraging the faculty to get even more involved in doing highly practical research so they can solve real-world problems and involve their students," Jacob said. "We can teach our students how to solve industry problems while also teaching them the right skills and making them more employable."
Jacob also would like to establish semiconductor manufacturing at Florida Poly.
"One of the things that has come to light recently is our country doesn't have enough manufacturing in the semiconductor space," he said. "If you make chips that work and teach students how to manufacture them, they can join companies or start their own."
Jacob followed his own entrepreneurial calling several years ago when he combined his lifelong love of music with professional curiosity and invented a new type of electric guitar with exceptionally optimized sound.
His interest in music began when he started playing the violin and cello in elementary school and he soon picked up the guitar and began playing in rock and roll bands in St. Petersburg, Florida. Today, Jacob jams with Florida Poly employees and students in the Simulation, Instruction, and Media Lab on campus every week.
"We have some really talented people here and there are students with great voices and skills. They're so good they make me fade into the background," he said.
Contact:
Lydia Guzmán
Director of Communications
863-874-8557