German Fulbright scholar explores novel optical fibers at Florida Poly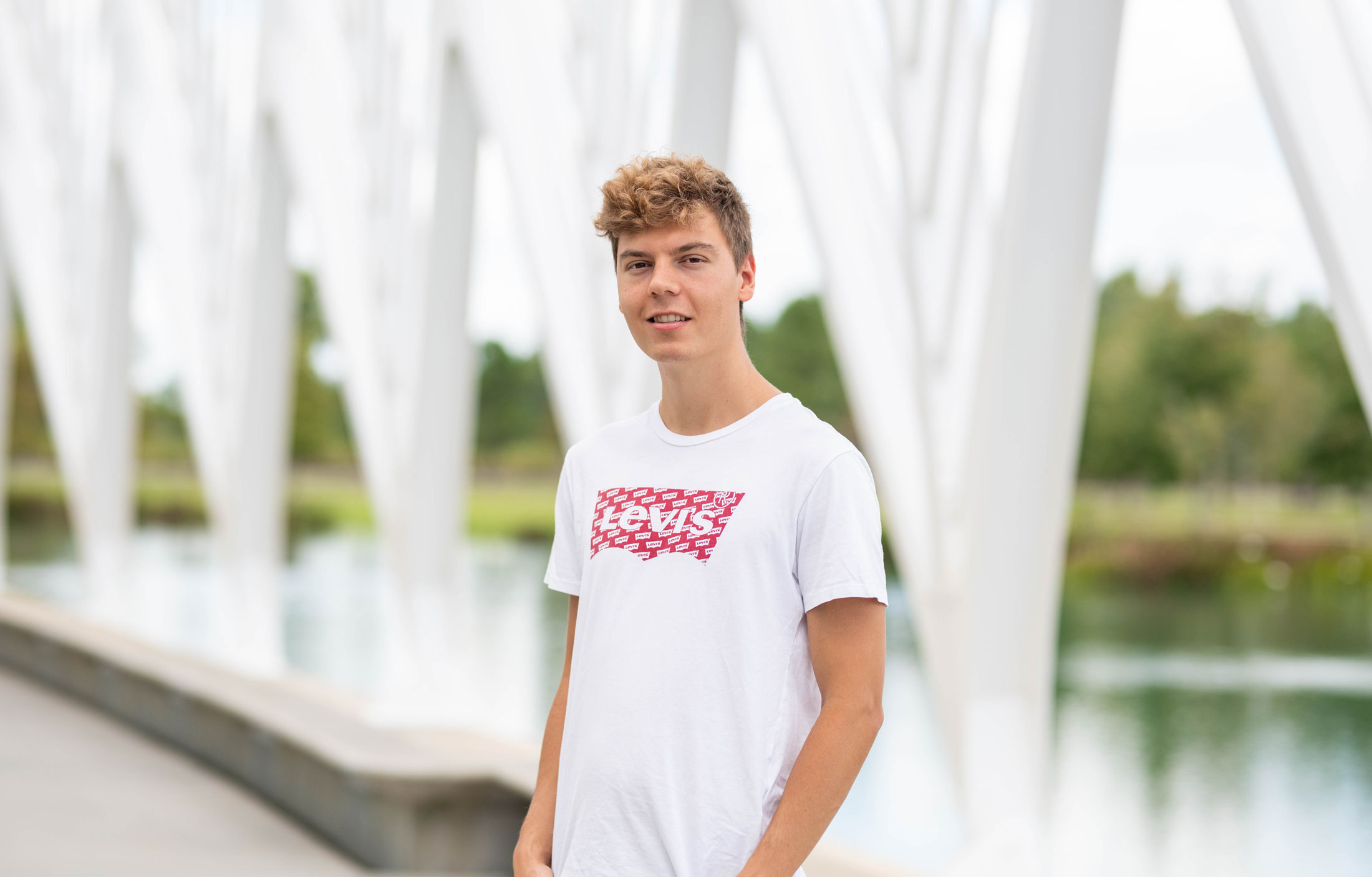 Michael Petry is a world away from his hometown of Karlsruhe, Germany, but he says he's exactly where he needs to be.
Petry is a Fulbright Scholar pursuing a master's degree in engineering on an electrical engineering track at Florida Polytechnic University.
"The main focus of my studies here is research in the field of optical fibers with Dr. Md Selim Habib. We will work on analyzing and optimizing novel optical fiber geometries with the help of physical simulations," Petry said. "I want to understand the physics of information transfer in a glass fiber."
Optical fibers are very thin, flexible fibers that facilitate rapid data transmission via light particles. The technology is used for applications such as computer networking, broadcasting, endoscopic surgery, and automotive technology.
Petry is working on novel optical fibers to optimize their characteristic properties, such as increasing the data transmission rate and reducing transmission loss. He said he is excited about the opportunity to expand his academic experience through work in this innovative research area.
"Since I studied for my bachelor's degree at a university of applied sciences in Germany, I have not yet been able to gain much experience in the research field," he said. "In order to set foot in this area and to get started in active research, I have set myself specific goals, which consist of publishing journal articles and papers for my master's thesis in the field of optical fibers."
Petry's interest in this high-tech field was sparked in high school where he took courses in electrical engineering and mechatronics.
"I like taking on things in general. I like to figure out how they work, and I figured that electrical engineering is a demanding field and the perfect base for understanding lots of technical things," he said. "That's why I came to Florida Poly, to try something totally different and seek further challenges."
Part of the Fulbright experience that attracted Petry to Florida Poly was the chance to encounter a different culture and climate.
"Coming from a sometimes cold and rainy Germany, I really enjoy the fact, that it's always summer here." Petry said. "My experience so far is the people are very friendly and the culture is very welcoming here at the University and the country in general, especially for internationals. I'm having a great experience."
When he completes his degree in the spring, Petry plans to return to Germany and continue his work at SEW-EURODRIVE, a manufacturer of power transmission products and services. He hopes to one day either found his own company or secure a position in the aerospace industry.
Mustapha Achoubane, Florida Poly's associate director of international relations, said Petry is an outstanding representative of the Fulbright program.
"We have been very fortunate to host Fulbright scholars, each of whom is destined to achieve wonderful things," Achoubane said. "Florida Poly is proud of the role we are playing in their success."
Contact:
Lydia Guzmán
Director of Communications
863-874-8557