Inaugural Impact Summit and Presidential Speaker Series take flight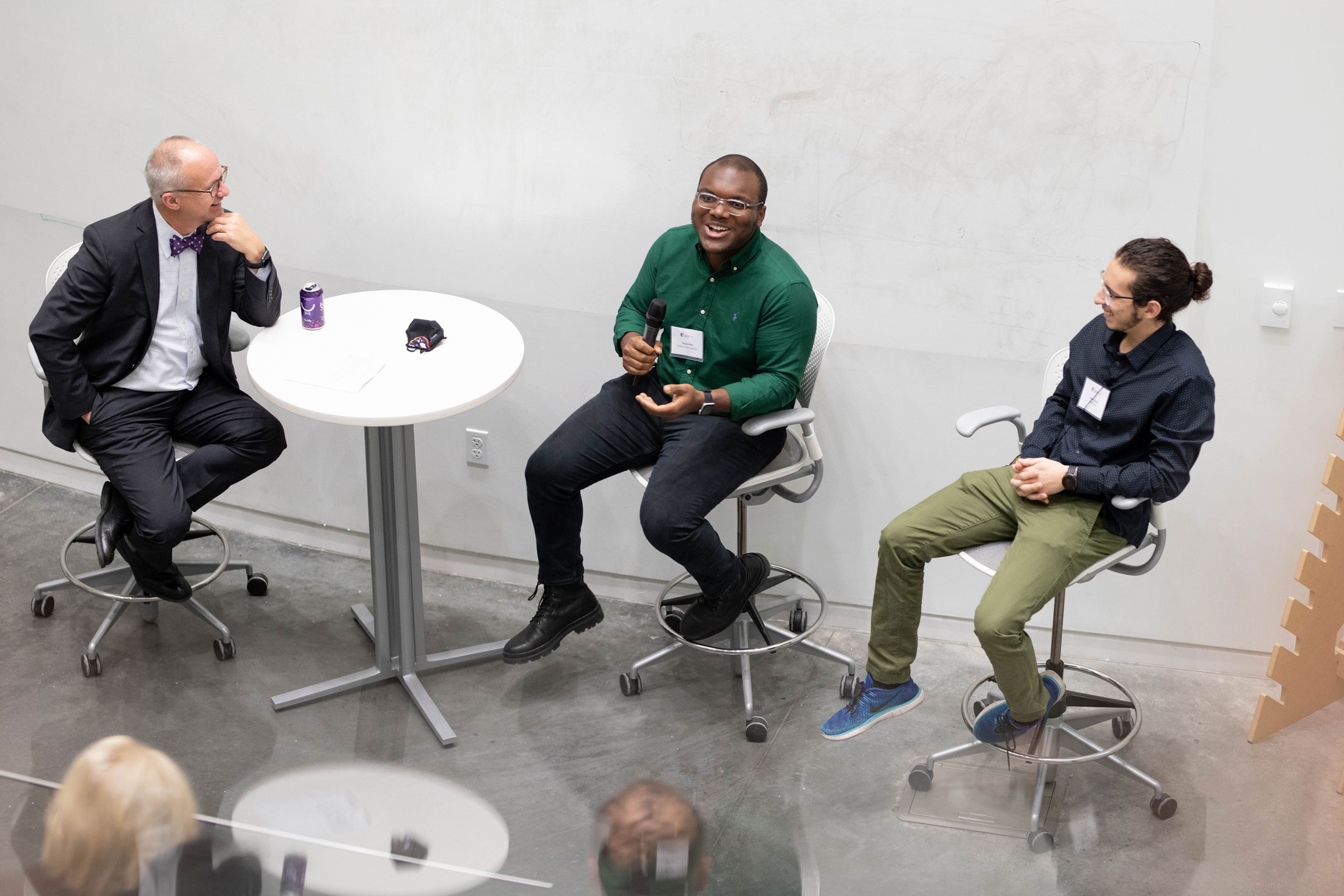 Business and community leaders joined Florida Polytechnic University leadership, faculty, students, and alumni on Tuesday, Nov. 16, to discuss the state of cybersecurity during the inaugural Florida Poly Impact Summit and Presidential Speaker Series.
The event, hosted by the University's Corporate Impact Network, is the latest effort by Florida Poly's Office of Advancement to deepen the strong connections between the University and its supportive business community. More than 40 people attended the event in the Aula Magna inside the Innovation, Science, and Technology Building.
Lakeland, Florida, Mayor Bill Mutz, attended and said this kind of event can make a difference in young lives.
"I love any opportunities we have to interface with students," he said. "It inspired me as a student when I had adults do that in my life, and it's fun to reflect and think if there are some nuggets you could share that would be of value to someone else."
This ability to engage with Florida Poly students about emerging issues in science and technology is one of the drivers of the event, said Kathy Bowman, vice president of advancement.
"This is a natural outreach to our partners and potential partners in STEM industries across the state of Florida," Bowman said. "Corporate partners are directly affecting the future of Florida by helping Florida Poly prepare highly skilled students to step into many of the 55,000 unfilled STEM jobs in the state."
The event featured a presentation by Dr. Karim Elish, assistant professor of computer science at Florida Poly and an expert in malware analysis and detection and software security. He discussed his cutting-edge research on detecting malicious Android apps, how ransomware affects businesses, and best practices to prevent harm.
Russell Miller, chief technology officer at cybersecurity company OPSWAT, said Elish's research is very valuable due to the current cybersecurity landscape.
"It's very important work and the sort of thing that directly relates to what we do as a company," Miller said. "One of the very recent things I've been dealing with is malware detection on Android phones and how we can improve that, so it's very relevant."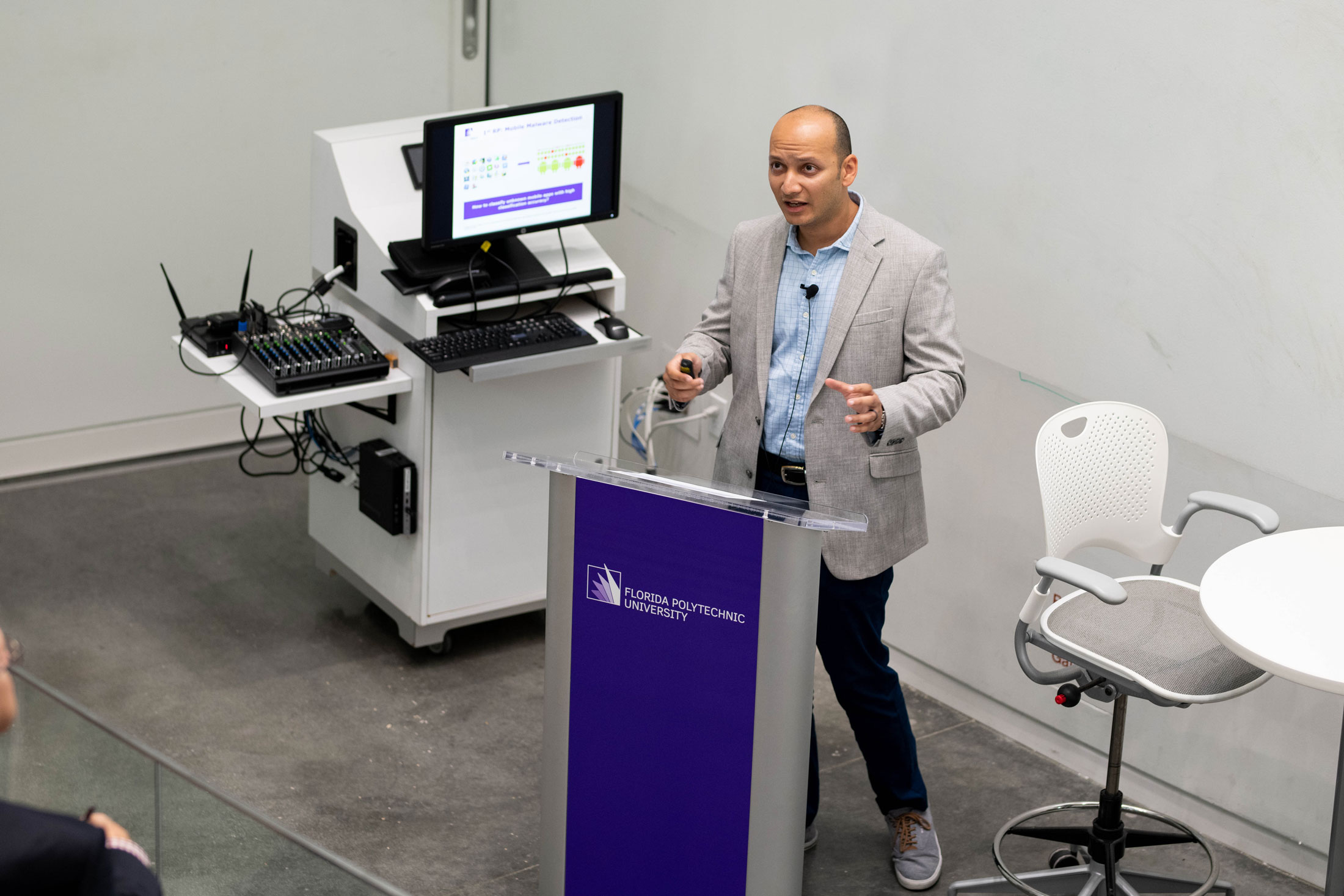 In addition to Elish's presentation, the Presidential Speaker Series included a panel conversation with Dr. Randy K. Avent, Florida Poly's president; alumni Travis Hills '19, information security analyst at Saddle Creek Logistics Services; and Bryan Urias '20, information security manager at JustProtect. The alumni shared their experiences working in cybersecurity and offered advice for students to succeed.
"I want people to understand how organizations from the financial services industry to the construction and manufacturing industry are all parts of the same cyber supply chain," said Urias, who earned his bachelor's degree in computer science with a concentration in information assurance and cybersecurity. "I am incredibly excited to be invited to this event because I have a burning passion for meeting new people and learning how cybersecurity affects their industry."
The next Florida Poly Impact Summit and Presidential Speaker Series event will be held during the spring semester.
Contact:
Lydia Guzmán
Director of Communications
863-874-8557