Capstone design team brings bionic physical therapy machine to life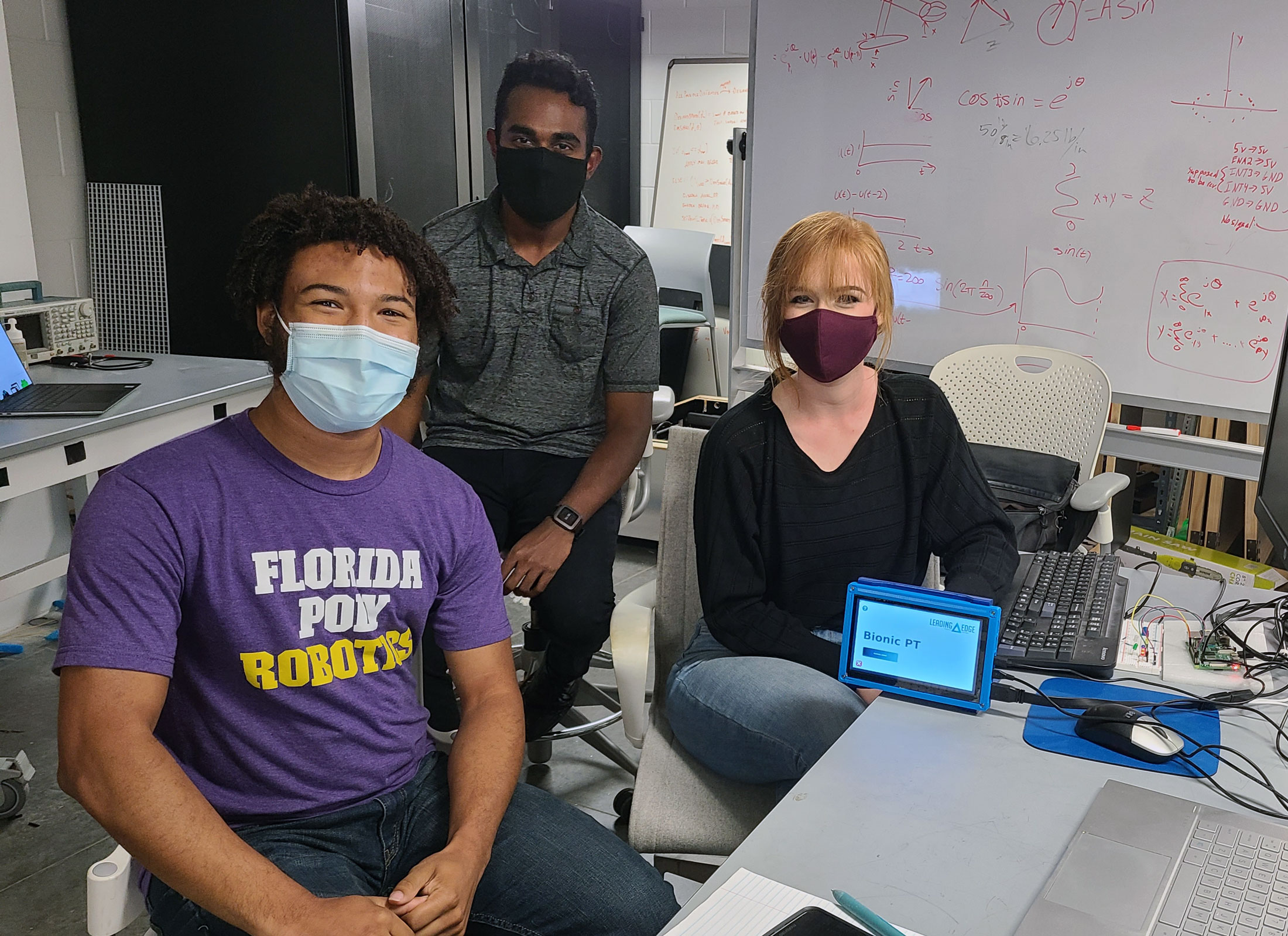 Physical therapist Mike Ryan had a bright idea to improve his industry, so he turned to Florida Polytechnic University students to make his dream of a bionic physical therapy machine a reality.
An interdisciplinary team of seven capstone students is now working to modernize a machine that it can be set to apply different amounts of pressure to specific parts of the body. Ryan, the project sponsor and owner of Leading Edge Physical Therapy in Lakeland, Florida, said the purpose is to make therapy a smoother experience and ease physical strain on therapists in the future.
"I'm amazed by the work the team is doing," Ryan said. "I think this has tremendous potential for the medical community, especially for therapists."
Akshad Patel, a mechanical engineering major working on the project, said the existing version of the machine is very analog-based with a button to move the linear actuator and a red display screen, similar to an old alarm clock.
"We are redesigning it to have a sturdier frame, interchangeable heads, and a touch screen-based platform so it is more customizable," Patel said.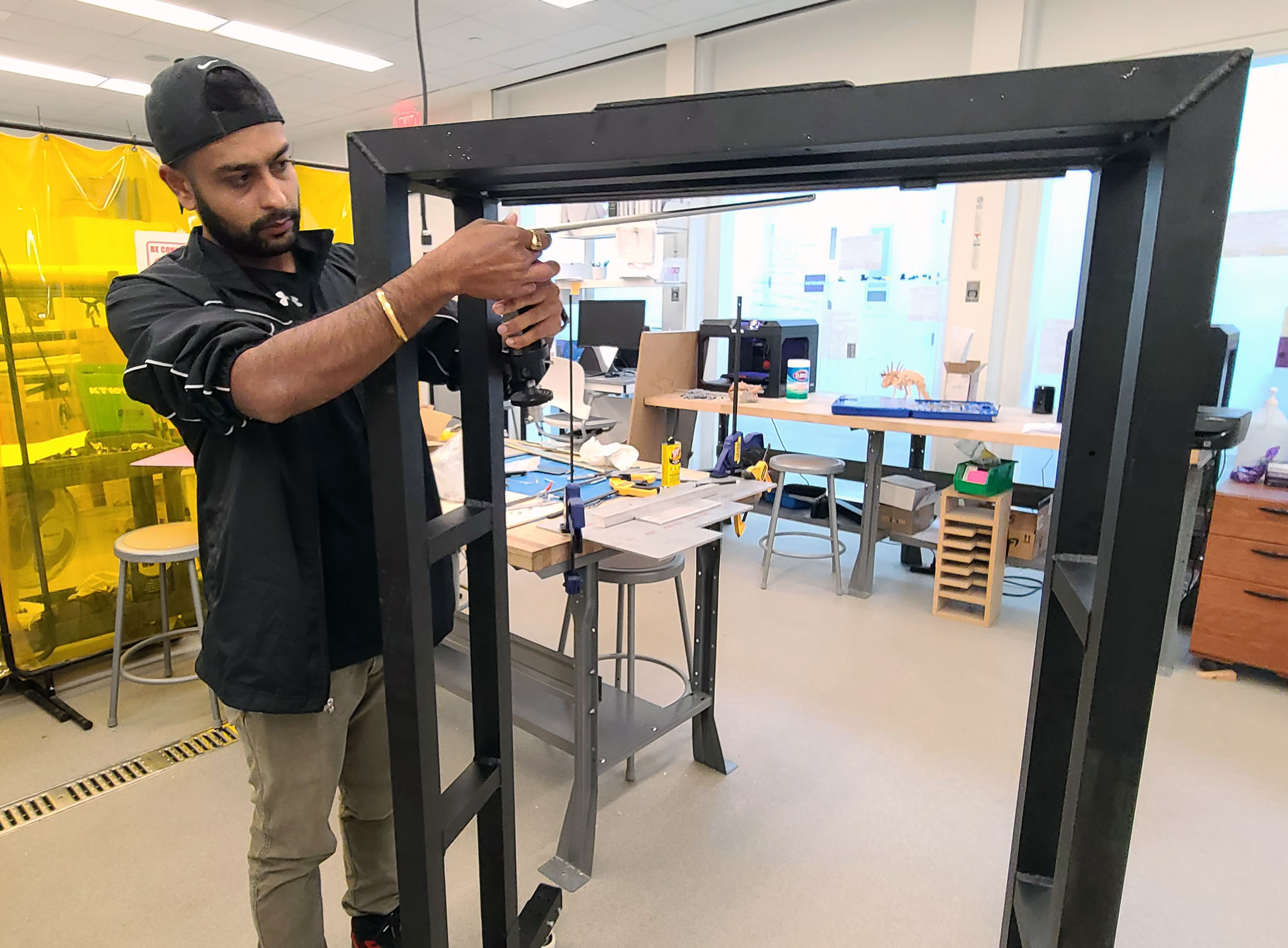 Patel, who has worked for years in his family's gas station and property management business, is putting the management experience he gained there to work as the project's lead. Also working on bringing the machine to life are seniors Chevaughn Brown, Sabena Culmer, Antonio Hendricks, Kevin Racktoo, Dustin Ramsey, and Elisa Rexinger.
Rexinger, who is part of the computer engineering team alongside Racktoo and Hendricks, created the machine's user interface and designed its user experience. She said the quick work pace, team cohesiveness, and engaged sponsor have made the project successful.
"What has allowed us to succeed is an agile methodology," Rexinger said.
Brown, a business analytics major, is working on the project's analytics, conducting market research, and providing a cost-benefit analysis to inform the sponsor about the machine's viability as a product.
"As an analyst, I'm responsible for relaying important information, and that's a vital role," Brown said. "I like to innovate and add value to whatever I'm doing."
Racktoo has been working on wiring components together to ensure control between the computer systems and the device's electrical signals. He said the capstone project has provided a window into what life in the professional world will be like.
"We're getting good insight," Racktoo said. "When you're communicating with different teams, you have to simplify things or explain them in terms that other people can understand in order to get a final product in which all the components are working."
The project is a considered a super capstone, which combines two semesters worth of work into a single term. All team members graduate this December.
"It's interesting experiencing a year's worth of project in a single semester, and I'm happy that we were able to do it," Hendricks said. "Our whole team has been able to effectively communicate and build off each other."
Contact:
Lydia Guzmán
Director of Communications
863-874-8557