Student-created video games draw big crowds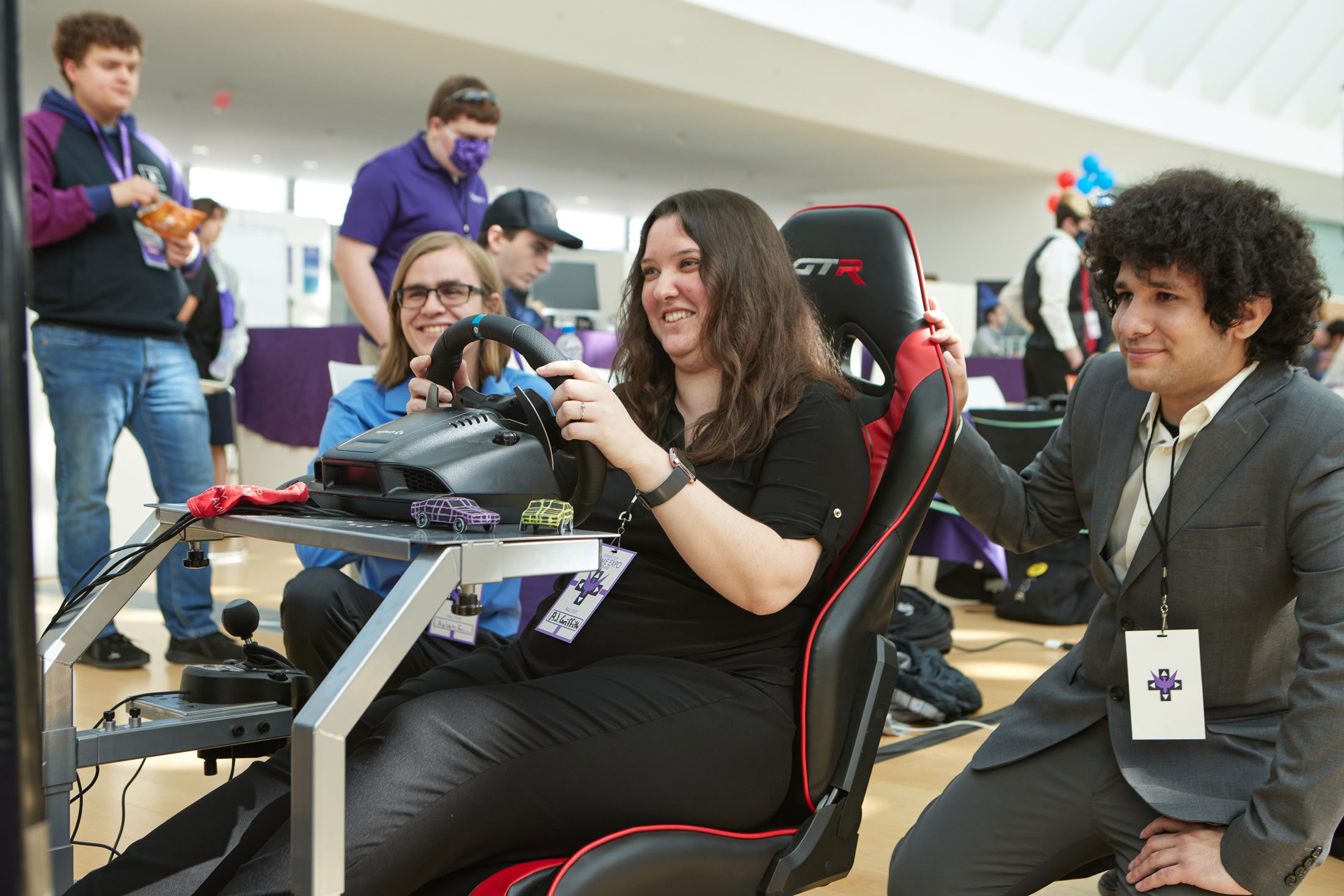 For the first time in two years, the Florida Polytechnic University Fall Game EXPO returned to in-person gameplay on Saturday, Dec. 4, energizing student game developers and attracting hundreds of game-loving high schoolers to campus.
Sophomore computer science major Ryan Celentano's game was one of 23 that were showcased at the event. He created the game "Deja Drift" with two classmates, displaying it with an impressive gaming set up complete with a lifelike driving simulator. The game had a line of interested players throughout the event and won third place.
"It's a point-based game where you're driving a car through a sandbox to try to get as many points as you can in five minutes, but the twist is after every minute it resets where your car position is and that minute gets recorded and played back in the game as another car," Celentano said. "I think it turned out really good – the physics are surprisingly realistic."
Event organizer Dr. Bradford Towle, assistant professor of computer science, said this semester's games are excellent representations of the game development education Florida Poly provides.
"The gameplay is very stable and smooth, and I think the games are amazing as far as how fun they are to play," Towle said. "I want all our visitors to realize that this is not just another game development program. This is a computer science program that deals with really technical elements and technical problems. I want people to see this is what you can do when you come to Florida Poly."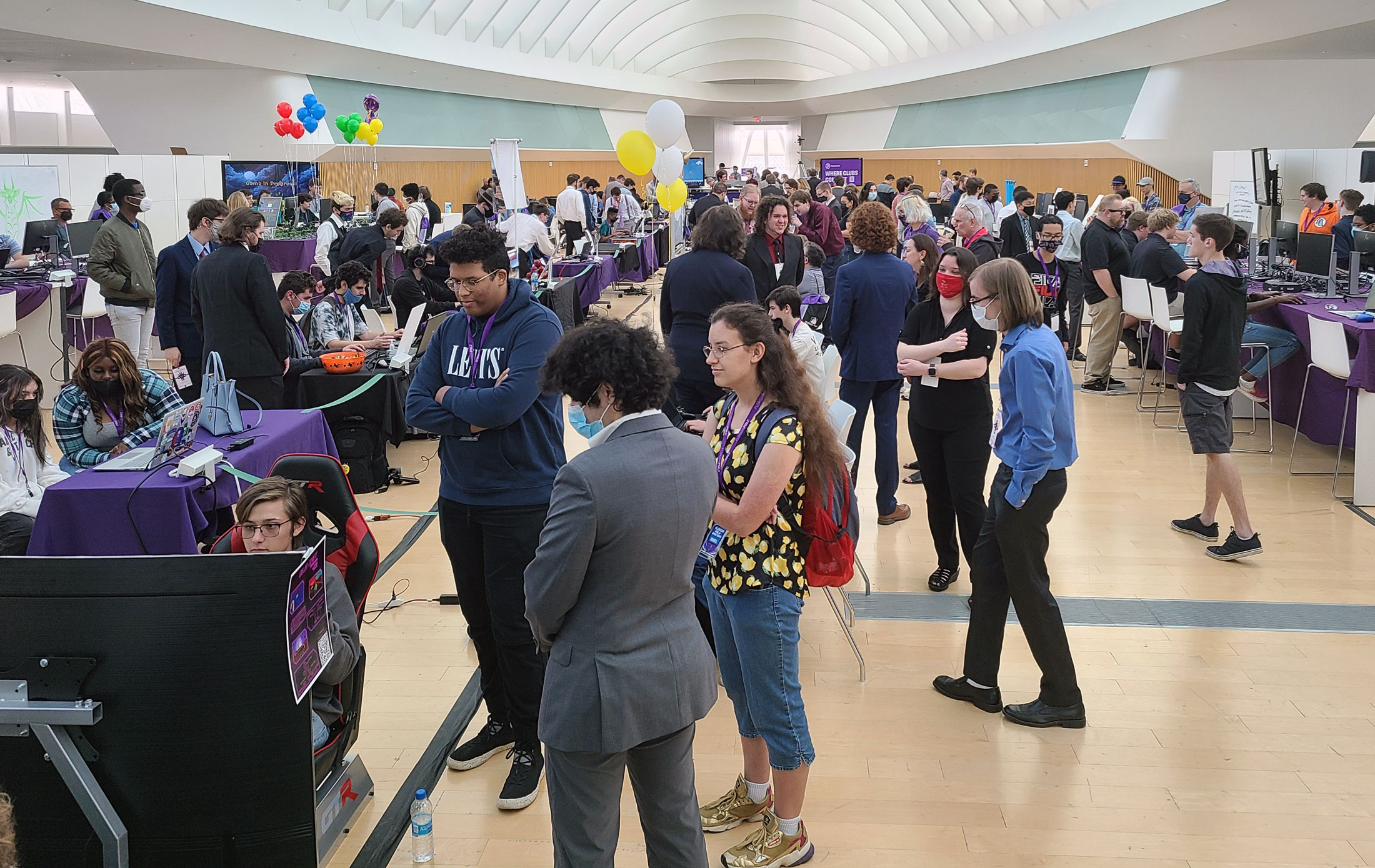 This was the first year that high school students were invited to attend the event and hundreds seized the opportunity.
"When I heard about this, I got really excited because I've never had an opportunity like this before to see how games are made and the effort that goes into them," said Jessica Salmon, a senior at Lake Nona High School in Orlando, Florida. "I'm looking for a college where I can major in game design and this was perfect to see what other people are doing."
In addition to the fun gameplay, visiting students took advantage of several informative sessions, including learning how to gain admission to a selective STEM university, learning about computer science, and hearing firsthand from a Florida Poly alumnus what it's like working as a professional game developer.
"We have a really active game development and simulation program and our students take it very seriously, love what they do, and come up with some of the most creative, fun, competitive games I've ever seen," said Dr. Ben Matthew Corpus, vice provost for enrollment at the University. "High school students are incredibly engaged in the digital world and many of them are savvy in game development already, and to have them come see what their future selves could be at this university is a huge win."
The next Game EXPO will take place near the end of the spring semester, and for the first time will accept high school student game submissions for competition in a new high school category.
Florida Poly senior Kyle Posey said he would have loved the opportunity to attend a university gaming event like this when he was a student at Coconut Creek High School in Fort Lauderdale, Florida. The computer science major's game, "Honorless," attracted a steady stream of players throughout the day.
"I came to Florida Poly because I wanted to make games," Posey said. "Hopefully this event will bring some new talent in who will want to do things like this."
Fall Game EXPO Winners:
First Place: "Tower X Tower," created by Marcelo Carlos, Andrew Hanzlik, and Michael LaFollette
Second Place: "IronHold," created by Keagan MacDonald, Ryan Floyd, Andrew Reimer, and Orion Mendes
Third Place: "Deja Drift," created by Ryan Celentano, Arlington Griffith, and Braden Ireland
Contact:
Lydia Guzmán
Director of Communications
863-874-8557