Annual toy drive benefits children in Lakeland and Honduras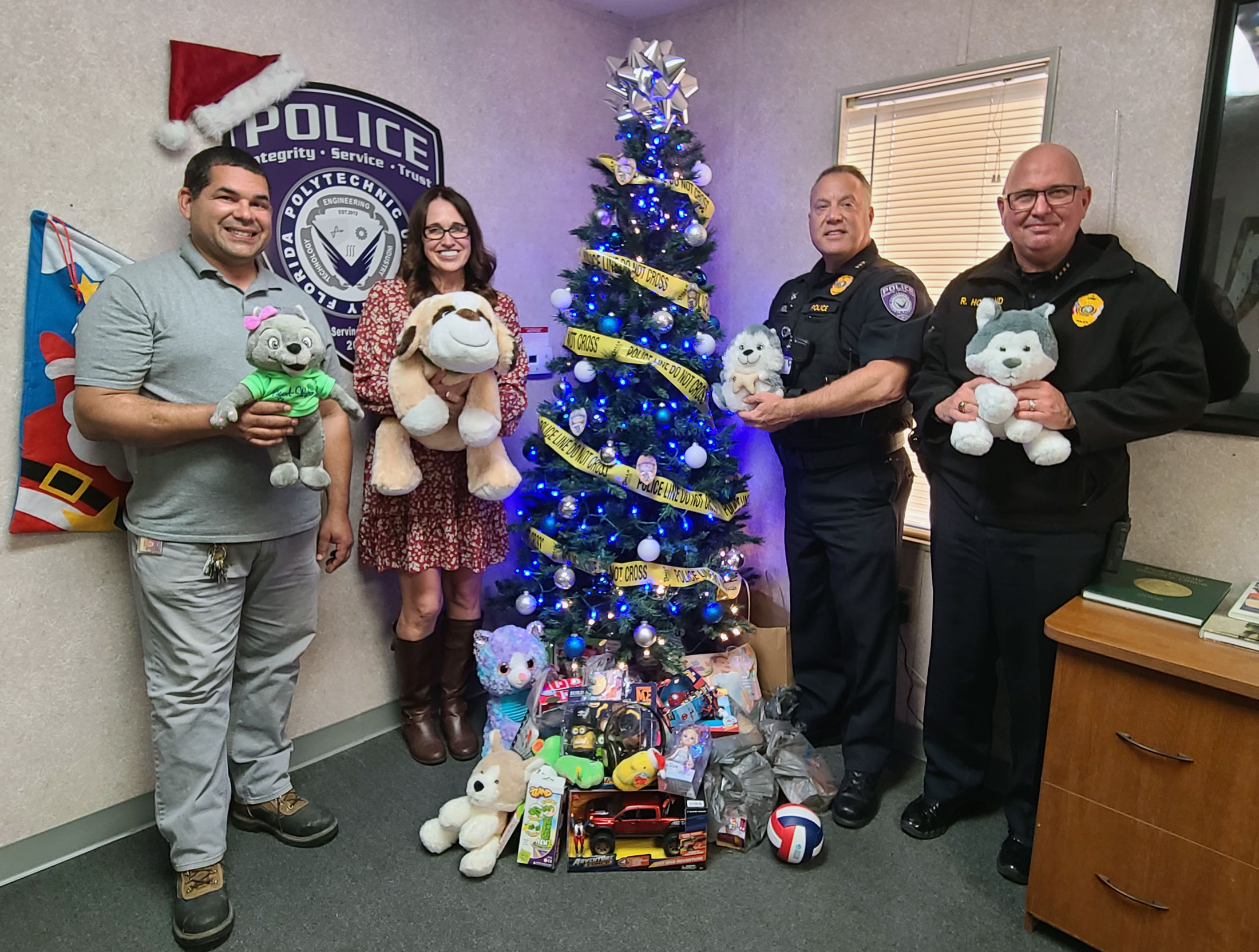 The Florida Polytechnic University community mustered its spirit of charity and goodwill this season and stepped up to donate toys, books, and other gifts to children who could use a little extra cheer this holiday season. The donations will be delivered to pediatric patients at Lakeland Regional Health Medical Center and to children in an impoverished community in Honduras.
"A child has no choice in life – they're born into a situation," said Florida Poly Police Chief Richard Holland. "When I see the eyes of a kid, I remember my child getting his Christmas and birthday gifts and that smile that melts your heart."
The sixth annual toy drive collected dozens of learning games, stuffed animals, dolls, balls, and more to spread holiday cheer.
"I donated a Barbie and Candyland – I always like to bring in a game that I played as a child and I enjoyed," said Cherie Bryant, director of donor relations and stewardship at the University. "I feel it's important to give back to the community, especially now when families in general are going through a difficult time."
For the first time, children in a small Honduran village are being supported by the effort. Jorge Velazquez, a Florida Poly maintenance technician, for years has traveled with his family to the remote community to assist its residents in developing sustainable agricultural practices.
"The idea is to bring hope to these children because their families don't have the resources to buy any toys," said Velazquez, who is delivering the toys as part of his next mission to the community this month. "I've been there and seen kids playing with a stick and two soda tops, and it just breaks my heart that my kids have a lot of stuff, and these children don't have anything."
Holland said the decision to include these Honduran children as recipients was an easy one.
"It touches my heart. We have the luxury of getting toys donated, and in so many countries they don't have that," he said. "It's such a nice gesture and we are positively impacting less fortunate students overseas."
Although the toys for Honduras are already on their way, the Florida Poly community can continue donating toys for pediatric patients until they are delivered to the hospital on Friday, Dec. 17.
Contact:
Lydia Guzmán
Director of Communications
863-874-8557