NSBE offers connection, opportunity to budding Black engineers at Florida Poly
Celebrating Black History Month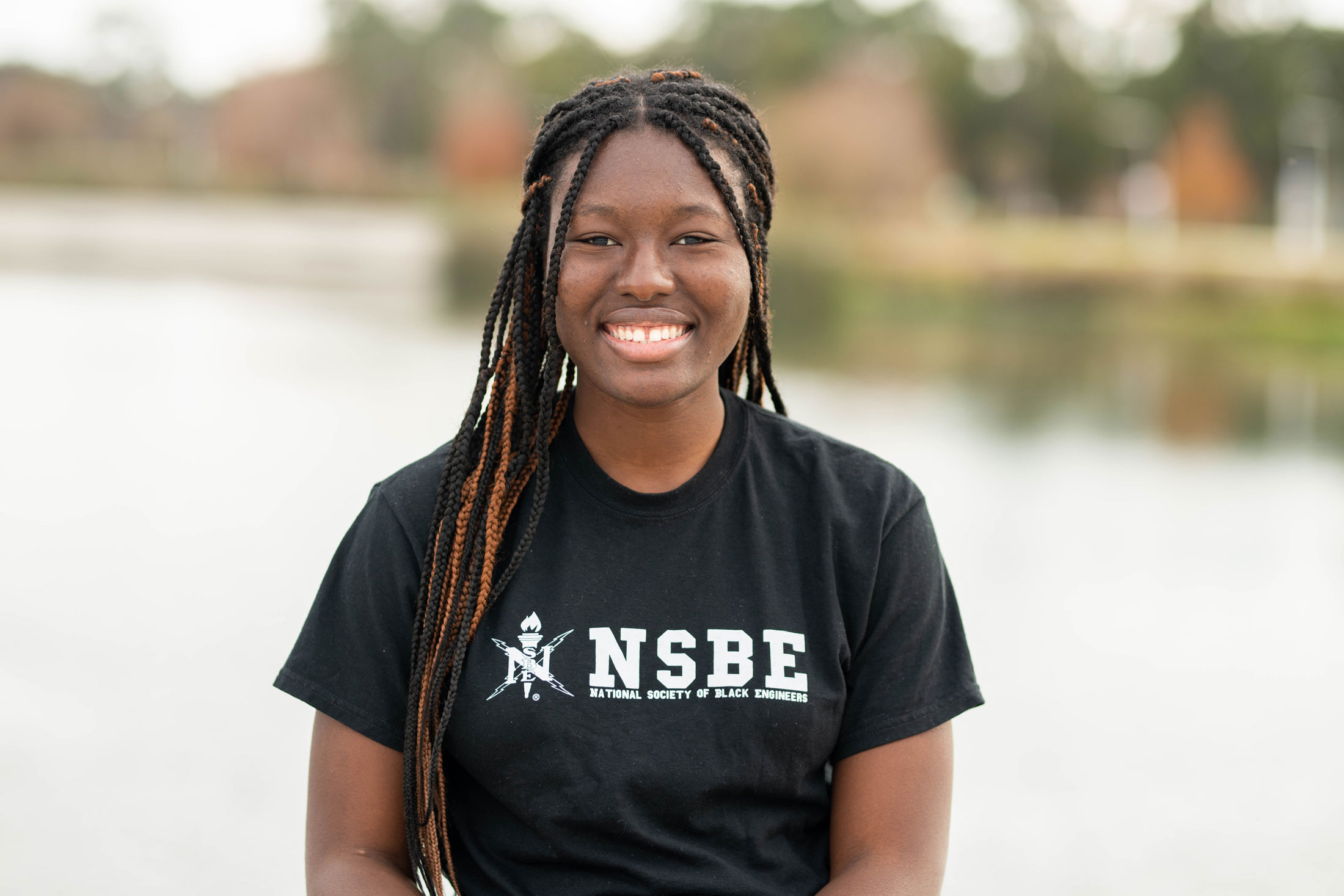 As the leader of the Florida Polytechnic University chapter of the National Society of Black Engineers (NSBE), Catherine Abraham is thrilled to play a role in helping Black students on campus feel welcome and supported.
"When you're in a space where you might feel like the people surrounding you may not have the same experiences you have, an organization like NSBE can stop those feelings of loneliness," said Abraham, a junior majoring in computer engineering with a concentration in digital logic design. "The club isn't exclusively for Black students, but it's about supporting and helping Black engineers professionally, academically, and socially."
Abraham said she was drawn to the club during her freshman year after learning about it from her suitemate.
"I wanted to go to a school that was focused on STEM and thought Florida Poly was cool, but I could see there weren't many Black students here," she said. "I thought it would be nice to connect with other people like me and see what they were doing at the school."
Now as the group's president, the student from Orlando, Florida, is working to make sure that group members continue to have an enriching experience beyond the camaraderie NSBE offers.
The club hosts study and tutoring sessions, game nights, professional workshops, and more. Members recently took a behind-the-scenes tour of Universal Studios in Orlando and learned about the work it takes to make the theme park run.
"When you see these roller coasters that need to be built and maintained, you're thinking about mechanical engineering, but it's cool to see how many electrical components they have and the software they use," Abraham said. "They have people who work on data for food and beverage alone – it's amazing how many engineering jobs are available at theme parks."
NSBE members also will travel to Anaheim, California, in March to attend the organization's national conference.
"I would like people to know that we are a welcoming and fun group," Abraham said. "If you want to learn how to be a better person in an academic field or be better professionally, NSBE is the place to be."
Abraham said this is true regardless of a student's major or ethnicity.
"We want to get people together who can benefit from the club or who can support us and be our allies. Everyone is welcome," she said.
Visit NSBE on PhoenixLink to learn more and get involved.
Contact:
Lydia Guzmán
Director of Communications
863-874-8557