Students find exciting opportunities at spring career fair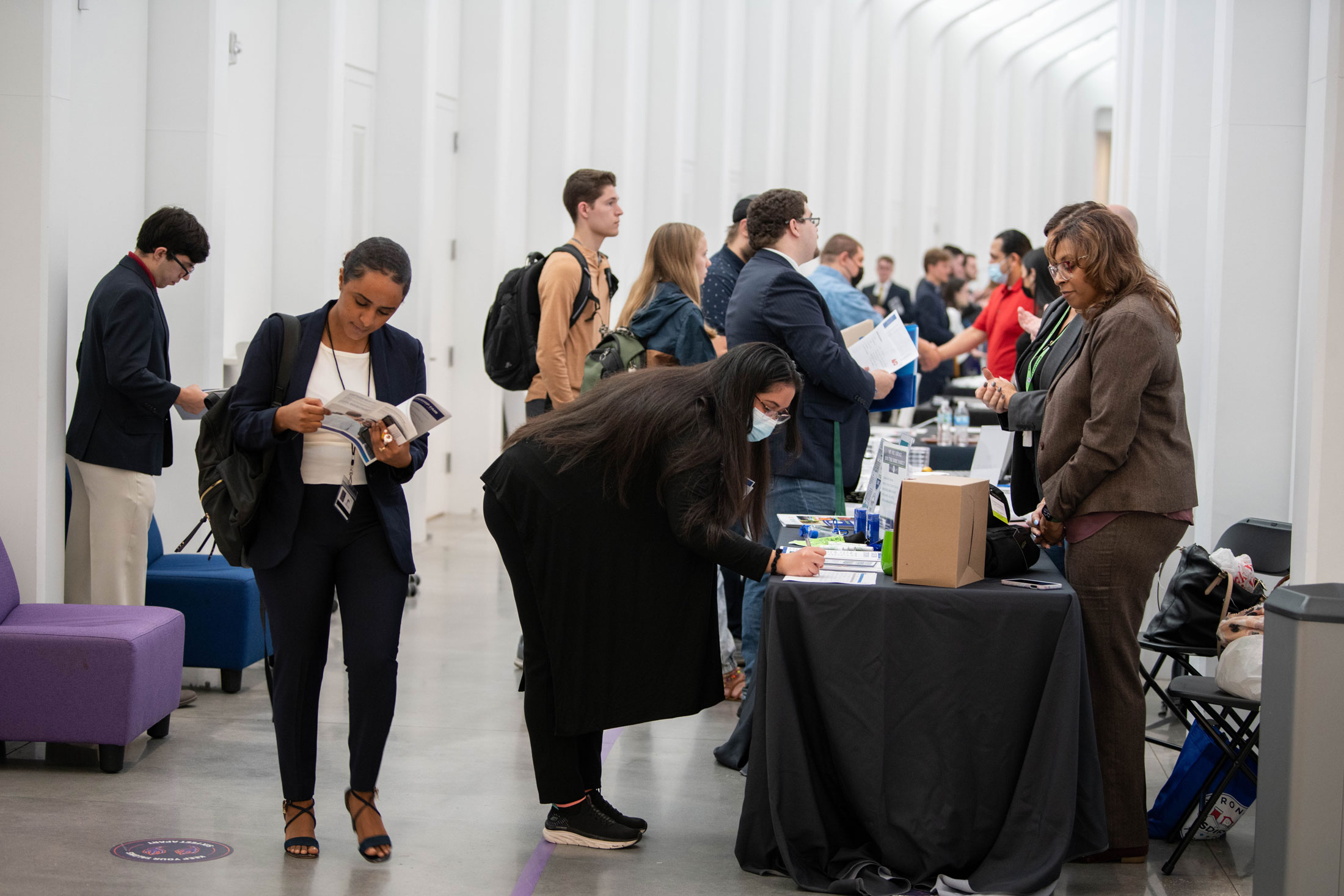 Resume in hand and decked out in a slick business suit, Florida Polytechnic University senior Zane Sheets worked to make a great first impression on potential employers during the Spring 2022 Career and Internship Fair on Tuesday, Feb. 8.
"I'm looking to see where my computer science skills can apply, not just in my major concentration of game development and simulation, but also using all of the programming and database work that I've done here," said Sheets, from Tampa, Florida. "I want employers to see that I'm very adaptable."
Nearly 60 employers from throughout the state participated in the event, working to connect with outstanding students for employment and internship opportunities.
"Most of the students we're seeing are very prepared to talk and a lot of them are computer science majors, so that's exactly what we're looking for," said Shannon Murphy, recruiting coordinator for ReliaQuest, a Tampa-based cybersecurity company.
Some of the other companies and agencies searching for Florida Poly talent were the City of Lakeland, Jacobs, ThreatLocker, GMF Steel Group, and the Walt Disney Company.
Angelina DiFiore, a junior majoring in environmental engineering, explored many of the opportunities available.
"My goal is to find a company, local government, or other entity and really connect and click with them," said DiFiore, from Winter Garden, Florida. "You just want to have that moment where you're like this is what I want to do."
Pairris Jones, Florida Poly's associate director of career development, said the biannual career event plays a critical role in students' success after graduation.
"This hallmark event connects our highly talented, capable students with employers who are eager to build their workforce," she said. "Today's employers know the value of STEM graduates who are ready to step in and begin advancing the company's priorities from day one."
Contact:
Lydia Guzmán
Director of Communications
863-874-8557