Students shift into high gear to build Florida Poly's first solar vehicle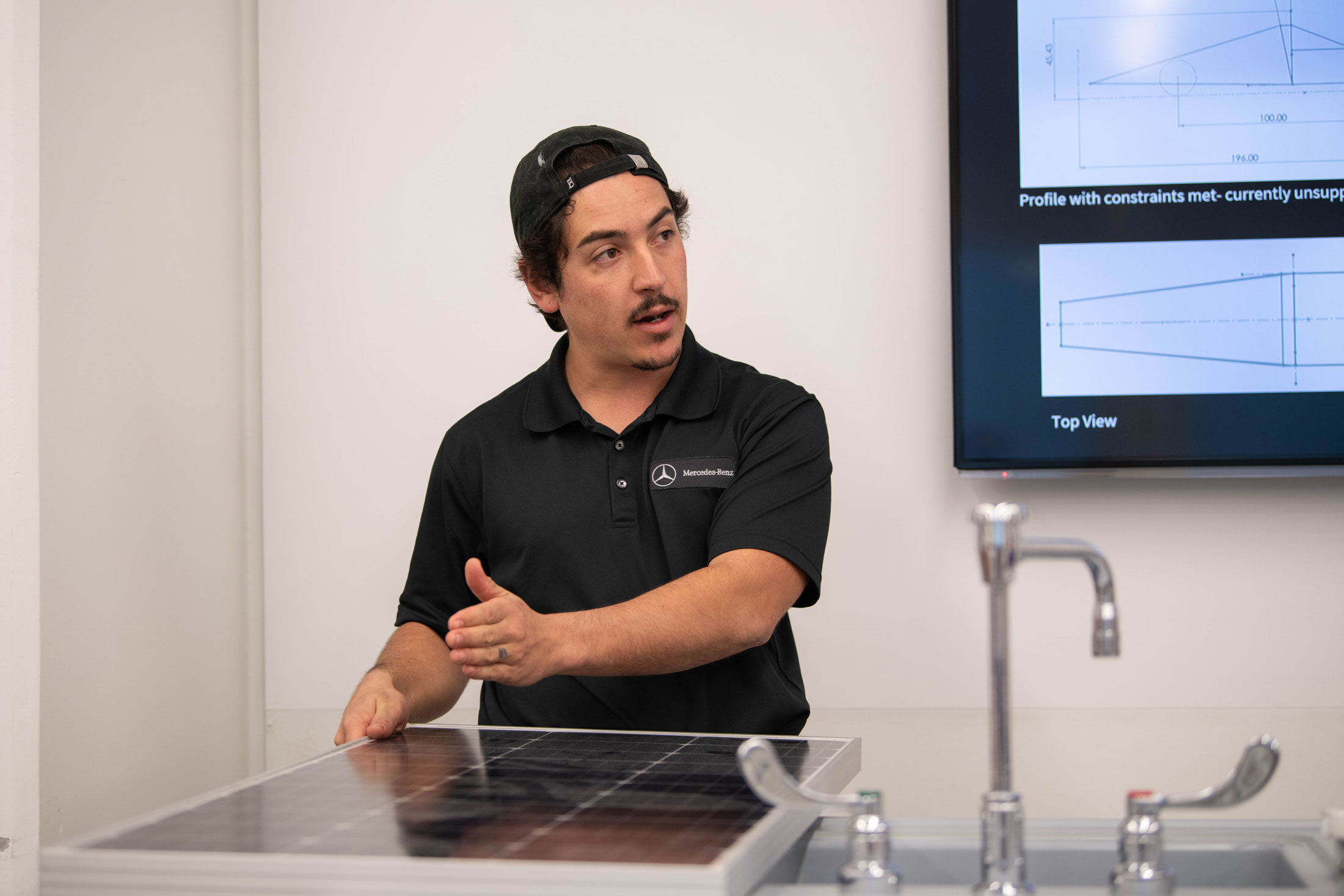 An interdisciplinary team of Florida Polytechnic University students is revving up to build the University's first competition-worthy solar vehicle and take on some of the biggest schools in the country.
Phoenix Racing launched this spring and a team of students is working to build a solar-powered racecar from scratch to compete in the annual American Solar Challenge Formula Sun Grand Prix race.
"I grew up watching racing with my dad," said Spencer Blackwell, a freshman majoring in mechanical engineering, who is focusing on the vehicle's safety aspects. "This is something I've always wanted to do and now that we're doing it, I want to help the program grow."
The team is building a proof-of-concept car this semester. The car is well into its design phase and construction of its frame will begin in the coming weeks. The students will start work on constructing their competition car this summer to compete in summer 2023.
"It has been a very cool opportunity to do some frame design," said Ryan Maldonado, a senior mechanical engineering major. "I'm very excited about it because we have an opportunity to create something and showcase it, and possibly in the future we'll also add Formula SAE or Formula Baja."
Formula SAE and Formula Baja are among the racing competitions available for student-built vehicles at the collegiate level.
Maldonado, a diagnostic technician for Mercedes-Benz, has taken on a leadership role in the solar car project. Alongside him is Jabari Acre, a junior majoring in mechanical engineering, who is serving in a project management role on the team.
"My goal here is to get experience working in a larger team because in a company you could easily be working in a team of 15 or 20 people, so I wanted to have that background," Acre said. "It's going great so far and Dr. (Matt) Bohm has provided some great guidance because he already had that experience."
Bohm, an associate professor of mechanical engineering whose college team won the 1999 solar vehicle national championship, is the group's advisor.
"They're really getting to apply all the things they learned in the classroom and expand beyond them and integrate them together in this project," Bohm said. "A project like this really puts all their classroom knowledge into focus."
The team is currently made up of mostly mechanical engineering majors, but its members are hoping more students majoring in disciplines such as electrical engineering, computer engineering, and computer science join in.
Patrick Cole, a junior majoring in mechanical engineering, is working on deepening his electrical engineering knowledge to bridge the team's current gaps.
"As a mechanical engineer, the electronics-focused group is not your traditional group, but I like to take on that extra challenge and I want to learn more about every field," said Cole, whose group is working to take sensor input from the vehicle and use it to improve the vehicle design and help with the driver's experience. "This is going to be a good steppingstone for the students who are about to attend Florida Poly and it's going to leave a big impact."
Contact:
Lydia Guzmán
Director of Communications
863-874-8557