Autonomous vehicles inspire leaders at international conference hosted by Florida Poly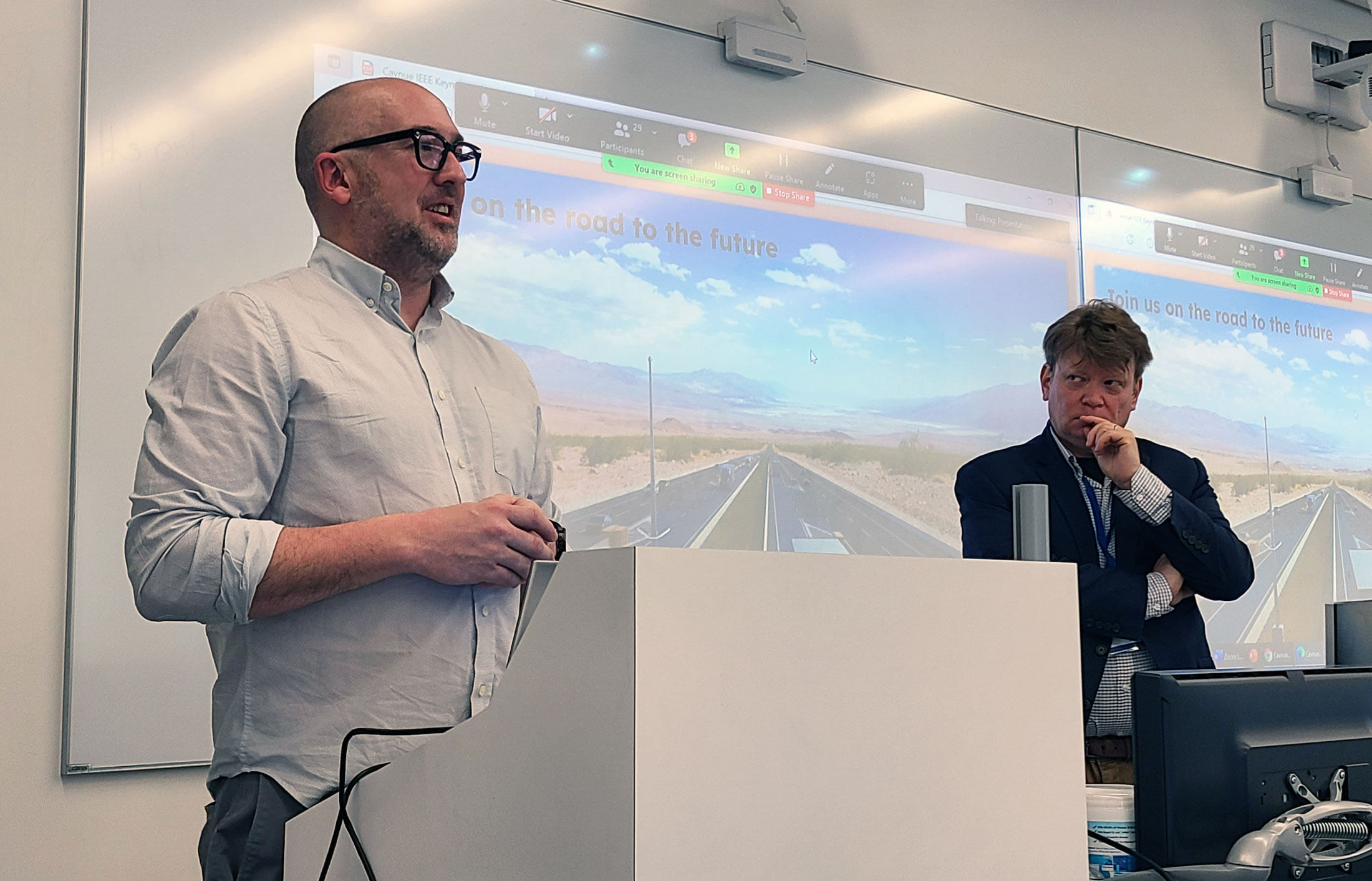 Global leaders in connected and autonomous vehicle (CAV) research and industry gathered at Florida Polytechnic University to discuss developments in the technology and the future of self-driving cars during the annual Institute of Electrical and Electronics Engineers (IEEE) International Conference on Connected Vehicles.
The hybrid conference was virtual on March 7 and on-site at Florida Poly with satellite locations in Germany, India, and China on March 8-9. About 250 people attended the conference in all its forms.
"The challenge for people all over the world is that highway safety planners basically say, 'We're doing everything we can, but the person driving continues to be the cause of a lot of these crashes,'" said Mark de la Vergne, vice president of project development at CAVNUE, a company working to advance the future of roads built for CAVs.
De la Vergne said between 35,000 and 45,000 people die in the United States each year in traffic incidents. His keynote speech at the event focused on the future of connected, automated, and electrified driving from an infrastructure perspective.
"There's only so much we can do about the person inside the vehicle, and that's where we've seen the promise of the advancements in the technology of the vehicle itself," he said. "It started very early with cruise control and things have continued to advance to now, where a standard vehicle comes with adaptive cruise control, lane keep assist, and you start to see what's happening."
De la Vergne said his company is exploring the creation of roads outfitted with sensors and technology to allow drivers to go hands-free in those areas.
Dr. Rahul Razdan, senior director of special projects at Florida Poly and an organizer of the event, said the conference not only allows leaders to share their insights, but helps the CAV community coalesce around solutions and industry standards.
"This whole conference is really about how do we get to a point where we can build a trust framework for safety that we can all rely on," Razdan said. "It's a really difficult problem and we need technical solutions with interaction, discovery, and research. At Florida Poly, we have the Advanced Mobility Institute that's focused on these topics."
Dr. Joachim Taiber, conference chair and managing director of international operations for the International Alliance for Mobility Testing and Standardization, said the event has shifted its focus from its early days of getting more information to connected vehicles on the road.
"We now are asking the question how can connectivity support the automation of the car," Taiber said. "The more you are connecting the vehicles and the more information you can bring to the vehicle, the more you can operate it safely."
Conference topics included designing an electric autonomous racecar, how to prepare Florida's infrastructure for CAVs, and how the American Automobile Association (AAA) tests and validates systems.
Jeff Weatherford, manager of traffic operations for the City of Lakeland, was excited to have access to the conference's experts.
"I want to see where the autonomous vehicle and connected vehicle communities are at," he said. "In a lot of cases, departments of transportation are talking to manufacturers asking what do you need, and we're not getting answers back. This may be a way to get some answers."
Contact:
Lydia Guzmán
Director of Communications
863-874-8557