Florida Poly expands athletics with new archery range on campus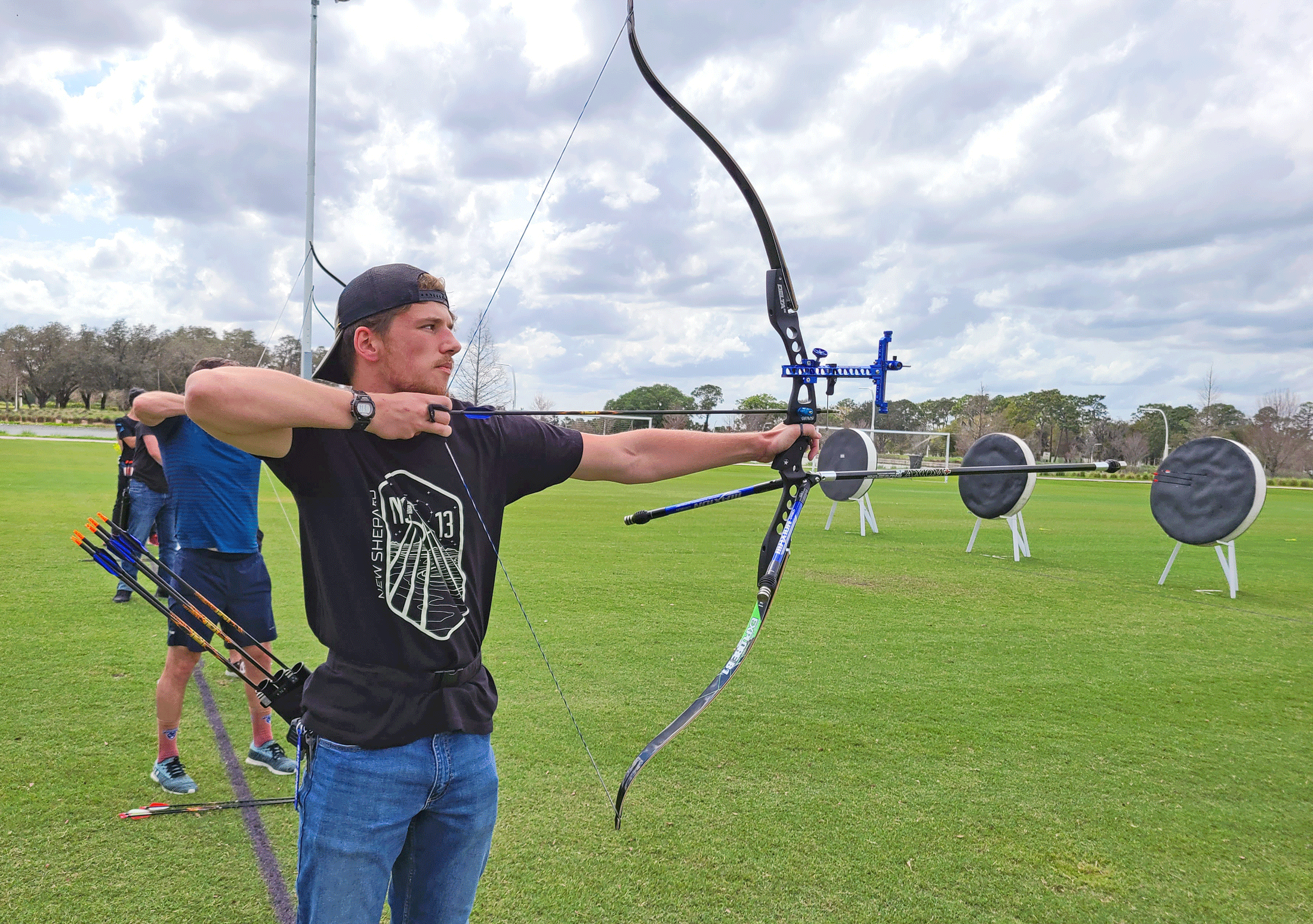 Just weeks before his graduation with a bachelor's degree in electrical engineering, Florida Polytechnic University student Bruce Hicks is excited to see his vision for a campus archery range come to fruition.
Hicks, a nationally ranked archer training for the 2024 Summer Olympics, is founder and captain of the Florida Poly archery team, which trains to compete at the local, state, and national level. His dogged determination and enthusiasm led to the creation of the team and now the installation of a collegiate archery range located behind the University's soccer fields.
"Archery itself is just really great and it's really good for mental health – it pulled me through a lot of things and I wanted to share that experience with as many people as I can," said Hicks, a graduate of Apopka High School in Apopka, Florida.
Hicks and freshman team member Willard Scammey have competed against some of the best archers in Florida, and they are excited about how the on-campus range will help them and the team improve their performance. The team currently is training to compete at the Sunshine State Games in Newberry, Florida, this June.
The new five-target range can accommodate 10 archers at a time at a distance of 50 meters.
Scammey, who is majoring in mechanical engineering, has competed in archery for years and is expected to take the reins as team captain next year.
"I did archery all the way through high school – it was a good way for me to really have fun and spend time doing something that I like," said Scammey, a graduate of East River High School in Orlando, Florida. "Being able to continue that here at college is just amazing. And now that I can train on campus, it's even better."
Now that the range is in operation, safety is a top priority. It is only available for use with University-approved supervision, and it includes a wide, clear area with marked safety zones.
Hicks said while several members have years of experience, the co-ed archery team is open to anyone who is interested in learning the sport. He hopes to continue his involvement with Florida Poly Archery after his graduation this May, assisting the team as a coach.
"We have all the equipment you need and can share our experience with you," he said. "If you don't know anything, you can just come in, get coached, shoot, and have some fun."
To learn more, visit the team's webpage.
Contact:
Lydia Guzmán
Director of Communications
863-874-8557