Q&A: Smashing stereotypes and hitting goals, Hailey Skoglund is ready to make a difference
Class of 2022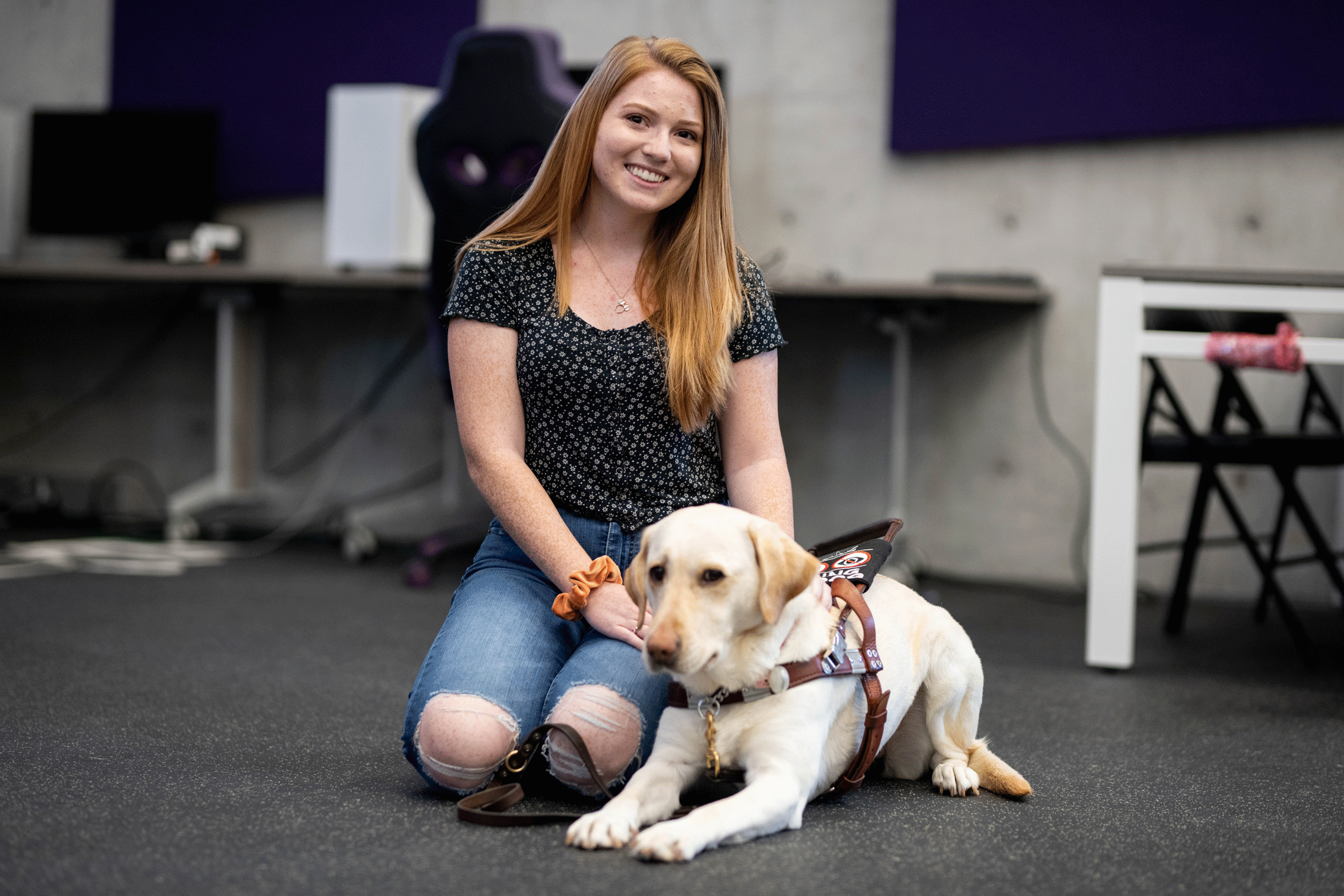 When Hailey Skoglund '22 arrived at Florida Polytechnic University, she made the decision to embrace everything the University had to offer. She became chief justice of the Student Government Association, a Presidential Ambassador, a tutor, and is a student representative on the Florida Poly Foundation Board. Skoglund also is a full-time intern at the Walt Disney Company as she completes her bachelor's degree in business analytics with a concentration in quantitative economics and econometrics. With her service dog, Marli, by her side, Skoglund is ready to continue pursuing her dream of earning her master's degree in data analytics and continuing on to law school to focus on intellectual property law.
What was your greatest accomplishment at the University?
I think breaking stereotypes with my disability has been a huge accomplishment for me. Coming in, I was kind of nervous because I had just gotten my service dog and I was still losing quite a bit of vision. Just getting through my degree has been a huge accomplishment – fewer than 15% of blind people earn a bachelor's degree at an accredited higher learning institution – so it was huge for me to push through this. I'm not just doing this for myself, but also doing it to show other people it can be done, and you can do anything you set your mind to.
What was your favorite course and why?
Economics classes have been my favorite. I learned very different things in each of them that are equally impactful on my education and on my career. I realized I really enjoy economics and practical applications of statistics and decided to switch my concentration because of it. Those classes changed me and taught me to be a better student.
Where did you complete your internship(s) and what did you gain from the experience?
I was an EDI (electronic data interchange) configuration analyst at PlanSource last summer. I did a full-time summer internship, was taking three summer classes, and was tutoring also. I was super busy, but I learned so much and it was really neat because one of the classes I was taking was Database and SQL and that was exactly what I was learning to apply in my internship. If I had questions about what I was doing in my internship, I could ask my professor and have someone with industry experience to lean on while I was learning.
Now, I'm a data and analytics professional intern under the Food and Beverage Analytics Team at The Walt Disney Company. Coding in SQL is a huge part of my role in my internship, so I'm really happy that I have that good foundation from last summer. In my Disney Internship, I use SQL and Tableau to extract and visualize data-driven insights on food and beverage prices within the Walt Disney World Theme Parks. I lean on my background in analytics to track, forecast, and predict the sales of menu items, dining reservations, and seating efficiencies to see how we can make Disney restaurants more efficient.
What advice would you give an incoming freshman?
Get involved. Get out of your dorm room and go meet new people. Speak up and don't be afraid to stand out. Don't worry too much about making new friends because when you're being yourself and speaking up for things you're passionate about, people will flock to you and you will find the people you were meant to meet.
What does earning your degree mean to you?
It's a huge milestone and a huge accomplishment for me. I think my entire education – even starting in middle school – has all been geared toward this moment, including where I was going to go to high school to get into a good college. School and education have always been such a integral part of my family's life. It's all coming full circle and I finally made it. I'm ready to take that next step out of the classroom and into a professional career where I can apply these skills and make a difference in the world.
What's something you'll never forget about your time here?
The friendships I've made.
Editor's note: This story is part of a series of Q&As with some of Florida Poly's Class of 2022 graduates.
Contact:
Lydia Guzmán
Director of Communications
863-874-8557