Spring Game Expo draws hundreds to try newest student video games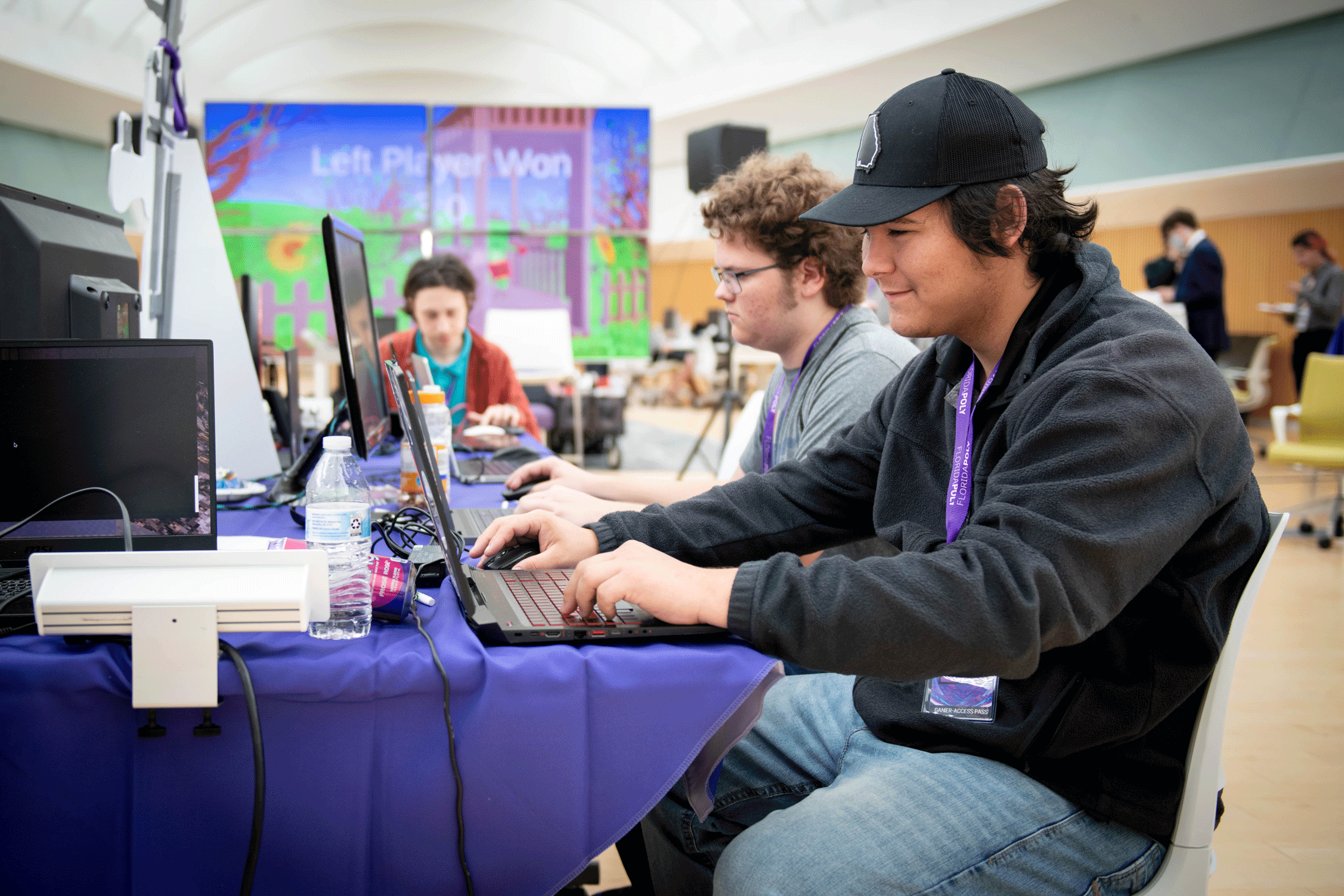 Video game players went head-to-head in fun competitions at Florida Polytechnic University on Saturday, April 23, at the annual Spring Game Expo.
The event featured dozens of student-created video games at the University's Innovation, Science, and Technology building in Lakeland, Florida.
"I'm very proud of what we accomplished," said Alyssa Schroeder, a senior computer science major with a concentration in game development and simulation. "We took some ideas from some games we really like to play and reduced that concept to something more feasible in the time we had this semester."
Azti Runes, the game she created with teammates Jonathan Clay and Jaydon Schumacker, tasked players with defeating enemies who descended on the game's college of magic. The game was one of nearly two dozen networked games on display at the expo.
Nearly 300 high school students and their families attended the event to play the networked games, tour the campus, and learn more about what they can do with a computer science degree. Informational sessions included topics such as how to be a game developer and an overview of the computer science program.
"It's really cool and nice to show them how their future is going to look," said Andrew Hanzlik a senior majoring in computer science who exhibited his team's online fantasy role-playing game, Grumma. "I talked to someone who said they're going to come to Florida Poly and do similar things to what I'm doing."
Johnathan Carrion, a senior at George Jenkins High School in Lakeland, Florida, took his time playing many of the games on display.
"This really piqued my interest. It's nice to see all the different types of people and all the types of games they made," he said.
Carrion plans to attend Florida Poly to pursue a computer science degree after completing his associate degree at Polk State College when he graduates high school.
"You can see the people here have passion and want to create games – they're putting the time and effort into it," he said. "Hopefully one day I can make my own video games and show them here, too."
One Florida Poly student didn't wait until he was in the game design courses to make his debut at the game expo. Junior computer science major Brendan Geary turned a computer graphics assignment into a fully functional game.
"I knew when I came to this university that this was what I wanted to do, so when I had the opportunity to make a game for the game expo, I was like, I have to take it," Geary said. "I'm very proud of it."
Contact:
Lydia Guzmán
Director of Communications
863-874-8557