Capstone event showcases high-tech student projects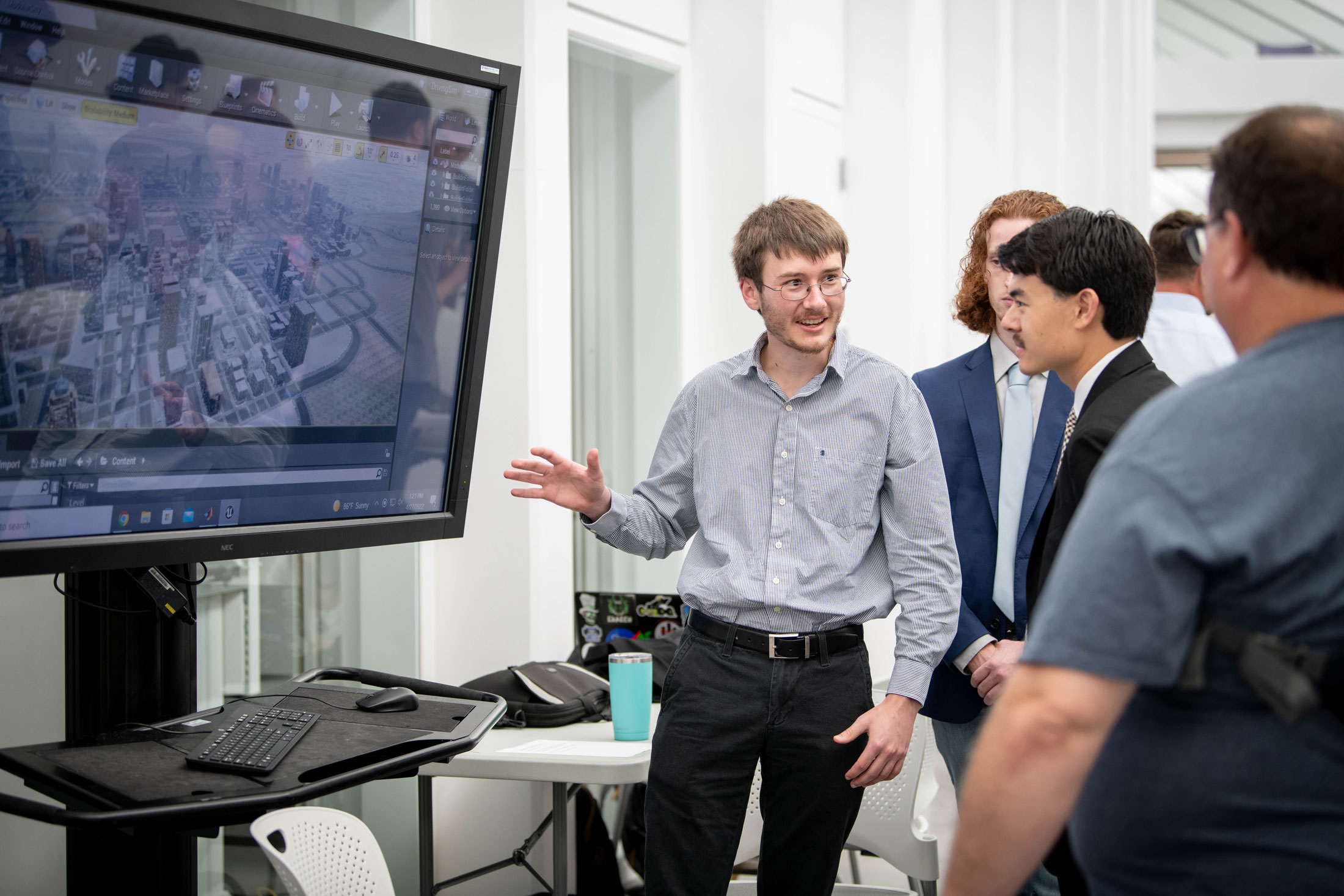 Teams of Florida Polytechnic University seniors showed off their hard work on industry-sponsored, tech-focused projects at the annual Capstone Design Showcase on Wednesday, April 27.
The capstone program pairs interdisciplinary teams of students with corporate partners who have a real-world challenge they would like addressed. The students work on building high-tech solutions to these challenges throughout the academic year.
This year's showcase was held at the Innovation, Science, and Technology building and featured more than 40 projects sponsored by companies or agencies such as Lakeland Regional Health, the Navy Special Warfare Center, AVRA Medical Robotics, and the Florida Space Institute/NASA Kennedy Space Center.
"This was a great experience, and it was similar to an internship because along the way we're getting meetings, talking to clients, gathering what they want, and implementing it and getting feedback," said Davis Insua, part of a computer science duo who completed a project for fayVen, a company that connects vendors with available space to sell their goods. "I think this is really good practice for how industry actually works."
The students added features and improvements to an existing website to facilitate the vendor-venue relationship. Insua said the project's sponsor plans to continue moving their work forward.
"It's a good feeling to know we have an actual, deployable product," he said.
Nearby, a team of students exhibited their project: low-visibility concealable antennas for the U.S. Department of Defense's Special Operations Command. The team was tasked with researching emerging technologies for concealable antennas that operators could wear undetected in the field.
"Let's say there's an operator by himself in an airport, you don't want to draw attention with a big antenna pack or a radio with a visible antenna; you want to blend in with other bystanders," said Samuel Bell, an electrical engineering major. "The idea with this is you can get into spaces you wouldn't be able to get into with a more visible option."
While the team's sponsor was primarily interested in the research, Bell and Logan Hawkins, a computer engineering major, took the project a step further and built a proof-of-concept prototype wearable antenna.
"We wanted to build it to prove the research we found was applicable and wasn't just brainstorming," Hawkins said.
The capstone showcase was the culmination of a year of hard work, focus, and determination, and it is a requirement for all seniors before graduation.
"The experience was a blast," said Britta Thompson, an electrical engineering major whose team created a multi-mesh communication solution for managed IT services company Corserva. The students built a network to transmit information between nodes and gateways to communicate important data from hotel room locks.
"I was not too familiar with networking given my major, but I learned a lot and had a ton of fun."
Contact:
Lydia Guzmán
Director of Communications
863-874-8557