The Force guides Florida Poly students inspired by the Jedi way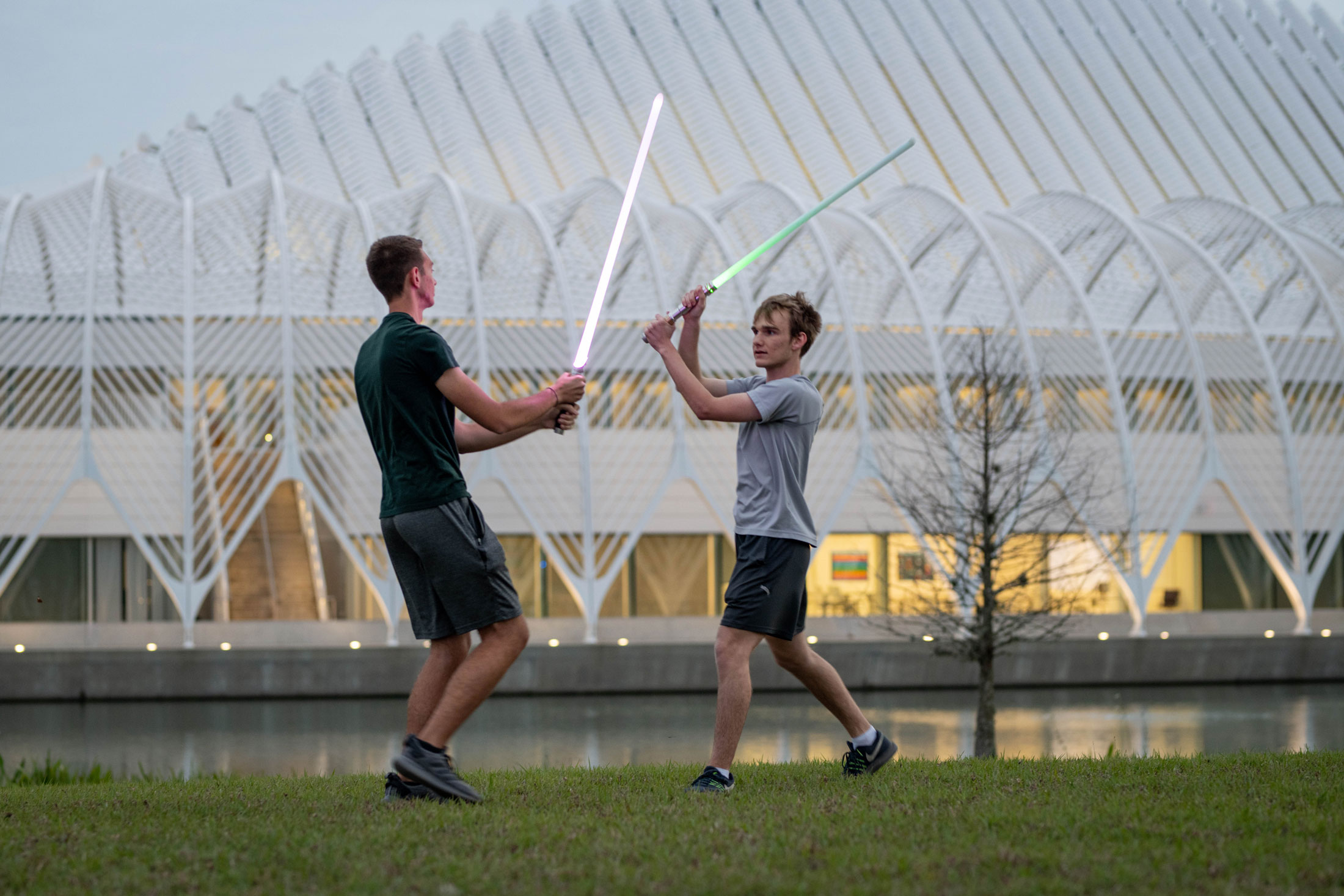 While members of the Force Institute may regularly train with their lightsabers on campus, their focus isn't solely on the wildly successful Star Wars galaxy of media.
The popular student organization at Florida Polytechnic University uses the science fiction juggernaut and the Jedi Knights at its center as the framework for a tight-knit group that advances student interaction, academic achievement, and mental and physical wellness.
"We don't just talk about Star Wars," said David Johnston, the club's president for the 2022-2023 academic year. "We're trying to create something for every type of student and give them experiences they might not have had otherwise."
Throughout the academic year, the Force Institute partnered with several organizations such as Family Game Night and the Tabletop Club to host events.
One of the club's ongoing projects is a Star Wars-inspired video game. Its members also have been working on a film project involving a choreographed lightsaber battle.
Even with its broad and varied projects and partnerships, the group is careful to not stray far from its core focus.
"We use Star Wars as a method of connecting students and engaging them in projects and with each other," said Johnston, a sophomore majoring in computer science.
Their most visible activity is the twice-weekly lightsaber training on the lawn outside the Innovation, Science, and Technology Building.
"When you first come to a saber meeting, you don't just start by pulling sabers out and whacking each other," Johnston said. "You start every meeting with meditation then move into centering forms, which are related to tai chi."
The group then moves into weaponless defense techniques before training with their sabers.
"The idea is Jedi won't always have sabers to defend themselves with," Johnston said.
Training includes performing choreographed drills and sparring sessions with protective gear, with the overall training program overseen by Jedi Master Richard Ganey, a professional martial arts instructor.
Ethan Kohlbacher, a sophomore majoring in mechanical engineering, was the club's vice president for the 2021-2022 academic year. He said his involvement with the club has helped him decompress from academic pressures.
"This is an engineering school, so classes can be a little stressful sometimes," Kohlbacher said. "This is a great way for people to relieve that stress and to get out of their dorms and interacting with others."
For more information, visit the organization's webpage on Phoenix Link.
Contact:
Lydia Guzmán
Director of Communications
863-874-8557