Phoenix escorts Vietnam veteran aboard Honor Flight to Washington, D.C.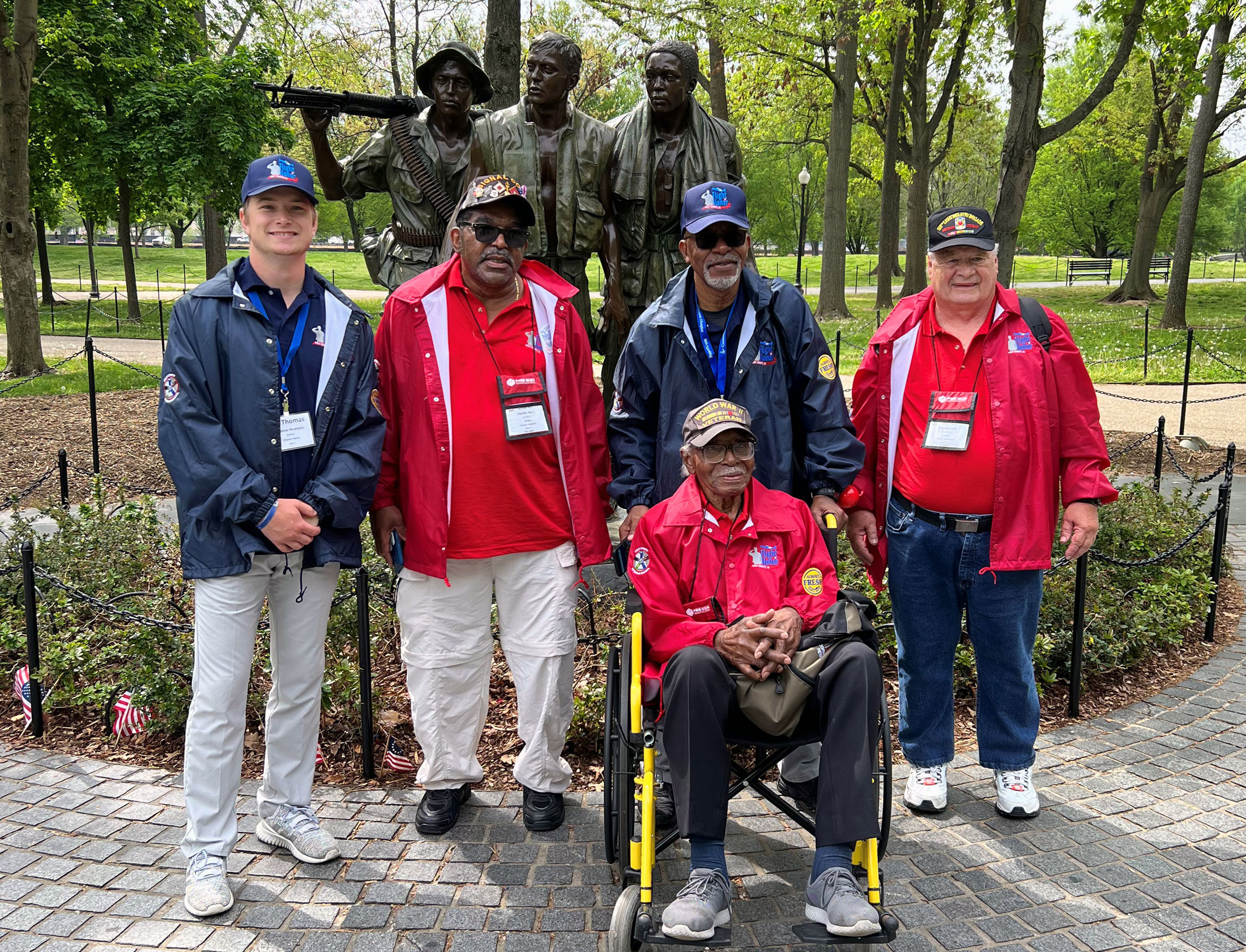 Thomas Risalvato is driven to help people whenever he can.
The rising senior at Florida Polytechnic University recently jumped at the opportunity to help in a unique way by serving as a guardian aboard a Flight to Honor trip to Washington, D.C.
Risalvato was paired with Charles Harris, a veteran from Lake Wales, Florida, who was an Army photographer during the Vietnam War.
"It was an incredible experience," said Risalvato, who is majoring in business analytics with a concentration in intelligent mobility. "I thought it would be something life-changing and cool and an honor to do, and it was all that and so much more."
Flight to Honor Polk serves all U.S. war veterans, though priority is given to those with severe medical conditions and those who served in World War II, the Korean War, and the Vietnam War. These veterans are celebrated and honored with a trip to the national memorials in Washington, D.C.
Risalvato was part of a group of about 180 veterans and guardians who made the trip on April 26. Shortly before their departure, Risalvato led an effort by the Rotaract Club of Florida Poly to encourage students to write notes to the veterans on the trip.
"The students did great, and in just a few hours we had about 45 notes," said Risalvato, the club's president.
The notes were distributed on the plane for the veterans to read during the flight.
Once at the capital, they we were taken to the World War II Memorial, had a walk down to the reflecting pool, and then visited the Lincoln Memorial before being allowed to disperse out to the Korean War Memorial and the Vietnam War Memorial.
"It's an emotional experience," Risalvato said.
The veterans also received a private tour of Arlington National Ceremony and watched the Changing of the Guard at the Tomb of the Unknown Soldier.
Upon the group's return to Lakeland, Florida, they were greeted by a celebration complete with well-wishers, a military band, and large flags waving from tall firetruck ladders.
"It was like they were coming home from war, and everyone was cheering them on," said Risalvato, a graduate of Arnold High School in Panama City Beach, Florida.
The experience has created a bond that promises to last well into the future.
"My veteran now trying to take care of me, and the whole point of the trip was me taking care of him," Risalvato said.
Risalvato said he hopes to volunteer again as an Honor Flight guardian next year.
"I see it as an honor to be able to do this and way to pay respect for everything they did for our country," he said.
Contact:
Lydia Guzmán
Director of Communications
863-874-8557