Brazilian university leaders learn innovation, technology trends at Florida Poly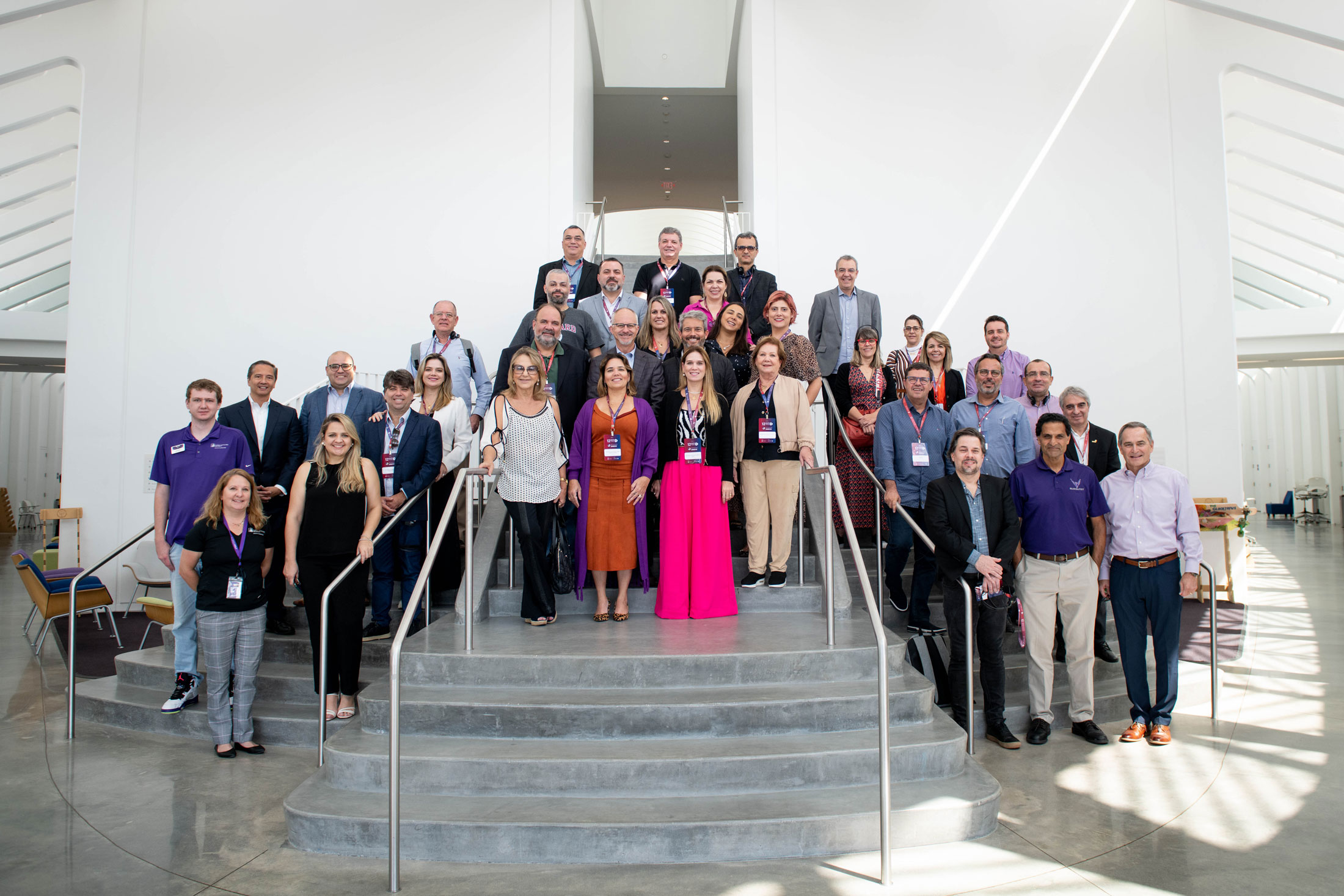 Presidents, provosts, and other leaders from universities throughout Brazil visited Florida Polytechnic University on Friday, May 27, as part of an international mission to learn from some of the United States' best higher education institutions.
It is the latest effort in the University's strong focus on international relationships, which includes robust Fulbright partnerships and the recent appointment of Dr. Randy K. Avent, Florida Poly's president, to the Royal European Academy of Doctors.
The Brazilian delegation from Semesp, an entity that represents higher education providers in Brazil, also planned to visit Harvard University, Southern New Hampshire University, and the University of South Florida during its 12th International Technical Mission.
"We are delighted to visit Florida Poly during our higher education mission to the USA and witness firsthand the innovation, science, and technology that Florida Polytechnic University is creating to shape the future of the economy," said professor Lúcia Teixeira, president of Santa Cecília University and chair of Semesp's board.
Florida Poly's position as an engine of economic growth throughout Central Florida and beyond was attractive to the group of dignitaries, who sought to learn about the University's place in the expanding high-tech economy.
While at the Lakeland, Florida, campus, the educational leaders heard a presentation by Avent about the state of the University.
"We are honored to share our knowledge with this wonderful group of Brazilian educators," Avent said. "International collaborations like these offer unique and valuable opportunities to not only extend the research of our important work, but also allow us to build lasting relationships for future collaborations."
The group also learned about enrollment management from Dr. Ben Matthew Corpus, vice provost of enrollment; about technology megatrends and requirements for a modern workforce from Dr. Rahul Razdan, senior director of special projects; and about the planned research park and innovation district from Gen. Jake Polumbo, who assists with strategy and industry partnerships at the University.
"The world is constantly changing, and nations are always trying to improve the quality of life for their citizens," Polumbo said. "The one constant around the globe is the importance of education, which leads to critical thinking. Data is the new oil and education is the great equalizer. Florida Poly is in the middle of both trends."
The event was part of Florida Poly's Executive Leadership Initiative, which focuses on building significant international relationships, with emphasis on attracting senior faculty and high-achieving students to campus, as well as providing international opportunities for Florida Poly students and faculty. As part of this initiative, the University has built a deep relationship with the well-known Fulbright organization with member agreements with Canada, Australia, Belgium, and Spain. Florida Poly also has built relationships with prominent technical societies in Europe, which has resulted in Avent's induction to the prestigious Royal European Academy of Doctors.
Contact:
Lydia Guzmán
Director of Communications
863-874-8557