New class of Presidential Ambassadors ready to work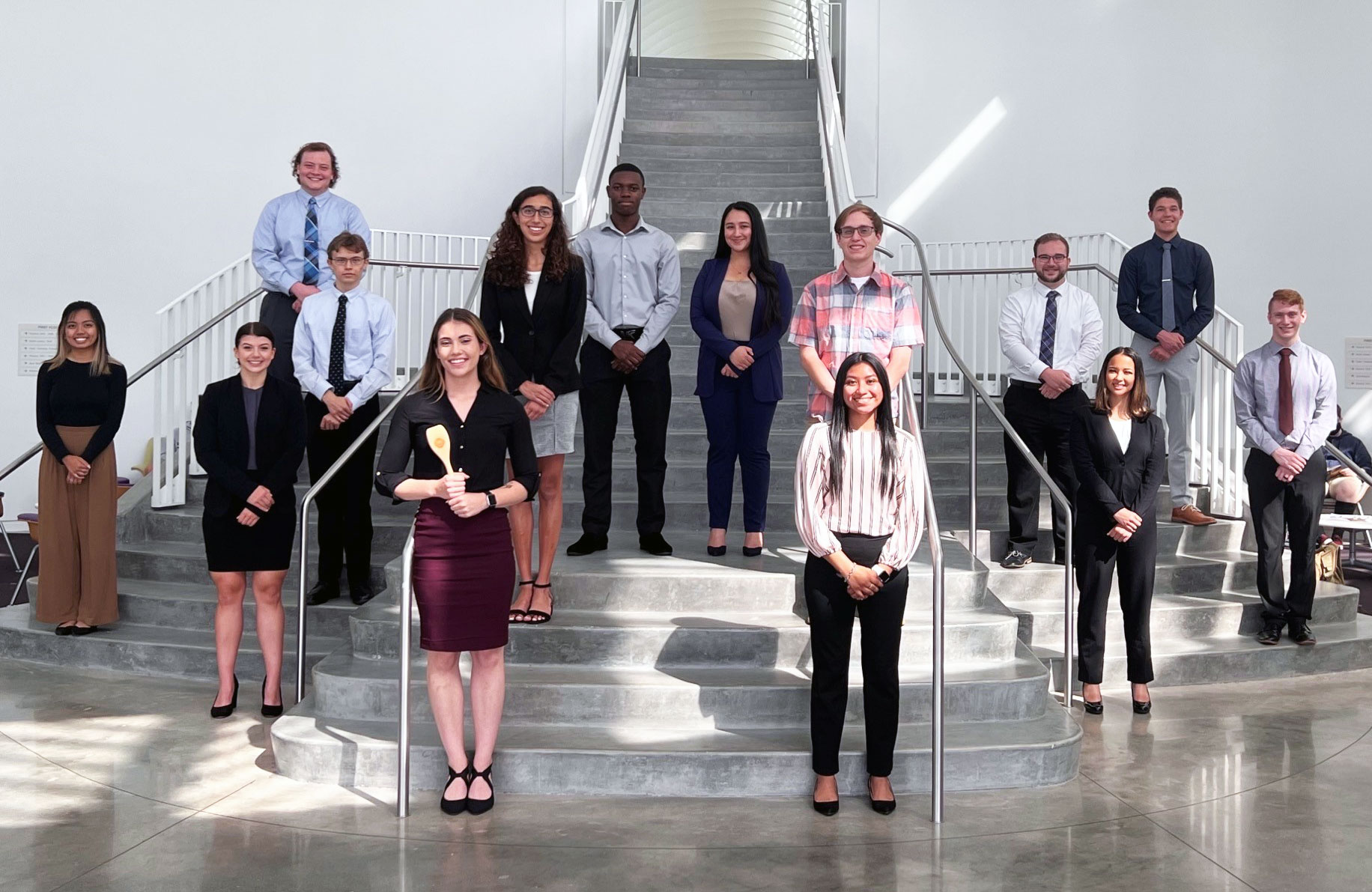 When Ahna Cecil was a freshman at Florida Polytechnic University, the data science major discovered a group of students who were polished, successful, and driven to support and represent their University. She was inspired to join them.
"There were a lot of upperclassmen I really looked up to, and they spoke highly of the Presidential Ambassador program as a real opportunity to learn growth, development, and leadership and really get those skills under your belt," said Cecil, a rising senior who will serve as the group's chair for the 2022-2023 academic year. "When I could finally join, I immediately applied, and I've gotten to grow a lot since then."
The Presidential Ambassadors program is a highly selective group of student volunteers who work to represent Florida Poly's success and vision with external partners and other stakeholders. The program is open to students beginning in their sophomore year. Each candidate must submit an application as well as a resume, academic transcript, and letters of reference. Following an in-depth interview process, selections are made each spring for the following academic year.
"They host dignitaries, C-suite executives, and University partners to give tours, provide student exposure, and promote the University for donors and other guests on campus," said Seth Spencer, the group's advisor. "Students gain an opportunity to network and connect with high-level guests and work on their professional and leadership skills while becoming an accurate representative of the student body."
Cecil, from Pensacola, Florida, said getting involved with the group is one of the best decisions she has made as a Florida Poly student.
"I love it. We are like a family unit that does a lot of fun stuff to build our camaraderie and we also enjoy giving back to the University," she said. "If you talk to any of the PAs, all of us would say how much we love Florida Poly and how we love the opportunity to represent the school in front of CEOs and legislators."
Among the new class of PAs is rising sophomore Ethan Hanish, a mechanical engineering major from Prior Lake, Minnesota. He was eager to join the group after learning about it during his freshman year.
"Going to college, I knew I wanted to stand out and not just go and do the bare minimum – I wanted to put the work in to excel and do the best at everything," Hanish said. "When I found out about the Presidential Ambassador organization, what it stood for, the values it held, and what you could get out of it as a student and as a person to better yourself for your future, I was really inspired to be part of it."
This year's presidential ambassadors are Ahna Cecil, chair; Maggie Delgado, vice chair; Austin Adams; Eric Adjei; Alexander Bodoh; Joseph Felderhoff; Jenelle Fernando; Brennan Halsey; Carson Ham; Ethan Hanish; Zachary Kaiser; Melina Ramos; Ivelisse Rodriguez; Maria Valencia; and Madison Yonash.
Delgado, a rising senior who will serve as vice-chair for the second straight year, has been grateful for her experience with the group.
"When I joined, I wanted to push myself to get out of my comfort zone and grow. In my first year, I learned that if you collaborate and work with your team, there's nothing to really be afraid of," said Delgado, from Lake Alfred, Florida.
"Every chair has said you get out of the program what you put in. If you put in the work, the time to serve, and want to learn and ask questions, you get so much out of it."
Contact:
Lydia Guzmán
Director of Communications
863-874-8557