Graduate student embraces innovation at prestigious NASA internship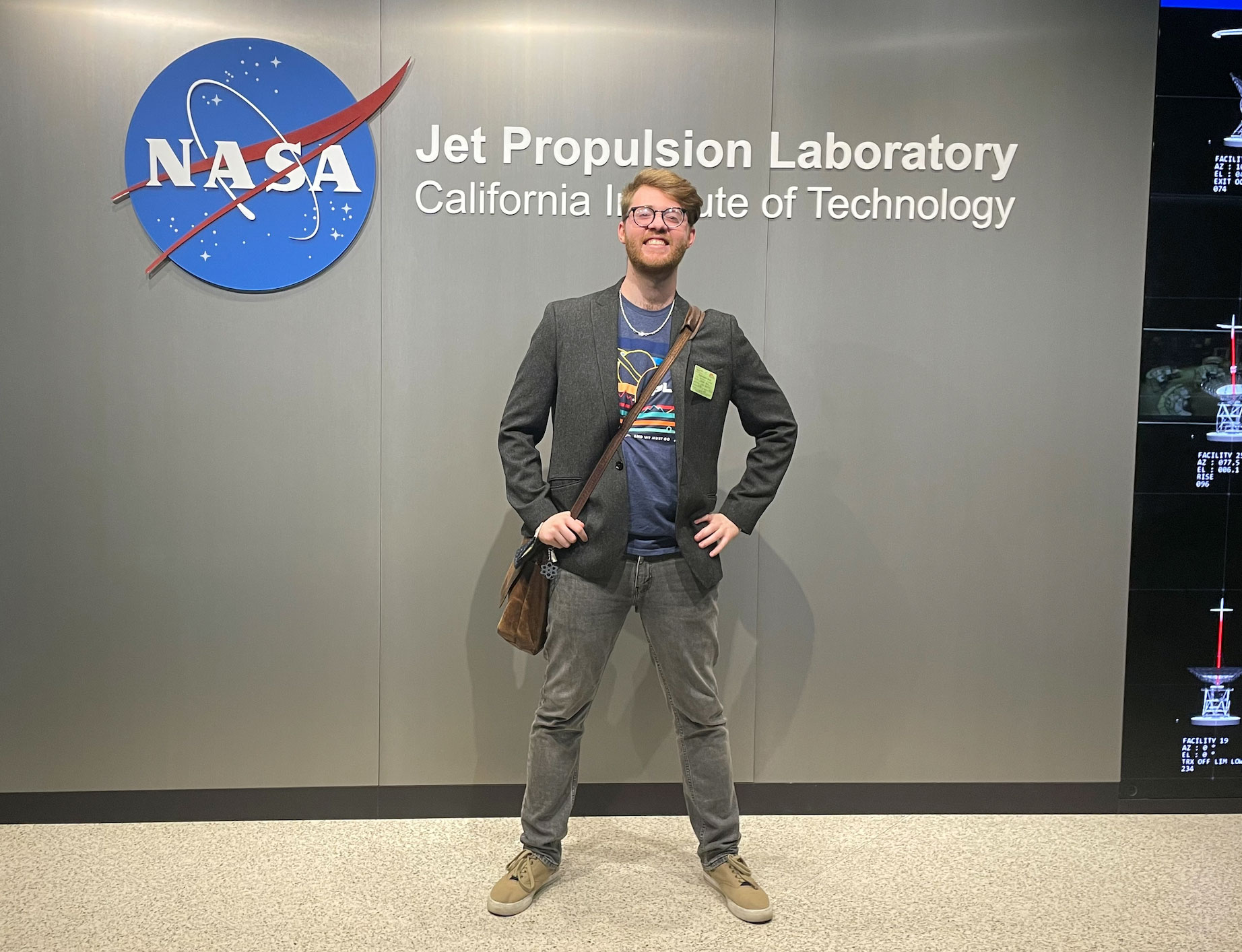 Alex Perera '21 has spent the summer learning and working in a prestigious internship at NASA's Jet Propulsion Laboratory, based at California Institute of Technology in Pasadena, California.
The Florida Polytechnic University graduate student is part of a team creating a digital twin of a high altitude balloon that records information about the air around it when the balloon is aloft. A digital twin is a real-time, virtual representation of a physical system or process. It is an identical counterpart of the physical system or process, and is fueled by real-time data, simulation, machine learning, and reasoning. It can be used to predict outcomes of various scenarios.
"The digital twin we're making is supposed to mimic everything the balloon is doing in the air, so we can check it from a ground station," said Perera, who received his bachelor's degree in computer engineering from Florida Poly in 2021 and is pursuing a master's degree in computer science on a data science track. "This way, we can give it suggestions, like if we're entering airspace we shouldn't enter."
The internship primarily has been remote, but Perera traveled to Pasadena, California, in August to do some in-person work and see the altitude balloon firsthand. His team now has a functional prototype and will soon be presenting it to the internship's sponsors.
"We're interested in being able to predict where it's going to go and where it's going to land," he said.
Perera, from Miami, Florida, said his senior-level coursework has been critical to his success in the internship.
"Last semester, I took a deep learning class for the first time – I wasn't sure if I was getting the internship when I took the class, but I wanted to be ready," he said. "I knew I had to hit the ground running if I got it, so I met with my professor several times in the month before school ended just to talk about digital twins and try to see what I needed to do to start preparing."
Perera was excited to immerse himself in the world of digital twins as forecasters predict the market to skyrocket. Dell Technologies estimates that this market will grow from $3.1 billion in 2020 to $48.2 billion by 2026.
Contact:
Lydia Guzmán
Director of Communications
863-874-8557