New Phoenixes arrive on campus ready to soar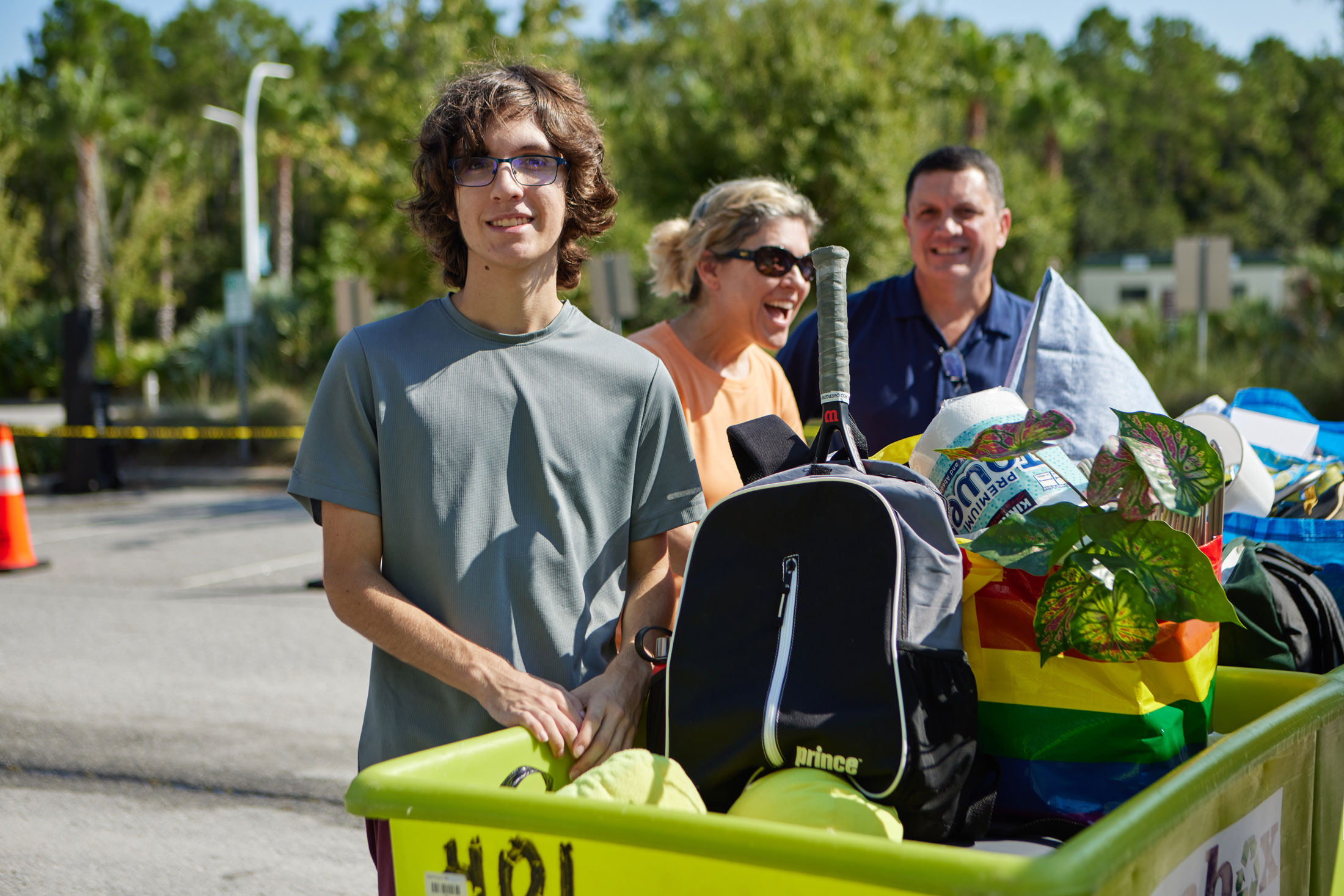 Hundreds of new Florida Polytechnic University students began arriving on campus on Friday, Aug. 19, to settle into and get to know their new home for the next four years.
"I'm nervous, but also excited," said Madox Bown, a freshman from St. Petersburg, Florida, who will be studying aeronautical engineering. "I've never really been away from home before, but it's part of growing up and you have to spread your wings and fly."
Bown was spending time with his family and finding his way around campus as he prepared for the start of the new semester on Tuesday, Aug. 23. His father, Kent Bown, said he was happy his son chose to attend Florida Poly.
"I think he's finally going to be with his tribe," Kent Bown said. "I'm both excited and a bit sad, but with what Florida Poly offers and what Madox brings, it's going to be part of a better future."
After moving into their rooms, meeting roommates, and getting the lay of the land, students' families attended Parent and Family Orientation to learn about what to expect from the university experience and how they can support their student throughout the year.
New student orientation began on Sunday, Aug. 21, and helped new Phoenixes make friends, learn about campus supports and resources, and get acclimated to college life.
"It's going well. I'm getting along well with my roommates and met people in my orientation group," said Preston Millhouse, a freshman computer science major from Clearwater, Florida. "I'm looking forward to classes and trying to keep on top of what's happening around the campus, so I've gotten the apps and gone through all the papers they gave us."
Paul Carey, Florida Poly's associate director of residential life and student experience, said a student's introduction to university life can set the tone for their entire collegiate experience.
"My hope is that each new Phoenix knows that Florida Poly is their home after attending this weekend's activities and events," Carey said. "We hope when a student is involved with and participating in move-in, new student orientation, and Purple Fire Week, that they find new friends and begin to find their community here at the University."
Emilee Zygmunt, a freshman computer science major from Sarasota, Florida, said the experience of starting college is both exciting and nerve-wracking.
"This is a new thing, which makes me nervous, and I don't have my cats with me," she said. "But I'm getting to meet my roommates and socialize and figure out how to adult."
For Madox Bown, the choice to attend Florida Poly was an easy one.
"I came here once and instantly fell in love with it. I just saw myself here and saw myself blending in and doing cool stuff," he said. "It just felt right. I've always had a thing for understanding physics and building all sorts of cool stuff, and with my education here, I'll get to do it as a job someday."
Contact:
Lydia Guzmán
Director of Communications
863-874-8557