Math major connects to Colombian roots through music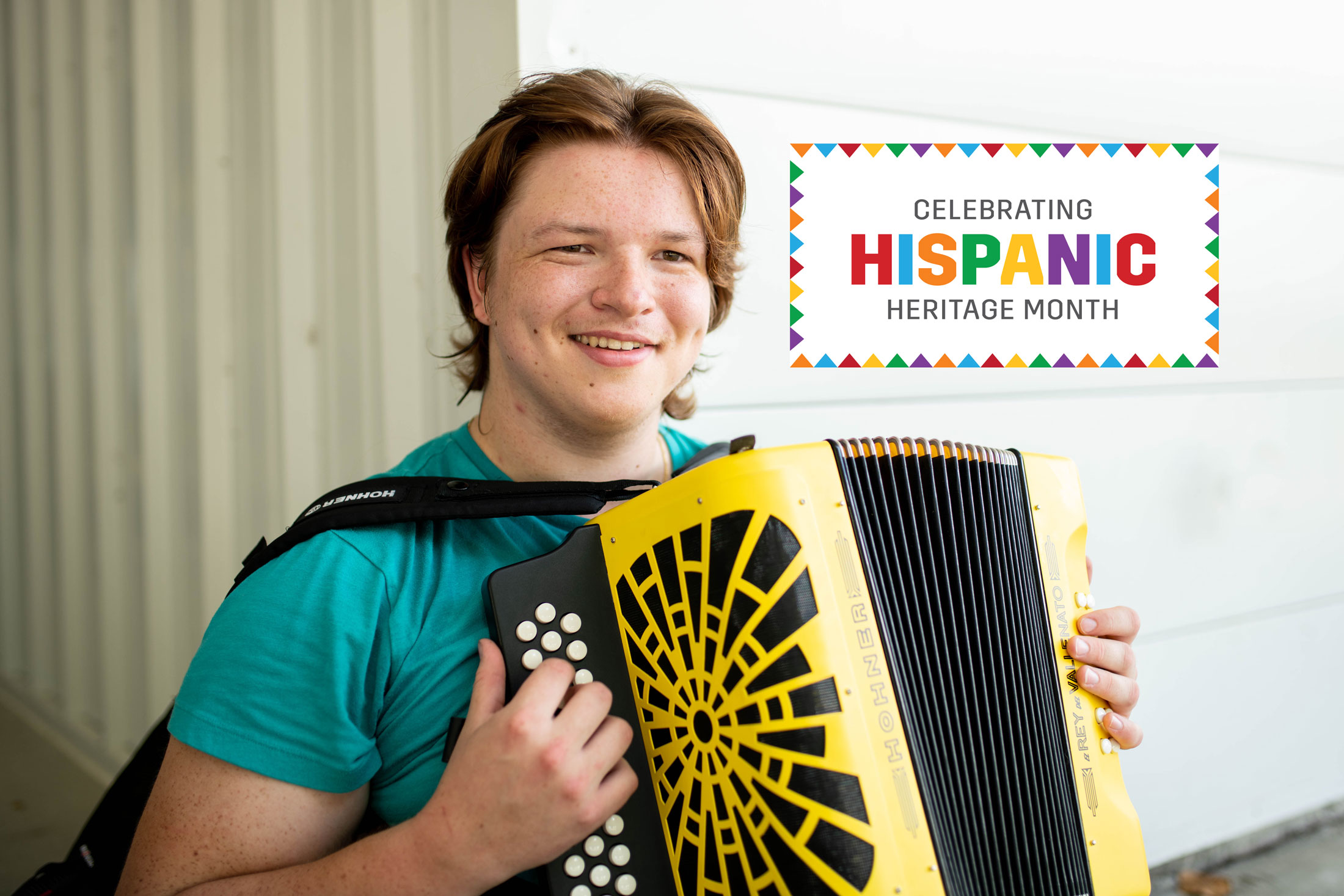 Florida Polytechnic University student Andrew Franz Pulido often attracts attention from students, faculty, and staff as he practices his unusual instrument – a Hohner diatonic accordion -- at the University's Oak Grove or outside the Wellness Center.
"A lot of students have been coming up to me, astonished by the instrument and the sound it produces," he said. "It's quite exotic to them, so they show a lot of interest in it."
Franz has always been enthralled by music. This fascination led him to take up dancing before joining the Lakeland Senior High School marching band percussion section. Soon, the sounds of cumbia and vallenato music pulled him to explore his family's Colombian heritage.
"I grew up not knowing how to speak Spanish, but wanted to start getting to my roots," said Franz, a junior majoring in applied mathematics whose mother's family is from the South American country. "I decided to start listening to Latino music and I fell in love with the accordion in cumbia and vallenato music."
With that, a new passion was born.
"The accordion music moved a lot and was very pronounced and emotional," Franz said. "I obsessed over the accordion when I was in high school."
During his senior year, a video of Franz's playing was sent to his grandfather in Colombia, much to the patriarch's delight. He soon sent Franz his own accordion.
"My grandpa used to be an accordion player when he was younger, and I did not know that," Franz said. "It was amazing. I could smell the wood sent coming from its bellows as I expanded it and compressed air. I immediately fell in love with the vibrating sound that resonates in your chest."
Although he is happy to be building a relationship with his grandfather, Franz is especially eager to bring joy to loved ones who are closer.
"The people in my family I truly want to make proud the most are my mother and grandmother," he said.
Today, Franz squeezes on his accordion during his free time between classes. The attention and appreciation he receives from his peers is always welcome.
"I've been seeing a lot of smiles and people coming to fist bump and high five anytime they walk past me," he said. "I don't care if people come up to me when I'm practicing.
"Music is an art and it's meant to be shared."
Contact:
Lydia Guzmán
Director of Communications
863-874-8557