Florida Poly offers powerful coding credential to freshmen from day one
Celebrating National Coding Week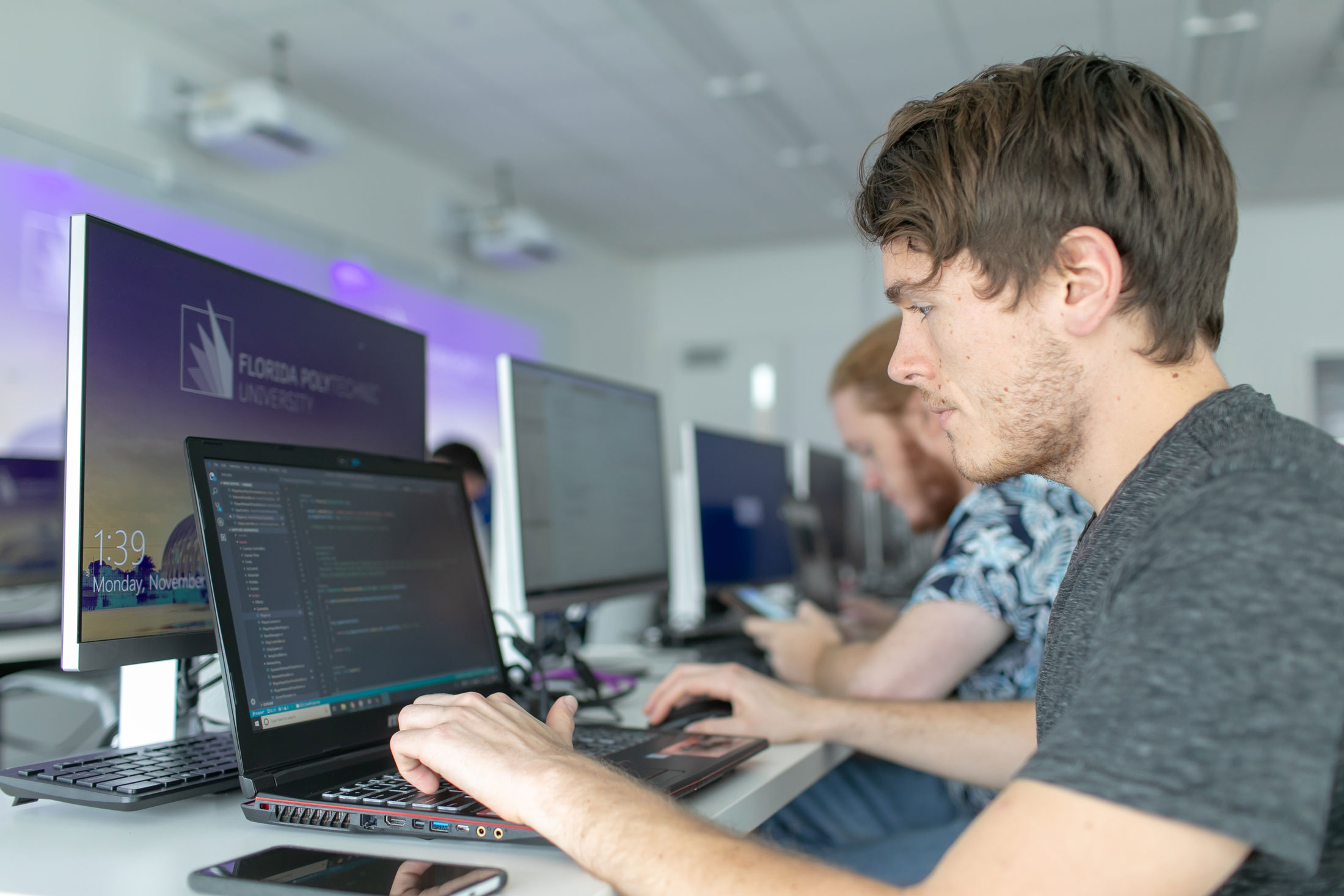 Select freshmen at Florida Polytechnic University can start learning valuable coding and programming skills from their first day of enrollment, thanks to a unique program designed to prepare them early for high-skill, high-wage internships and then careers in the tech industry.
The Coding for Data Analytics Certificate is an 18-credit program that begins after their high school graduation. The program helps competitive, incoming freshmen earn a desirable industry-relevant credential while also earning college credit that can be applied toward a bachelor's degree.
Florida Poly is the first university in the country to provide a coding credential to freshmen on their path to a core STEM degree. Students are admitted to the program after careful review of their full application and academic portfolio.
"While students at many colleges often take two years of general education courses before earning technical certifications, students admitted to Florida Poly's coding certificate program and a degree program have immediate access to courses that are industry relevant and can be part of their major," said Dr. Ben Matthew Corpus, vice provost for enrollment management at Florida Poly. "They also earn a powerful stackable credential that gives them the necessary skills for tomorrow's critical workforce."
The program is designed to help students obtain stronger internships while at Florida Poly, and aid them with job placement upon graduation, ready for lucrative, in-demand careers or graduate programs.
Corpus, who was a principle in the design of the program with faculty, said many aspects of today's e-commerce and industry processes are steeped in programming that involves machine learning, mathematical modeling, artificial intelligence, and data science.
"Learning foundational skills early provides our students with crucial training and a marketable foundation for highly competitive internships and job opportunities at tech companies, nonprofits, and industry, as it is increasingly expected in job applicants," Corpus said.
Contact:
Lydia Guzmán
Director of Communications
863-874-8557