Alumna building impressive career with EA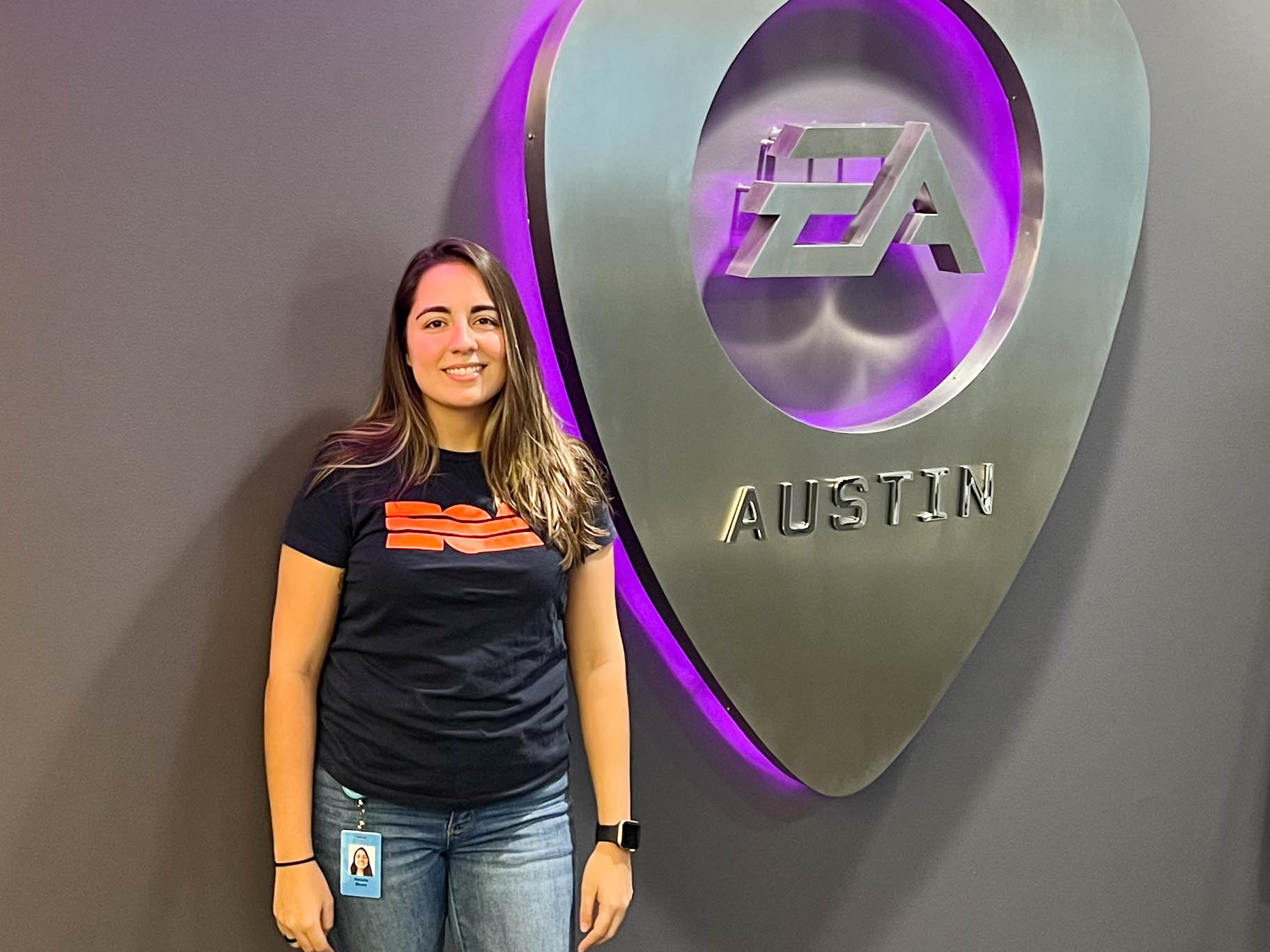 Just three years out of college, one Florida Polytechnic University alum is thriving in an exciting career with international video game powerhouse Electronic Arts (EA).
Natalie Brum '19 is leveraging her degree in data analytics to help improve processes at the company as an agile delivery manager. She works to make processes, projects, and teams in the company's security engineering department more agile.
Prior to joining EA at their offices in Austin, Texas, Brum worked at 3M as a scrum master, leading a team and taking charge of its process. She also interned at the company while still a student.
"I made the decision to move to Austin, so I was looking at the different tech companies in the area," said Brum, who is from Brazil. "I saw this position and it felt like it would be a really good fit because I had some of the right background with my scrum master role and background, and this job had to do with security engineering, which was outside my comfort zone and could be really helpful on my career path."
Brum is enjoying the hybrid work position, which sees her going into the company's offices as often as she feels is necessary. She often begins her workdays early in the morning to talk with team members in different countries.
"I love it. It's an interesting and awesome position, and I'm discovering so much regarding the whole security side of a company," she said. "It's been a challenge, but it's been a good challenge."
After two 3M internships as a manufacturing system engineer and then a project engineer, Brum worked with the company's research and development team and discovered three different positions were open there.
"They pretty much gave me an option of taking the position I like the most," Brum said. "I think I was very lucky to get the full-time position I did and growing my career so fast."
With this experience coupled with her time at Florida Poly, Brum said was set up for success.
"I believe, coming from a technical degree, I learned a lot about the technical aspects of things like programming and coding," she said. "This is the knowledge I need to have a better understanding of all my projects and what my developers are doing."
Brum advocates for current Florida Poly students to build strong relationships with their professors and try to soak up as much information as they can, especially from their more technical classes. She also was actively involved on campus during her time at the University and served as president of the Society of Women Engineers (SWE) on campus.
"Students need to get out of their comfort zone a little bit and explore different groups and organizations because it's an amazing way to network with different organizations and companies we bring in to partner with the clubs," she said. "It's also a good way to make friends, and now I have my little Florida Poly family."
Contact:
Lydia Guzmán
Director of Communications
863-874-8557