Florida Poly Foundation Board adds members with industry, University insight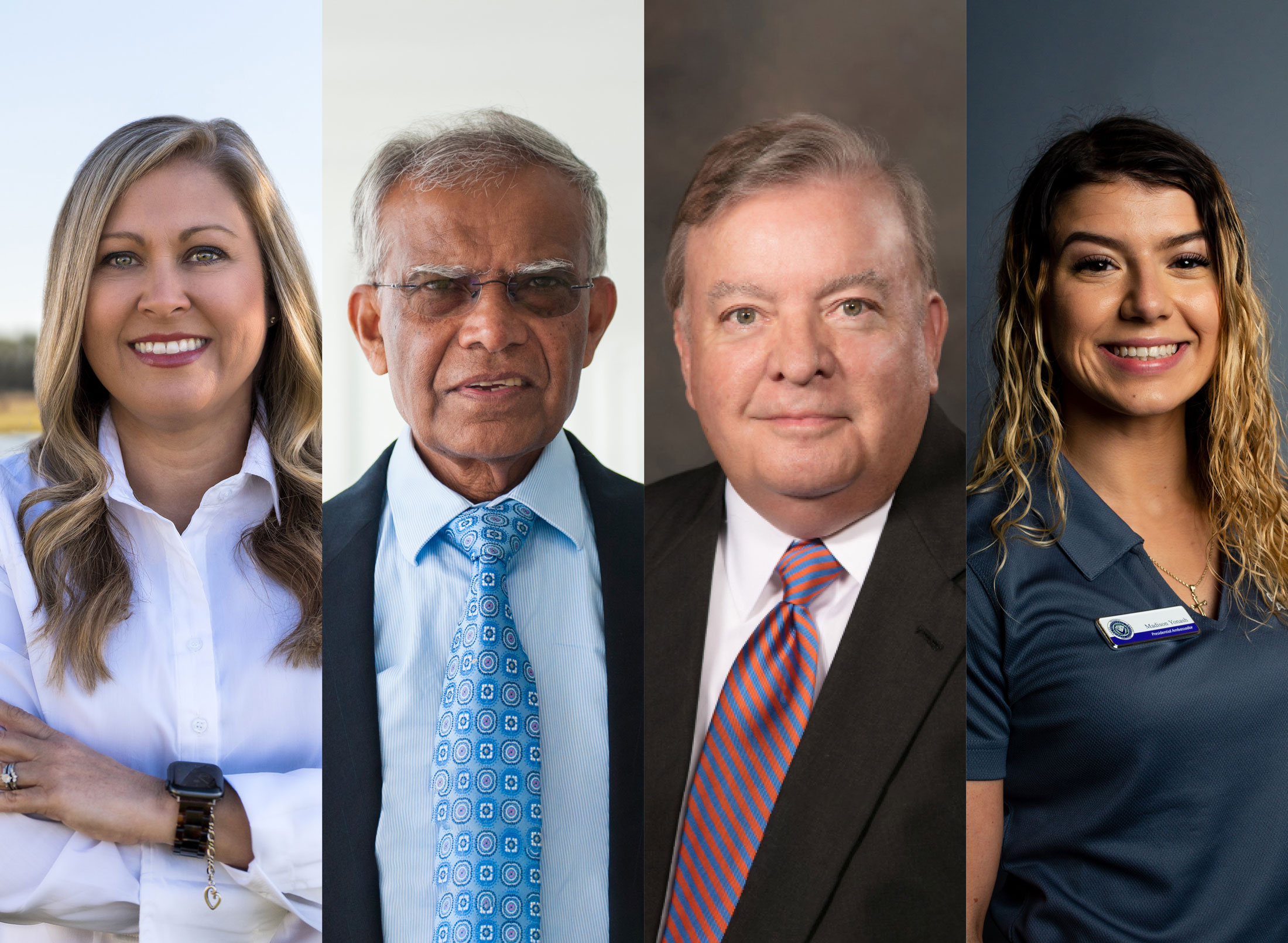 The Florida Polytechnic University Foundation's Board of Directors has welcomed the appointment of four members with expertise in engineering, information technology, law, and the University itself.
The University's Board of Trustees recently approved the appointments of Kristen Lowers, chief information officer at Saddle Creek Logistics Services, and Florida Poly student Madison Yonash to the Board. Dr. Muhammad Rashid, professor of electrical engineering at the University, was reappointed by Florida Poly President Randy Avent, and Don Wilson, attorney and former chair of the University's Board of Trustees, was appointed by to the seat by the University's Board of Trustees.
"We are honored to have such vast experience, leadership and enthusiasm joining our Board," said Kathy Bowman, the Foundation's CEO. "As we work toward providing even stronger financial support to the University, these leaders will undoubtedly make an impact on Florida Poly's future."
Kristen Lowers
Having spent a career in information technology, Lowers is widely respected by her work team and her community in Lakeland, Florida. Since joining Saddle Creek Logistics Services in 2012, she has quickly risen through the ranks, helping to expand the company's information technology capabilities to support steady growth and clients' increasingly complex technology requirements.
Today, as CIO, she strives to ensure that the company's employees, processes, and technologies deliver results aligned with the company's goals. Lowers plans to put her professional experience to work for Florida Poly's Foundation.
"I'm excited for this opportunity to serve as an advocate for the University, and I look forward to helping Florida Poly strategize for the future and continue to elevate the level of education they offer," Lowers said. "With my industry experience and passion for technology leadership, I can help to identify what supply chain businesses need in terms of STEM talent."
Lowers is eager to help Florida Poly's talented students fulfill the region's need for highly qualified tech workers.
"We've hired some of the most knowledgeable, creative, and well-equipped students through our internships and relationship with Florida Poly," she said. "It's important to our company to keep strengthening our partnership and encourage others to join us in support of the University."
Madison Yonash
Yonash has worked hard to distinguish herself as a standout student leader in academics, sports, and spirit.
The junior majoring in business analytics with a concentration in logistics and supply chain management advocated for and founded the Florida Poly women's club soccer and powerlifting teams. She also has served as a Presidential Ambassador and admissions ambassador.
Yonash believes her experience as a student can help inform the Board's decisions.
"I hope to contribute my perspective as a current student in order to help share the point of view of my peers when making decisions and providing input in relation to the Board," she said. "I'm honored to be able to give back to the University after being provided with so many opportunities to get involved."
One of Yonash's goals as a member of the Board is to play a role in helping other students achieve scholarships and financial support through the Foundation.
"As the Foundation Board helps with obtaining scholarships and distributing funds from donors, I am very excited to serve as part of this process," she said. "Without the scholarship that I receive, I wouldn't be able to afford college, and I hope I am able to make a difference in others' lives in the same way the difference was made in mine."
Dr. Muhammad Rashid
An internationally recognized leader in electrical engineering research and education, Rashid is committed to helping advance Florida Poly's mission. He is a professor of electrical engineering and former head of the Department of Electrical and Computer Engineering at Florida Poly.
One of the architects of the University's electrical and computer engineering program, Rashid's textbooks have been adopted at 57 U.S. universities, including Stanford University, Cornell University, the University of Texas at Austin, and New York University. They also have been translated into many languages.
Rashid has long been a supporter of Florida Poly and has backed his commitment with generous scholarship donations to the University. He's eager to have a new role in helping develop financial support for students on a larger scale.
"Florida Poly is rapidly growing and recruiting bright students," he said. "I think that it is important to be a part of the team working toward the vision of Florida Poly and the development of the Lakeland region."
Rashid also said he believes his role at the University will help him better serve the Foundation Board.
"As a Florida Poly faculty member, I can bring the needs of both students and faculty to the attention of the Board," he said.
Rashid was named in the top 2% of scientists in the world in 2020 and is a Life Fellow of the Institute of Electrical and Electronics Engineers, as well as the Institution of Engineering and Technology in the United Kingdom, among many other recognitions.
Don Wilson
As a founding member and former chair of Florida Poly's Board of Trustees, Wilson has worked hard to advance the University's mission and vision, guiding it toward success. Now, as a member of the Foundation Board, he is excited to continue advancing the University's goals in a new way.
"Having served on the Florida Poly Board of Trustees from 2012 through 2020 and having practiced law in Polk County for 40 years, I hope that my knowledge and experience can assist the Foundation in its critical function of developing support for the University," he said.
Wilson is a fifth-generation Polk County resident and a longtime lawyer who has represented countless public clients in the county and its surrounding areas. He said it is important for the Polk County community and beyond to continue supporting the University.
"A dynamic STEM university, like Florida Poly, is a great engine for innovation, commerce, and business development," he said. "In the coming years, Florida's profile as the home for all aspects of the technology development and business will be greatly enhanced as the result of what Florida Poly will bring to Florida, and this will mean clean industry, high-paying jobs, and better opportunities for the people of Florida."
In addition to his work with Florida Poly, Wilson has served on the Judicial Nominating Commission for the Tenth Circuit, as well as on the board of directors of both Palm Beach National Bank and Trust Company and Citrus and Chemical Bank.
In addition to the newly appointed Board members, reappointed to their seats were Phillipa Greenberg, Jack Harrell III, Joshua McCoy, Ivette O'Doski, Blake Paul, and Donna Slyster.
Contact:
Lydia Guzmán
Director of Communications
863-874-8557