Industry partnership advances cybersecurity, high-tech career opportunities
Cybersecurity Awareness Month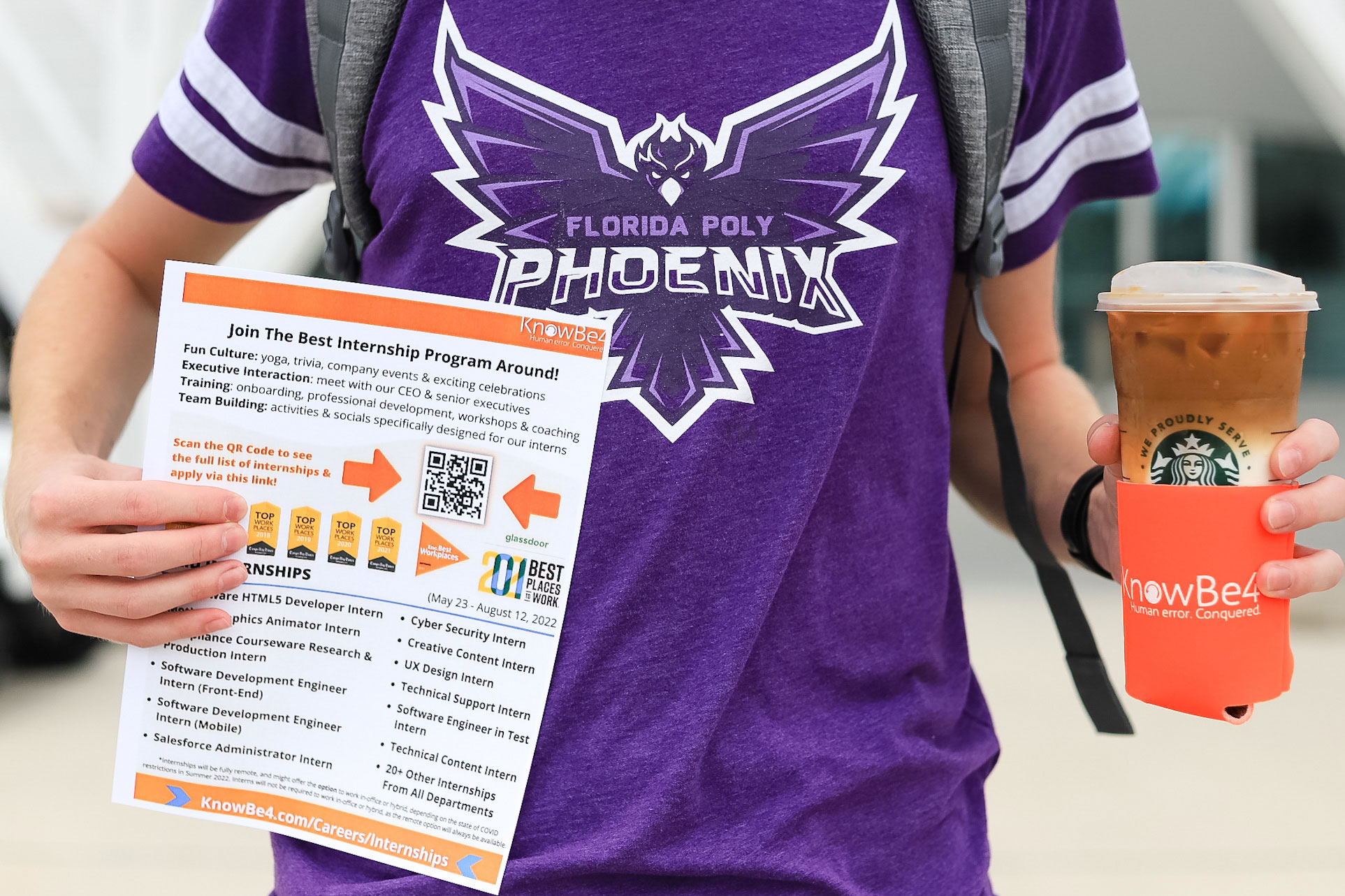 Florida Polytechnic University students are gaining insider industry knowledge, improving career readiness, and finding valuable employment opportunities thanks to a partnership with KnowBe4, a global security awareness training and simulated phishing provider based in Clearwater, Florida.
KnowBe4 has hired multiple University alumni and interns. Alyssa Nichols, global talent outreach manager at the company, said she has been impressed by their knowledge and attitude, as well as by the students they meet when they visit campus. KnowBe4 is now growing its relationship with this talent pool.
"We have definitely enjoyed being on campus a lot more in the last year," said Nichols, global talent outreach manager at the company. "We get to speak with the students and interact with them in a formal and professional setting in the classroom and in a more casual setting, tabling on campus and having conversations with them."
When Florida Poly alumni are hired full-time at the company, Nichols said they are on track to help advance the company's mission, easily adapting to the quickly shifting cybersecurity landscape.
"They're absolutely able to keep up with it and are very in tune with current events, especially because of networking and social media," she said. "They relate and they see it every single day."
The company's involvement with students stems from its membership in Florida Poly's Corporate Impact Network.
"We are excited because the University is the number one public university in the South, and we are the number one employer according to Top Workplaces USA," Nichols said. "It makes sense for the two number ones to be together."
October is Cybersecurity Awareness Month, and KnowBe4's focus on cybersecurity pairs well with Florida Poly's emphasis on the subject within its computer science and engineering programs.
"We teach users – employees that work for our customers' organizations – about what to know before they click on something," Nichols said. "We're a global company, but our work starts in our own back yard, telling people about those common phishing emails or when you receive a text message where someone wants you to click a link and redeem a gift card."
Contact:
Lydia Guzmán
Director of Communications
863-874-8557