Electrical engineering alumna helps create next-generation medical devices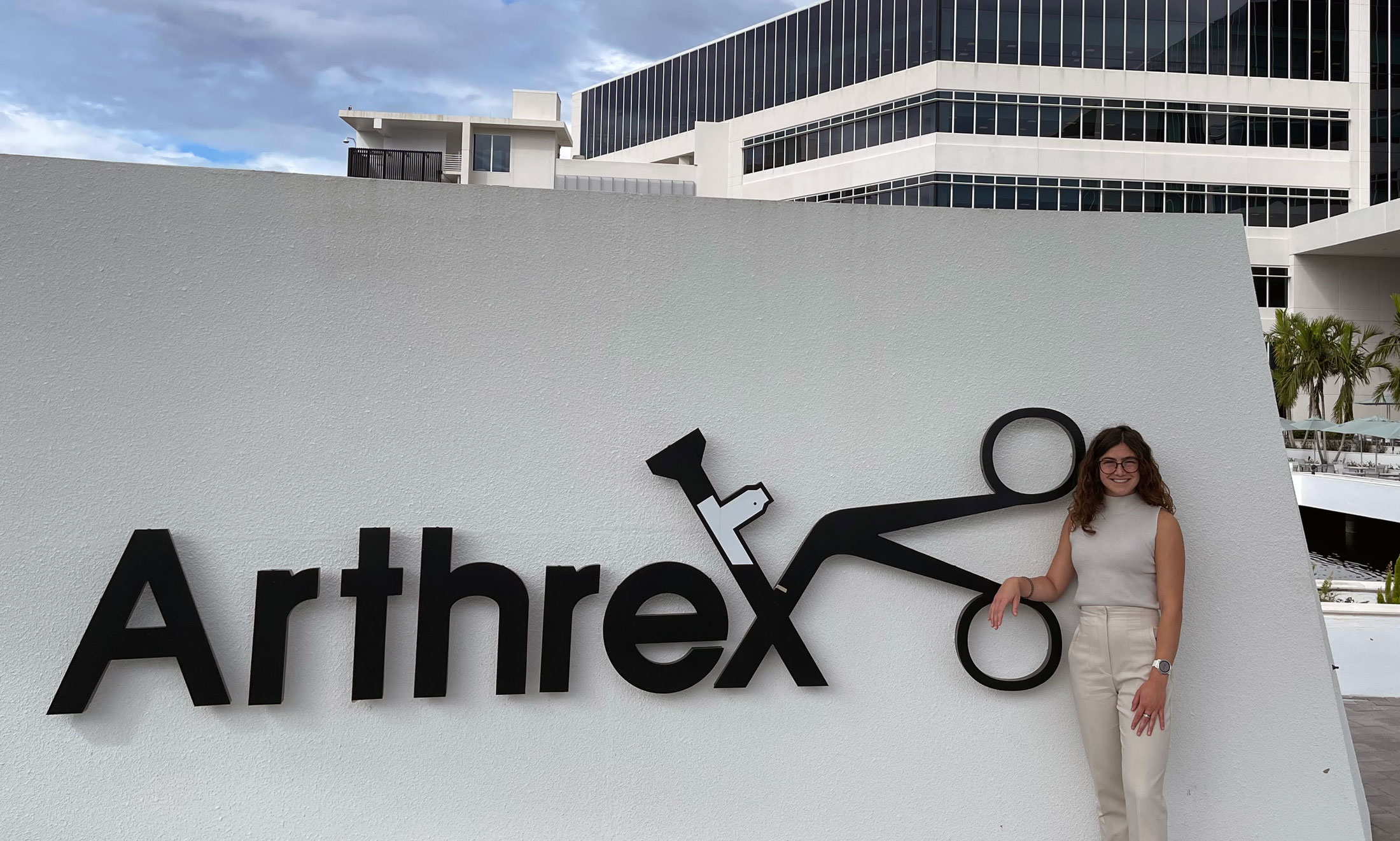 Chelsea Reeves '19 always had dual passions for engineering and biology. Today, she fulfills both in her position as a product development engineer at Arthrex, a global orthopedic medical device company based in Naples, Florida.
Reeves works on Orthobiologics and Vet systems at the company.
"Orthobiologics is the new regenerative medicine of the world and as a team, we are always learning how to innovate products that can help a vast amount of people based on the consistent world-changing medical breakthroughs," said Reeves, who received her electrical engineering degree from Florida Polytechnic University in 2019. "My team is unique. Not only do we design for the functionality of a product, but we also have a biological research team associated with our engineering group that allows us to test certain biological outputs of our products."
Reeves' engineering position with Arthrex was the first job she landed after graduation. And after almost three solid years with the company, she said she feels grateful for having secured what she considers the perfect career opportunity.
"It's something I've always wanted to do – marry the biology aspect with electrical engineering," she said. "It has a huge impact on helping surgeons treat their patients better. Arthrex is a very forward-focused company that uses precision to help improve a patient's quality of life and I am happy to have found an environment that shares similar values to my own."
The Jacksonville, Florida, native said Florida Poly played a huge role in her current success thanks to the school's project-based, hands-on curriculum and the many leadership opportunities she enjoyed on campus. While a student at the University, she was a member of Rotaract, led the initial branch of Toastmasters, and held positions as president and vice president of CAB, the Campus Activities Board.
"Forging my way through, getting those leadership skills, and having the opportunity to work on a variety of projects that were oriented toward my interests allowed me to immerse myself in an environment where I really embraced my passions and enhanced my skillset," she said. "Florida Poly provided me with the resources that made it very easy for me to find what I loved and wanted to do."
Reeves offered advice for current and prospective Florida Poly students who are thinking about their future.
"I want people to become the uncomfortable lobster – this is based on this amazing video I watched, which essentially speaks about how in a state of discomfort, you may be uncomfortable, but you will grow from that discomfort," Reeves said. "Lobsters are soft mushy animals that live inside of these rigid shells that do not expand, but when they want to grow, they go under a rock to hide from predatory fish until their shell grows back and this process repeats. The stimulus for the lobster to be able to grow is that it feels uncomfortable. In times of stress and change, we have to understand that feeling is a signal for growth."
It's advice that served her well.
"I had so many people question my path when connecting science and electrical engineering," Reeves said. "But like I said for others, don't be afraid to be yourself and be uncomfortable. Put everything on the table because even though you're uncomfortable, you're going to learn so much more and grow in your career and personal life."
Contact:
Lydia Guzmán
Director of Communications
863-874-8557