5 Florida Poly researchers among world's top scientists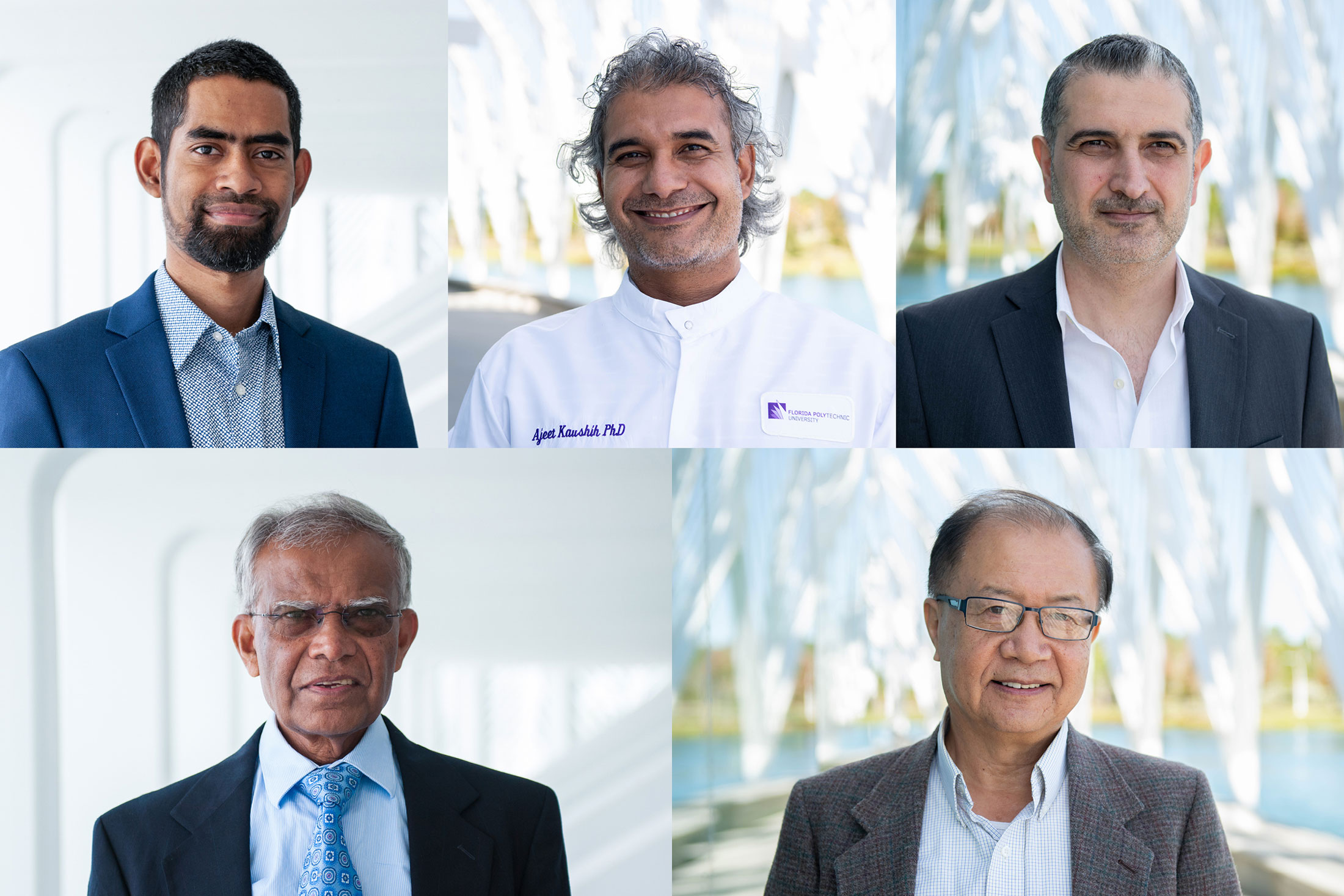 Five researchers from Florida Polytechnic University have been recognized as being among the top 2% of scientists globally on a prestigious annual list compiled by Stanford University. The findings are published in PLOS Biology.
"This achievement represents years of hard work, determination, and dedication by these faculty," said Dr. Terry Parker, Florida Poly's provost. "We are exceptionally proud of these researchers' recognition, and the University will continue to support their scholarship efforts."
This is the third year Florida Poly researchers were recognized on the list of top scientists in the world. The recognitions were separated into two categories: work and citations in the last year and work and citations over a scientist's entire career.
Dr. Ajeet Kaushik, assistant professor of environmental engineering, and Dr. Muhammad Rashid, professor of electrical and computer engineering, were recognized on the list for work and citations over their entire careers. Each has also previously been named to the list of top scientists over the course of a year.
Rashid is a world-renowned scholar who has published over 160 technical papers and 27 books, which have been translate into dozens of languages and are being used by more than 50 universities.
"I feel good about sharing my ideas and knowledge with people," said Rashid, who often is asked for photos and autographs when speaking at conferences internationally. "My advice to others is to do your work and establish yourself so you can be proud of the work you have achieved; not the numbers."
In addition to his work in nanotechnology supported by 250 technical papers and 10 books, Kaushik has 10 editorial positions at respected journals, including an editor-in-chief position for Biomedical Nanotechnology section of the journal Frontiers in Nanotechnology.
"This feels like an acknowledgement of my consistent hard work, but the credit goes to the institution and leaders like Dr. Mary Vollaro, because Florida Poly is so supportive and so motive – it's very easy to work here," said Kaushik, whose work focuses on biosensors and nanomedicine. "It also really motivates new students and gives good feelings to the parents, who feel their children are going to a very good institution."
Habib's research focuses on optoelectronics and emerging state-of-the-art ultra-low loss optical fiber design and characterization for short- and long-haul high-speed communications and biomedical applications such as developing a real-time, portable device for deadly biomarkers detection. He has published over 70 peer reviewed journal articles and conference proceedings and is an editorial member of several renowned journals, including IEEE Journal of Selected Topics in Quantum Electronics, IEEE Access, and Applied Optics.
Kaushik also was among those on the list of top researchers for the past year. Alongside him were Dr. Md Selim Habib, assistant professor of electrical and computer engineering; Dr. Hisham Mahmood, assistant professor of cybersecurity and electrical engineering; and Dr. Patrick Zhang, director of research, mining, and beneficiation at Florida Poly's Florida Industrial and Phosphate Research Institute.
"I believe this says that the work I did on publications in the past has had a significant impact," said Zhang, who also was on last year's list and whose work focuses on recovering rare earth elements from phosphate processing waste. "Seeing a growing number of faculty being recognized means that Florida Poly is attracting top scientists as a STEM university."
Mahmood also was included for two years in a row for his work on energy systems integration and distributed generation control and optimization.
"This recognition is more proof that dedication, hard work, and commitment to quality work is always rewarding in the long run, and I hope it inspires our students to strive for excellence," he said. "I have expanded my research and started working on electric vehicle charging coordination and innovative power system architectures. I'm looking at how all these EVs get connected to the grid, and how we can coordinate the charging to reduce the burden on the future power grid system."
Mahmood, who has had assistance from both undergraduate and graduate students said Florida Poly is rare in its offering these research opportunities to undergraduate students, providing them with advanced skills.
This is part of the ecosystem that makes it possible for scientists to have such strong performance at Florida Poly.
"Universities must have excellent faculty in order to excel and we are fortunate to have these, and many other gifted and hardworking faculty who are dedicated to the research and teaching mission that is the basis for the institution," Parker said.
Contact:
Lydia Guzmán
Director of Communications
863-874-8557