Passionate about aerospace, students design self-correcting rocket engine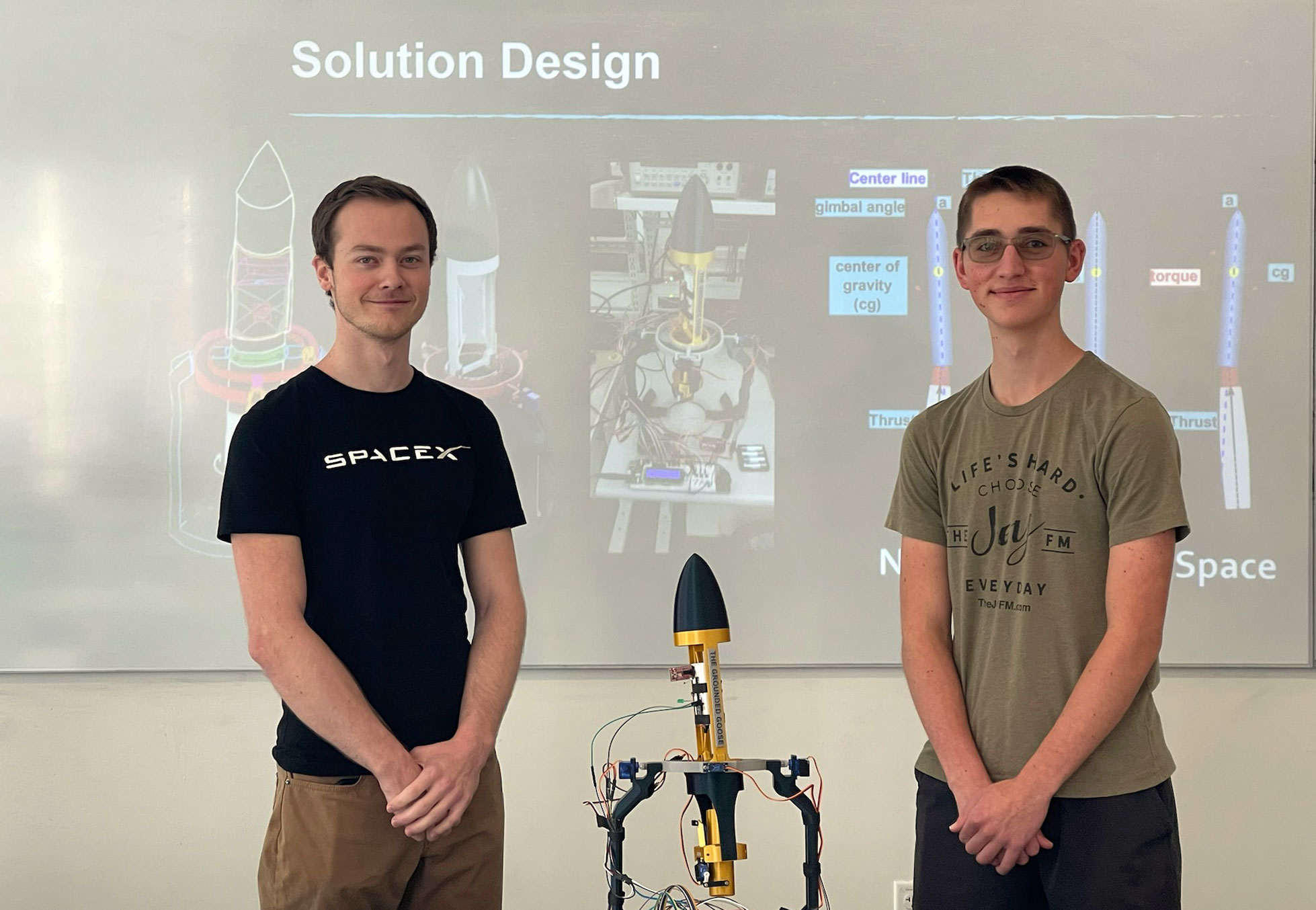 Florida Polytechnic University seniors Mac Feilmeier and Austin Rumancik spent the last several weeks of the fall semester designing and building a thrust vectored rocket, or a rocket that self-corrects its direction if it detects any deviation from its planned flightpath.
"In our microprocessors class, we were essentially asked to make something cool and creative with what we've been learning," said Rumancik, a computer engineering major. "Mac brought up the idea of thrust vector control. It was a lot of learning how to integrate the class logic with the complexity of the project."
To fulfill the assignment of creating a project to implement class concepts, the students designed a rocket that could take input from a measurement unit, like a gyroscope, and translate it to the orientation of the rocket to make a correction vector if it was in flight.
The students designed a maneuverable, gimbaled mount that could simulate the factors of flight such as pitch, roll, and thrust. This allowed for the real-time monitoring and analysis of the rocket's response to changing flight conditions that would otherwise be difficult to observe through basic hardware.
The students 3-D printed the entire project, including the frame and all structural components.
"The day before our presentation, I had gone to bed that night thinking 'I'm very glad it's almost done,' then I woke up and designed a few new parts for it because I was so excited to be working on it," Rumancik said. "I want to keep improving it, but I'm happy we have it to a point of completion."
The project is a taste of the aerospace career Feilmeier hopes to pursue.
"It's been a long passion of mine," said Feilmeier, who is majoring in computer engineering. "With our access to the tools we learned about in this class, like microcontrollers and programming them using C, I thought it would be cool to incorporate that in a project involving aerospace."
The thrust vectored rocket went far beyond what was expected in class.
"This is impressive work and an excellent outcome of what I always try to have students in my course achieve," said Dr. Rawa Adla, assistant professor of electrical and computer engineering at Florida Poly and the students' instructor. "Austin and Mac put lots of effort into completing this project, learning how to research and apply many new concepts for their level. It demonstrates the hands-on learning I adopt with my students."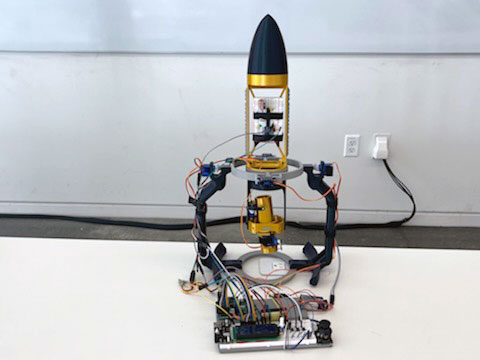 Contact:
Lydia Guzmán
Director of Communications
863-874-8557