Police sergeant puts decades of experience to work at Florida Poly
Celebrating National Law Enforcement Appreciation Day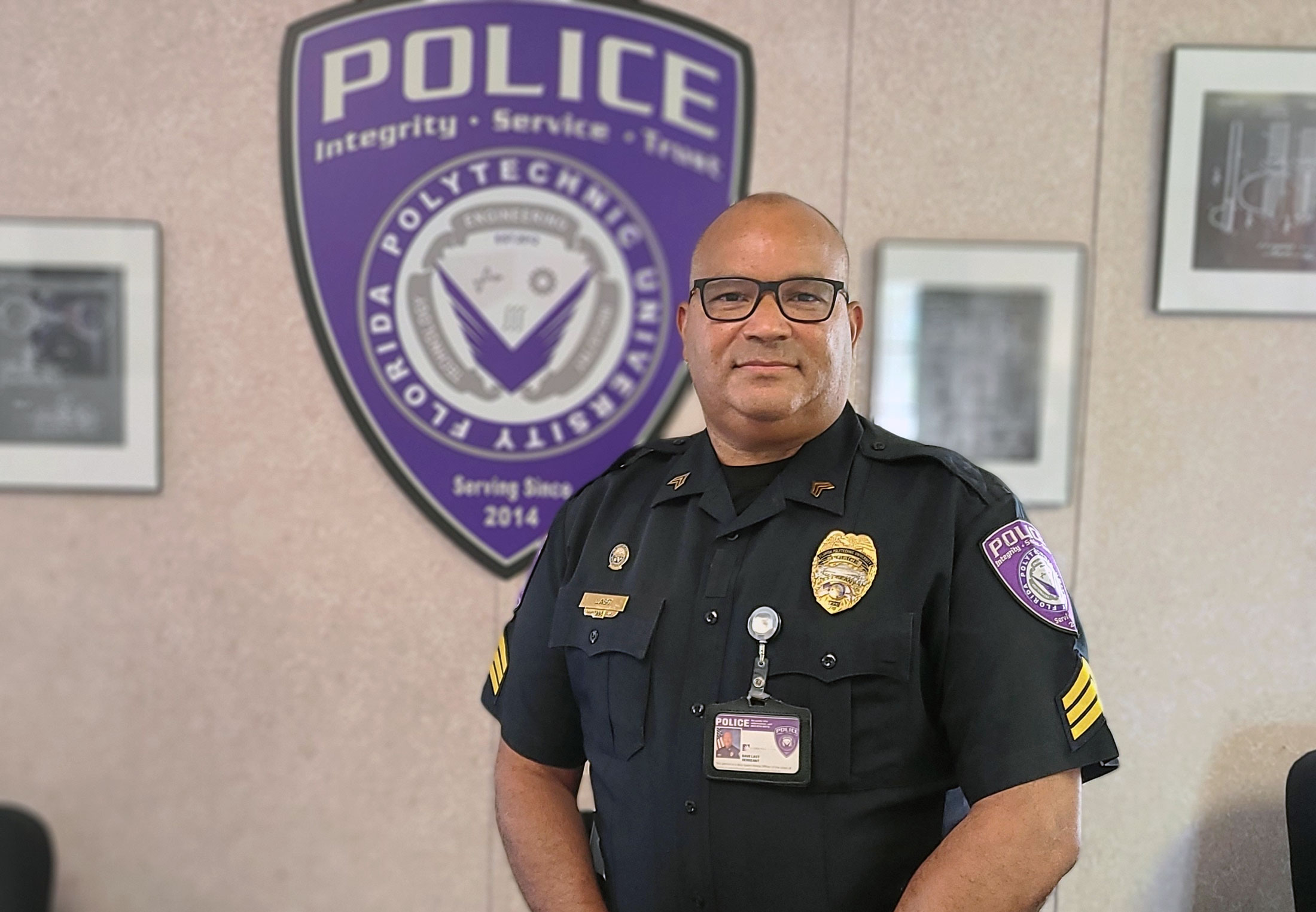 Florida Polytechnic University Police Sgt. David Last's career has always seen him serve and protect all those around him.
Last joined the U.S. Air Force during his years in college where he was studying accounting. After more than 10 years the military, he joined a program called "Troops to Cops," which trained the then-staff sergeant to work in local law enforcement agencies. Last soon made his way from New York to Florida, joining the Polk County Sheriff's Office.
"It was an easy transition because police departments use military rank structure," he said. "Following directives and orders was my regimen in the military, so law enforcement felt comfortable and allowed me to continue to protect and serve the community."
In 2015, Chief Rick Holland, the leader of the then new Florida Polytechnic University Police Department, asked Last, his longtime colleague, to join him.
"He is phenomenal; he's my go-to guy," Holland said. "He's a mighty servant and would give the shirt off his own back to a student in need. He's a great guy."
Last's previous full-time position with the Polk's Sheriff's Office was as a detective working on major crimes. The shift to campus policing was like night and day, he said.
"It's a big change of pace as far as call volume and interaction. I don't work the type of crimes I did at the Sheriff's Office," he said.
Instead, he focuses on community policing, protecting the campus, managing the department's fleet of vehicles, outfitting officers, and overseeing the field training officer program.
"Law enforcement on a whole is challenging, and Florida Poly is a breath of fresh air," Last said. "The ability to protect and serve at the University has been a welcomed change of pace. Officers sometimes are not given the friendliest reception but it's totally different here at the University."
The appreciation of the University community is very apparent, he said.
"From my first days walking the campus to today, I value the ability to be met by smiling, friendly faces," he said. "It is a wonderful atmosphere, not often encountered when responding to community policing needs."
Since then, his call to serve the Florida Poly community is stronger than ever.
"Everyone here is taking the approach of a mentor instead of watching over the students," Last said. "If we're approachable, then they're not going to hesitate to come to let us know something is not right on campus."
This approachability is supported by year-round police events like playing pool, watching movies, and having pizza with students.
After seven years working day in and day out to keep the campus safe, Last said he plans to retire this August.
"I have loved my time here, but now I'm interested in finding out what's next in my life," he said.
Contact:
Lydia Guzmán
Director of Communications
863-874-8557