Solaris is the newly named Florida Poly mascot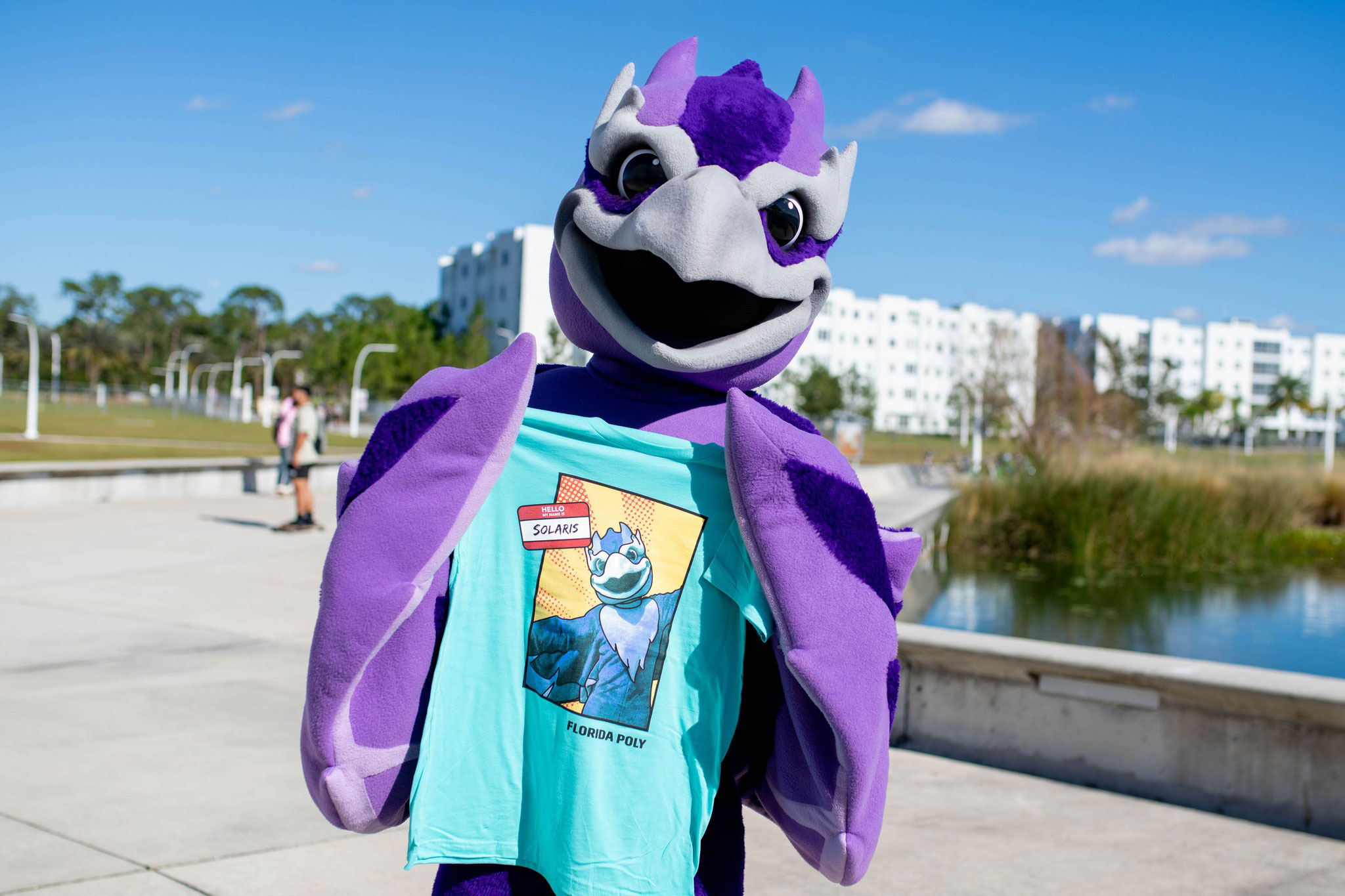 More than 100 members of the Florida Polytechnic University community cheered on the unveiling of Solaris as the name of the University's Phoenix mascot.
The energetic mascot hyped up the crowd throughout the event.
"This is an exciting day to celebrate another milestone in the history of the University," said Dr. Randy Avent, Florida Poly's president. "Mascots are very important for a university because they're a representation of a group with a common public identity. The phoenix is said to possess great wisdom, soar to great heights, and rise from its own ashes, and it's a true representative of our students at Florida Poly."
Avent reminded the crowd that from Florida Poly's earliest days, students have been involved with developing the mascot, its look, and now its name.
"I think the name matches with Florida Poly," said Jack Kerkering, a freshman majoring computer science major. "It gives the mascot a sense of importance and identity. Without it, he's just a Phoenix."
Ben Betancourt, a sophomore majoring in computer engineering, said he was pleased with the name, even though he had nominated a different one for the mythical creature: Phineas.
"This is also a good name," Betancourt said. "It makes sense because the Phoenix is associated with fire."
The celestial name Solaris is of Greek origin and means "of the sun." It's often bestowed on both males and females.
Name nominations were accepted in October and the suggested names were then pared down by University and student leaders to Photon, Spark, and Solaris. About 700 students, employees, and other stakeholders voted on the phoenix's name in November.
Monday's naming event was complete with free T-shirts and cupcakes, and it kicked off Purple Fire Week, a biannual tradition that welcomes students to a new semester and provides many opportunities to get involved and connect with others. The week's events include the Club SDC: Power Hour on Wednesday, Jan. 11, Club Row on Wednesday, Jan. 11, and more.
See the full Purple Fire Week schedule on the digital University Calendar.
Contact:
Lydia Guzmán
Director of Communications
863-874-8557