Florida Poly students visit State Capitol to advocate for the University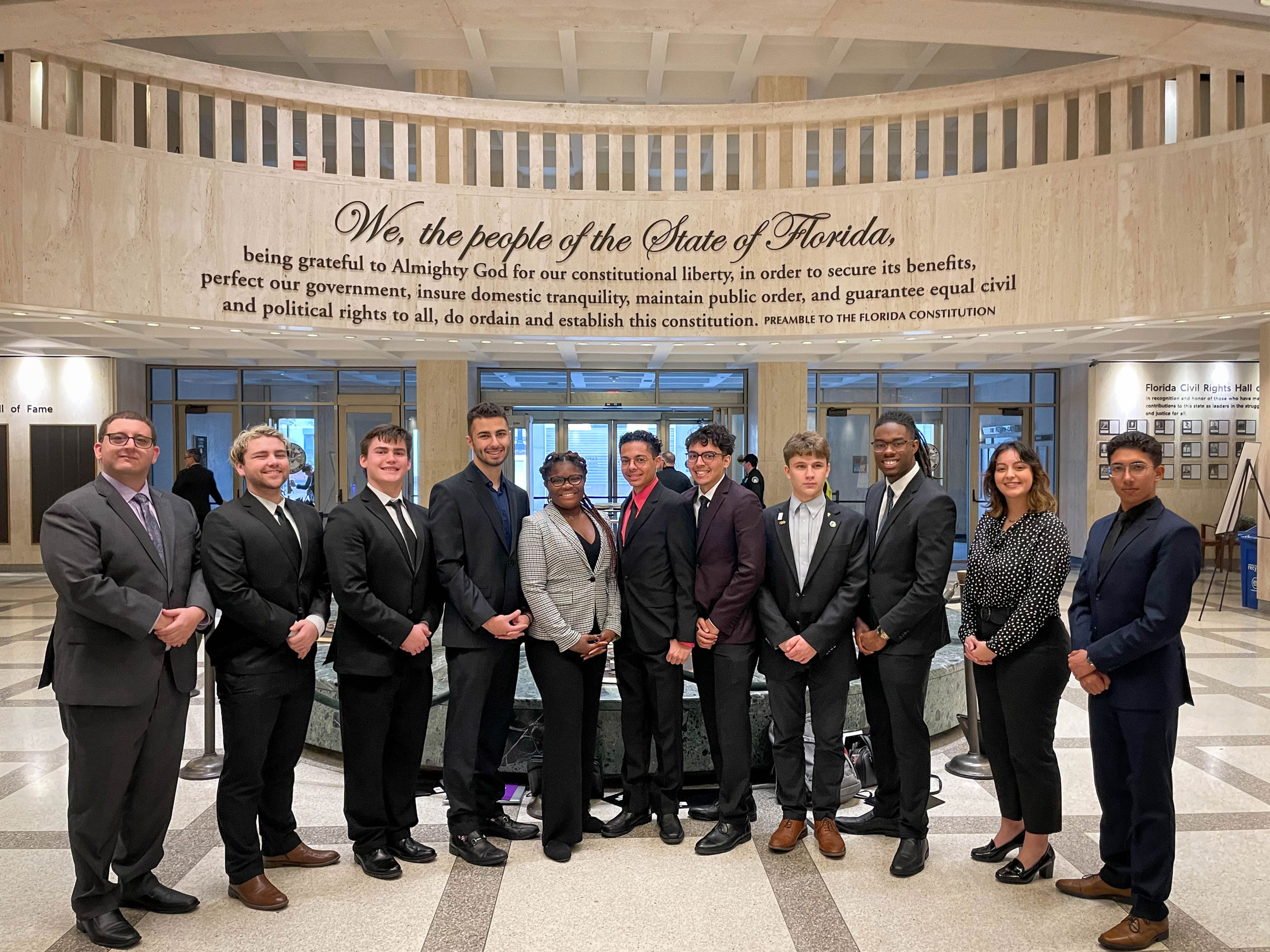 Nearly a dozen Student Government Association members from Florida Polytechnic University traveled to the State Capitol in Tallahassee this week to meet with legislators and discuss their priorities for both their University and the other universities in the State University System.
"Our goal is to share our stories and experiences as Florida Poly students with legislators and demonstrate all the good the University does for not only its students, but also the state and country," said Melia Rodriguez, SGA president. "With that, we are pushing for funding for two main areas, the Engineering Program Of Distinction and the Student Achievement Center."
The Engineering Program of Distinction funding will help Florida Poly fulfill its academic mission and produce more high-skill graduates ready to fill Florida's many vacant low-supply, high-wage STEM positions. Once built, the Student Achievement Center will enhance the student experience with ample spaces for study, multimedia collaboration, career and internship initiatives, instruction, offices, and an auditorium.
The students met with the Polk County delegation as well as various education committee members and their staffs to advocate for the University's priorities and shore up their support for its mission.
"We split into two groups and met with all the representatives and senators from Polk County, so they not only already know of Florida Poly, but they've been on campus," said Graham Gilbert, a senior majoring in data science and the SGA Senate president. "They are definitely fans of the University and it's great speaking to them."
Gilbert has participated in the lobbying event multiple times and was happy to be part of the experience again.
"It was all such a wonderful experience meeting all the representatives and senators and having the opportunity to rally on behalf of Florida Poly students," he said.
The group also is participating in "Rally in Tally" this week, an annual event of the Florida Student Association (FSA). It brings together students from SUS campuses throughout Florida to advocate for collective priorities such as the Hunger-Free Campus Grant Program.
"The goal is to get in front of legislators and express the importance of higher education and continuing to fund it, and even increasing its funding," said Rodriguez, a junior majoring in computer science. "The end goal is that they write and pass legislation that meets the needs of all students within the SUS that the FSA represents."
Contact:
Lydia Guzmán
Director of Communications
863-874-8557