Students design VR safety training for nationwide construction management company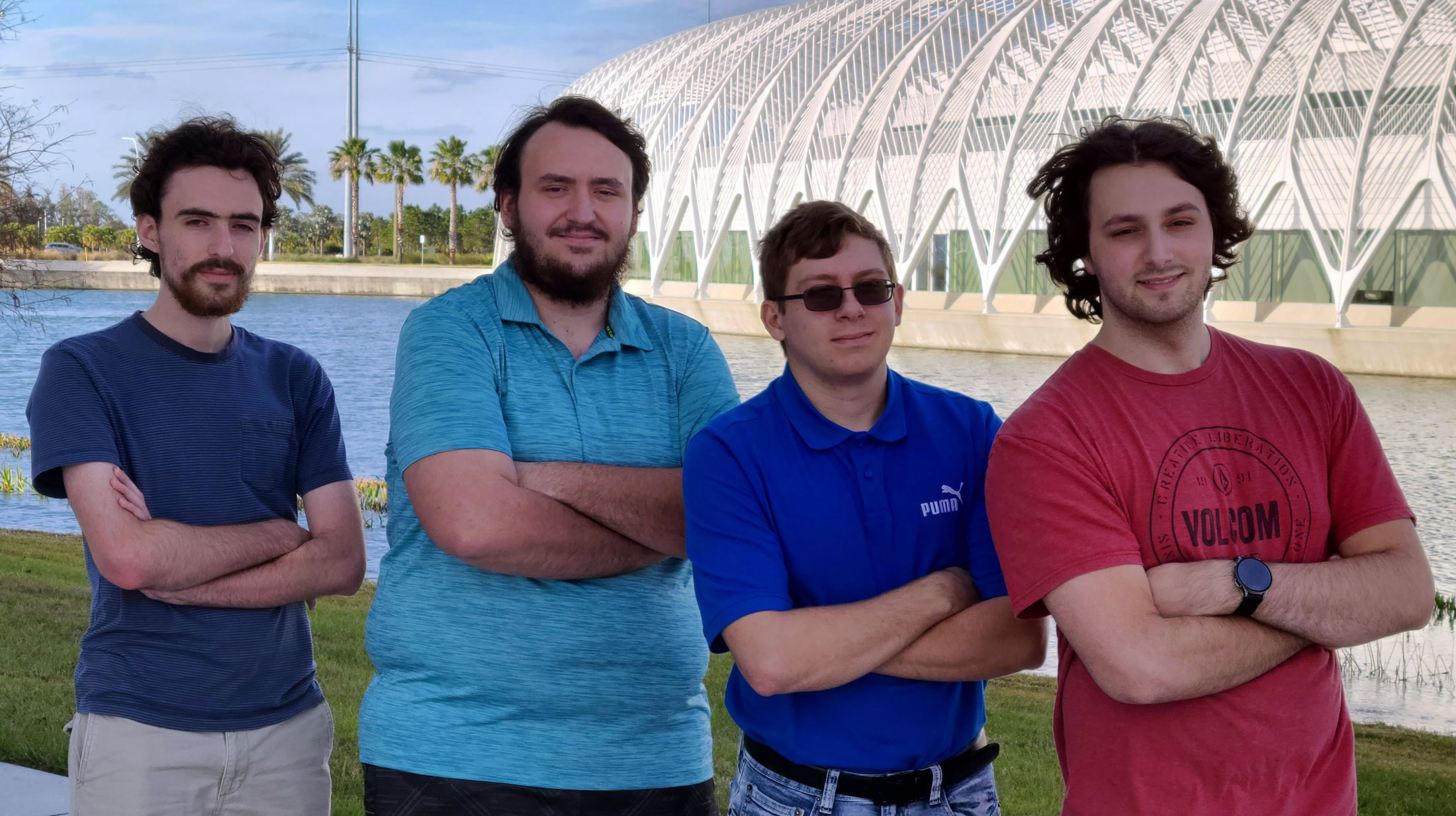 Construction sites can be dangerous places, and Florida Polytechnic University capstone design students are working to make them safer.
A group of four computer science seniors are creating virtual reality (VR) simulations for enhanced safety training at Whiting-Turner, a nationwide construction management company with locations in Florida, with the goal of reducing worksite incidents.
"An employee can come on board and read instructions for 30 hours, take an exam, and are considered certified to work on site, but there are a lot of hazards you can't cover reasonably in this way," said Mitchell Mackoul, from Middleburg, Florida. "Experience is the best teacher and the closest thing you can get to that in a safer environment is VR. You can read about slipping two or three times, but you don't actually think about it too much unless you slip and fall yourself."
Mackoul is part of the team that is bringing the virtual reality simulations to life. Dangers in the simulations range from trip hazards to potentially deadly scenarios.
"The first semester was mostly planning, but now we've gotten into the actual simulation," said Nicholas Rossano, from Lakeland, Florida. "We made a very early prototype, and now we can improve on that."
The team's simulations are intended to help Whiting-Turner employees better retain and apply information required by the Occupational Safety and Health Administration (OSHA).
"The bulk of it now is creating rooms for the simulations," said Trevor Eckhoff, from Port Charlotte, Florida. "I'm working on the actual interaction system because I worked with Unity VR before during my summer internship with iD Tech[EJ1] ."
The VR headset the team is working with for this complex project is produced by Oculus, a well-known VR company.
"When you put on the headset you'll be greeted by a menu and will be able to select a few things, create a profile, and save information like the levels you've completed and how long you've taken to complete those," Mackoul said.
The results of an individual's progress can be exported to a quantifiable report.
"I feel good about this project," Mackoul said. "It could really make a difference."
Contact:
Lydia Guzmán
Director of Communications
863-874-8557