Florida Poly students shine at international math competition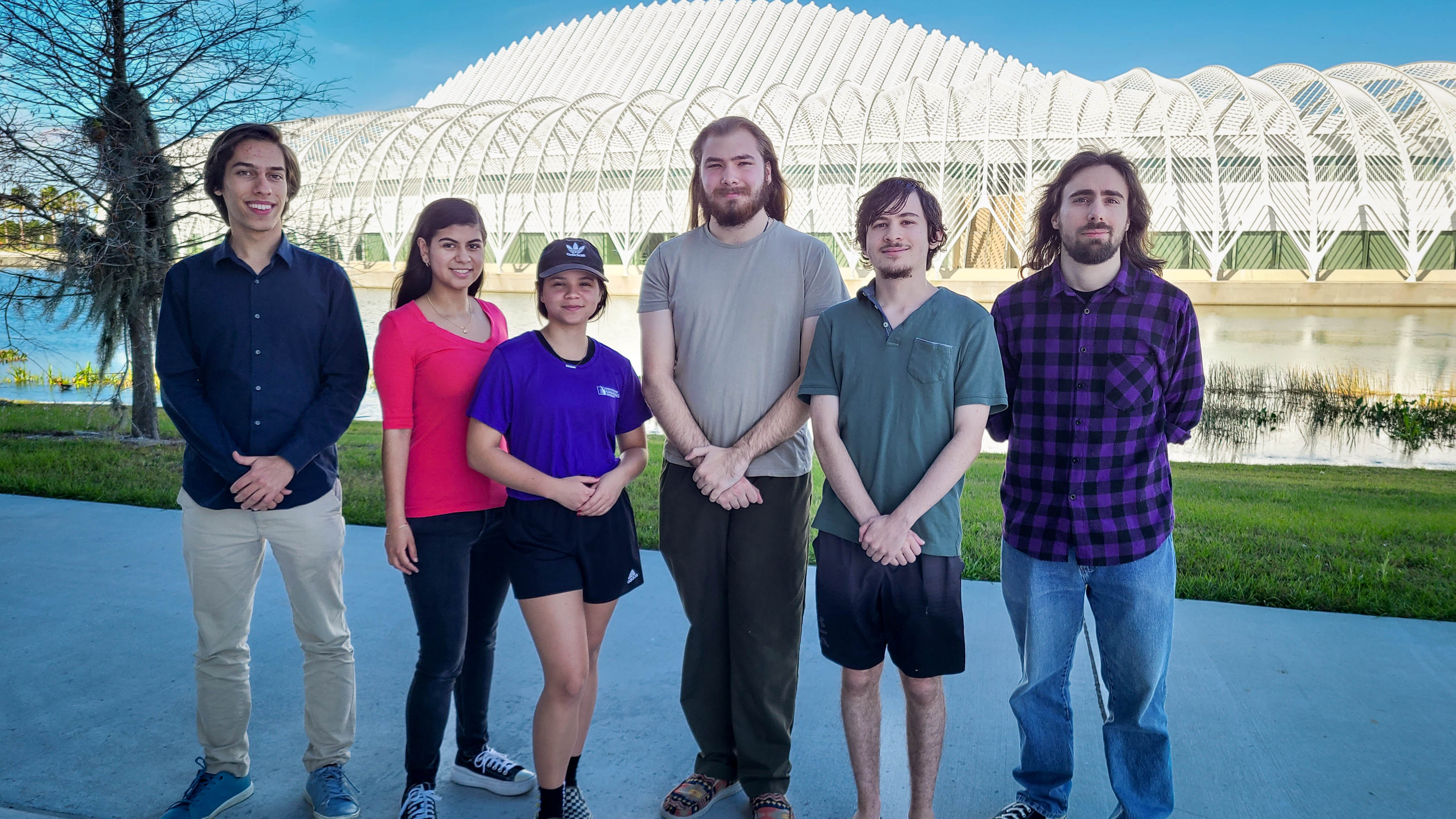 Thirteen Florida Polytechnic University students recently earned top honors at a well-respected international math modeling competition.
The students competed in the SIMIODE (Systemic Initiative for Modeling Investigations and Opportunities with Differential Equations) Challenge Using Differential Equations (SCUDEM). The online competition tasked teams of three or fewer students to solve one of three open-ended real-world problems by creating a mathematical model using differential equations.
This is the first time Florida Poly students have competed in the event.
"It's a big deal," said Dr. AJ Alnaser, assistant professor of applied mathematics at Florida Poly. "There are students from all over the world participating, and this year they had more than 360 participants on 109 teams."
Each team had three weeks to construct the mathematical model and reach a solution. The teams also created a 10-minute video presenting their work. Each team was coached before the competition by a member of Florida Poly's applied mathematics faculty, who also served on the contest's judging panel.
A team made up of Matthew Baker, Luis Felipe Ramanzini, and Gabriella Rodriguez earned the highest award at the event – a rating of outstanding. They were coached by Alnaser.
"I was one of the people from Florida Poly on the teams who had already taken differential equations, so that helped us a little bit," said Rodriguez, a junior majoring in computer engineering. "I expect to do this competition again. I really appreciated that I had people I knew I could really go to and hold accountable on my team."
Two Florida Poly teams received a meritorious rating, the second highest honor available. The first was made up of Arden James Taylor, Marcia Cabale, and Chris Conti, with Dr. Jaeyoun Oh as coach. The second was made up of Logan Spencer, Nathan Rundgren, and Maxx Lowy, with Dr. Adam Rumpf as coach.
The team that received a rating of successful was made up of Matthew Klotz, Juan Sabogal, and Kevin Mujica. with Dr. Ranses Alfonso Rodriguez as coach.
"Our students did phenomenally," Alnaser said. "The coaches were very hands off as soon as the competition started, and the students were very independent. They managed to handle the problems very well."
The competition showed off the students' mathematical mettle while supporting them in understanding of how to independently learn new skills, approach complex problems, and seek solutions as a team.
"It showed us how you are able to come up with a solution using mathematical models to a problem nobody has seen before," Ramanzini said. "We decided to just go for it."
Contact:
Lydia Guzmán
Director of Communications
863-874-8557