Florida Poly breaks ground on third student residential building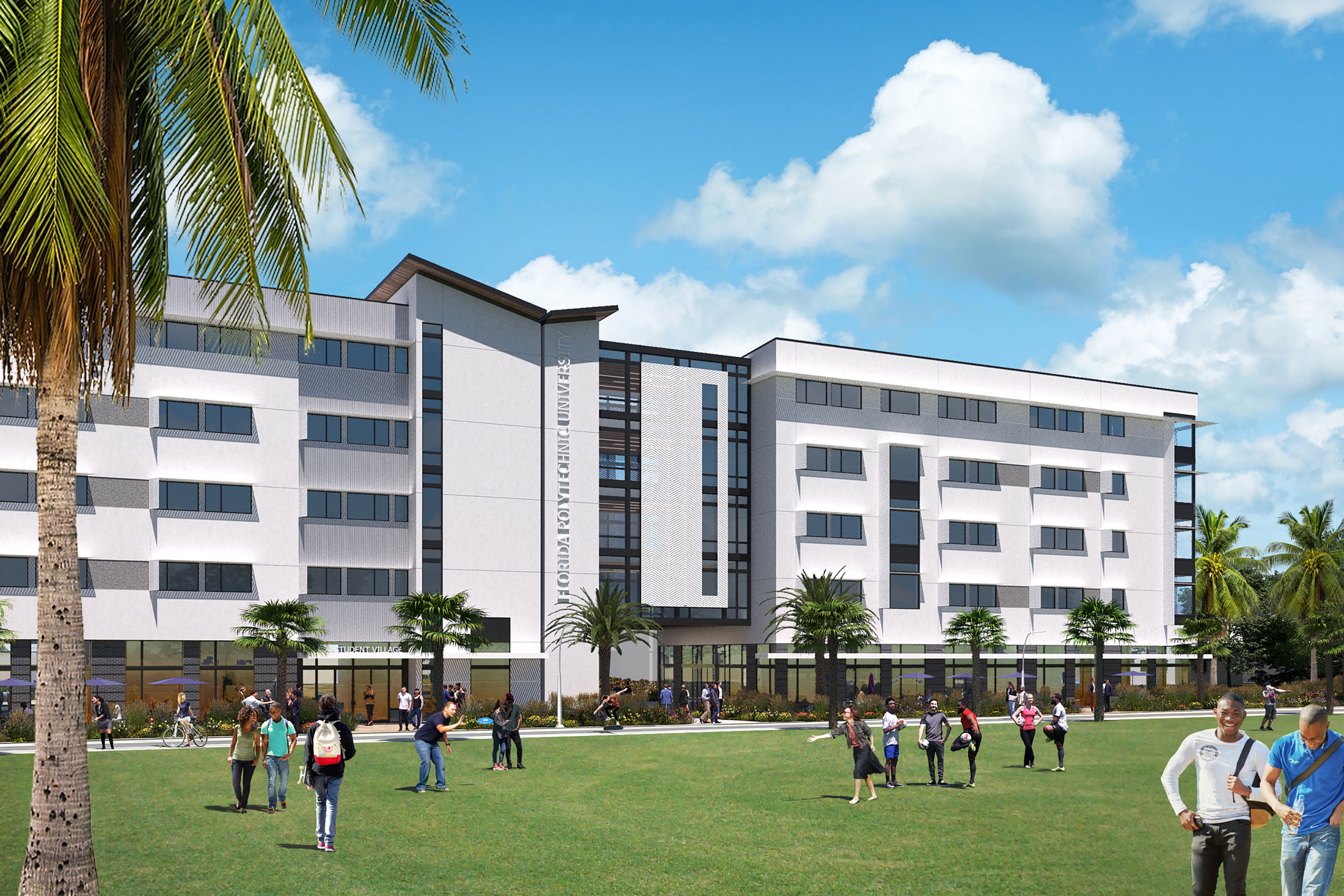 LAKELAND, Fla. – Florida Polytechnic University is starting construction of its third student residential building to expand its on-campus housing offerings and keep pace with the school's high demand and enrollment growth.
Residence Hall III will be a five-story, 137,000-square-foot dormitory with 430 beds in one-, two- and four-bedroom suites. Its design is focused on sustainability, flexibility, and campus community featuring multiple lounges, study spaces, a large multipurpose room, offices, and an interior courtyard with plants and water-conserving landscaping.
The project is expected to be completed by the beginning of fall 2024 at a total cost of $42 million. It is financed with a tax-exempt public bond issued by the state on behalf of the State University System, and will be the first dorm owned by Florida Poly.
"This much-needed residence hall represents such an important milestone for our University, and is the result of a substantial effort by so many," said Dr. Randy K. Avent, Florida Poly's president. "This new facility will have a big impact on our students and their success on campus while supporting the growth we're experiencing and anticipating over the next several years."
Florida Poly's existing housing is fully occupied, and student enrollment is expected to keep climbing as the University's reputation as a premier STEM institution continues to rise. First-time-in-college applications increased 118% from applications in fall 2018 and 37% between fall 2021 and fall 2022.
"More and more students across Florida and the country are recognizing the great value of Florida Poly for its academic excellence, selectivity, and affordability," said Dr. Ben Matthew Corpus, vice provost for enrollment management. "We're looking forward to having this new residential facility ready for our students to enjoy, as it will be critical to keep up with our enrollment needs and the increased demand for our University."
The University is partnering with Capstone Development Partners in a public-private partnership to provide efficiencies in speed of delivery and design. Capstone Management Partners will provide operations and maintenance services for the new residence hall.
"We are delighted to be Florida Poly's partner on this project, allowing us the opportunity to help a growing University expand its campus housing offerings to attract and retain top students," Walker May, Project Executive and EVP, Capstone Development Partners. "Upon completion, this new residential community will create an active, village-like precinct on campus, enhancing the student experience and helping Florida Poly continue its ascension as one of the leading public universities in the country fully dedicated to STEM."
Capstone's design-build team for the project includes Design Collective, an architectural firm with decades of experience designing student-oriented communities and facilities for college and university campuses.
"Design Collective is excited to bring our shared student housing experience and expertise to Florida Poly's unique campus," said Tom Zeigenfuss, AIA, NCARB, principal at Design Collective. "This third phase of housing will help the University continue its growth by providing an upper-division focused, on-campus, residential community option that has a vibrant mix of uses and an architectural aesthetic that builds upon the best of the campus' character."
The residential facility will be built by nationwide construction company Clancy & Theys.
"Clancy & Theys is honored to partner with Florida Polytechnic University and Capstone Development on the construction of Residence Hall III," said Bill Zecher, vice president and Florida division manager of Clancy & Theys Construction Company. "We are excited to continue these longstanding partnerships to create a place students can truly call home."
Contact:
Lydia Guzmán
Director of Communications
863-874-8557