Alum launches software development career with NASA internship
Celebrating National Internship Awareness Month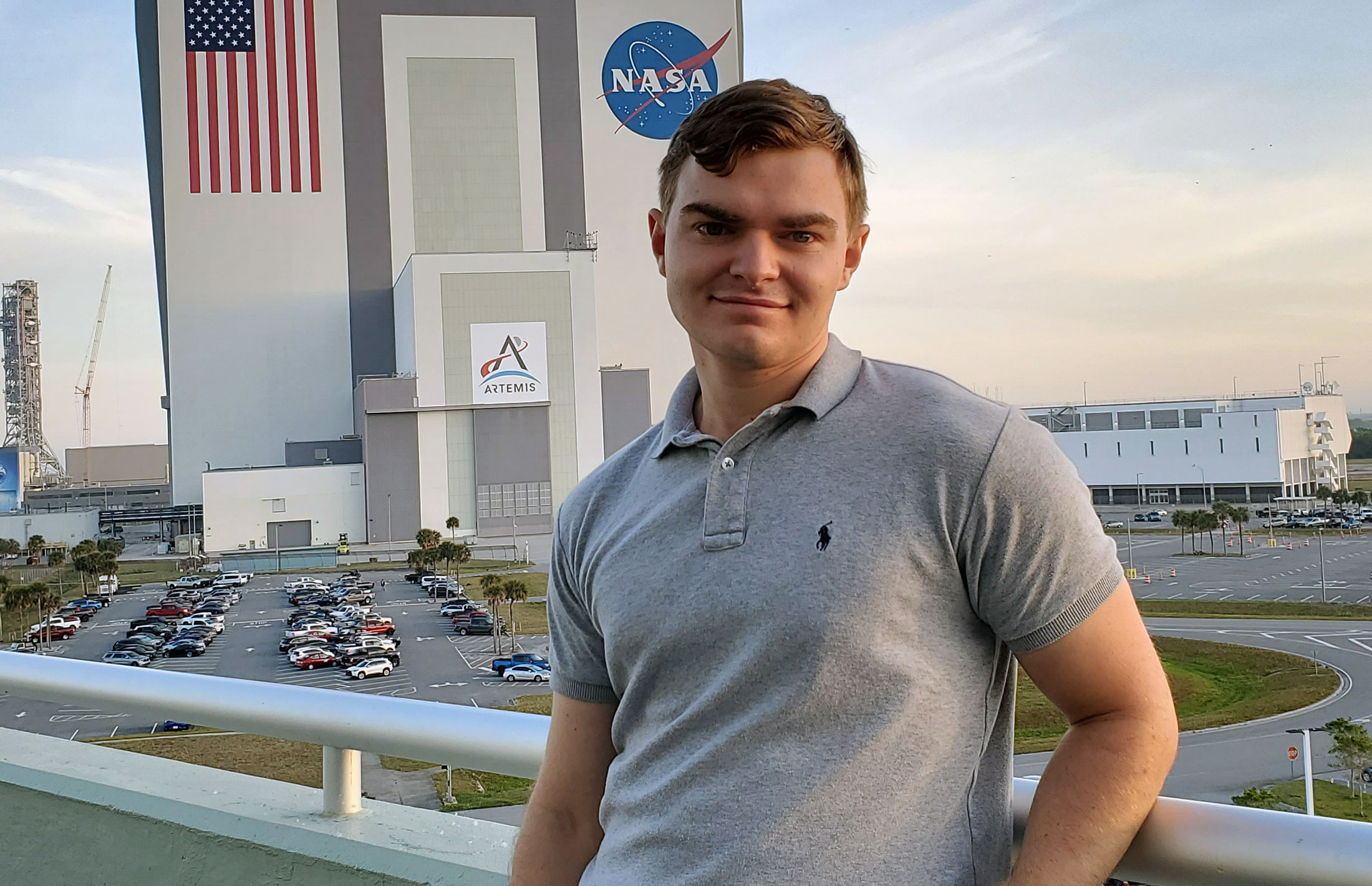 Soon after Andy Ponce '22 received his bachelor's degree in computer science last December, he packed his bags and moved to Titusville, Florida, to embrace a once-in-a-lifetime opportunity at the NASA Kennedy Space Center.
"I had graduated and planned to get a full-time job and then this internship happened and it's completely different than what I expected," said the alumnus of Florida Polytechnic University. "I wanted to have this experience in life, which is going to help me grow as a professional."
The project that Ponce is working on during his paid internship is Moon Tycoon V2 lunar simulation software development.
"It's a virtual reality simulation and the idea is you're on the lunar surface and you can control the rover, move it around, and teleport to different places on the surface," Ponce said of the internship provided through the NASA Office of STEM Engagement.
The Shalimar, Florida, native said he felt Florida Poly gave him a strong foundation of knowledge that he has been able to put to work in his internship.
"The main thing that probably helped prepare me was having the software engineering background for it," he said. "The school prepares you for a lot of different things."
Ponce completed three software development internships during his time at Florida Poly, which also contributed to his readiness, he said.
"But there's still so much that happens in the workplace that can't be fully encapsulated in the classrooms, and these experiences taught me different concepts, team structures, and problem approaches," Ponce said. "Having all that helps me feel comfortable and able to adapt to the situation."
The internship ends in May, and Ponce is looking forward to whatever comes next in his high-tech career.
"I'm looking at different job opportunities at the moment, mostly with NASA contractors, and I'm looking at graduate school internships as well," he said.
In the meantime, Ponce is enjoying every moment of his internship.
"It's not every day that you can just go into Kennedy Space Center literally after work and watch a rocket launch in the air," he said. "It's insane."
Contact:
Lydia Guzmán
Director of Communications
863-874-8557