Spring Game Expo draws crowds to see latest student-created video games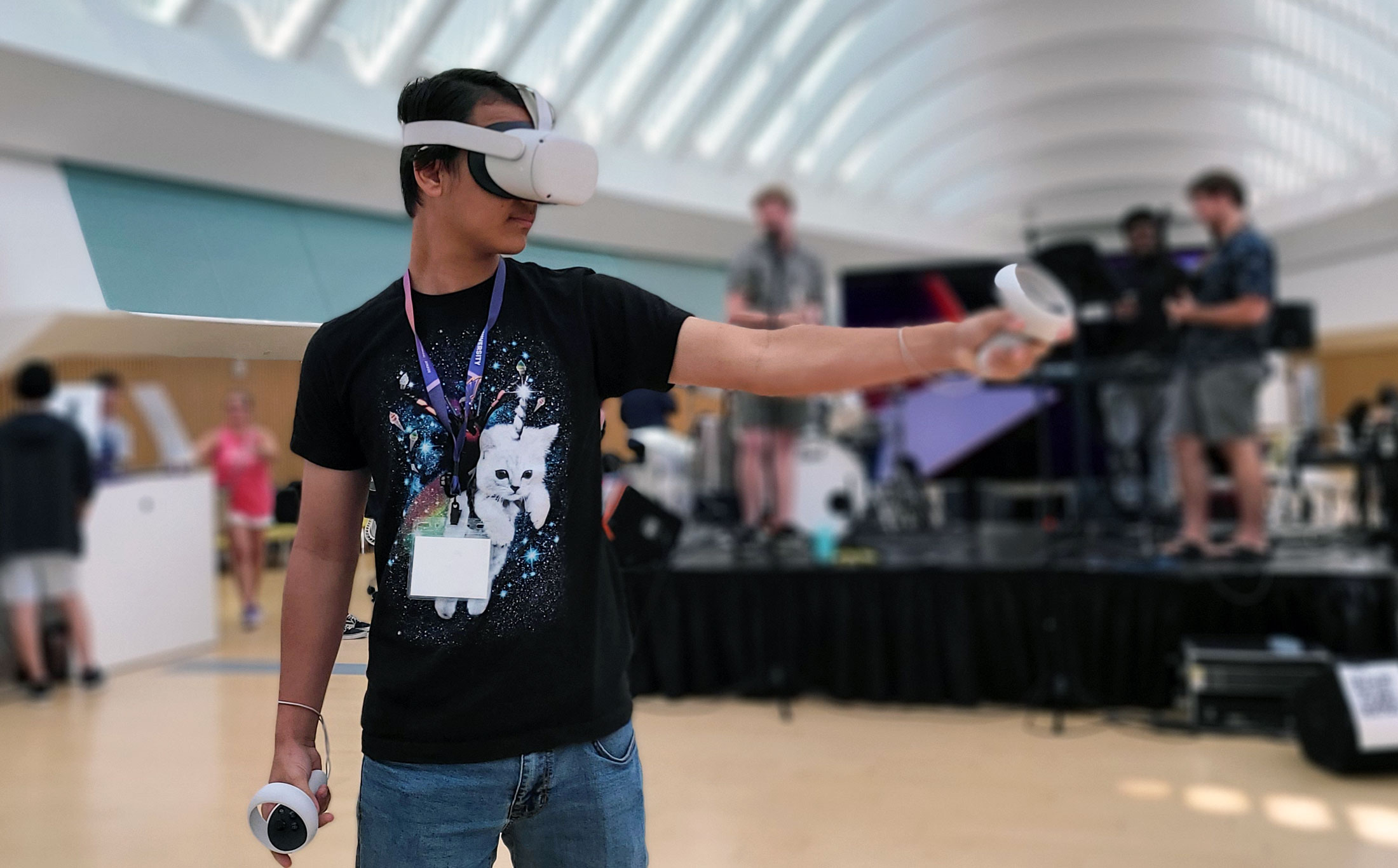 Networked student-created video games took center stage at the annual Spring Game Expo at Florida Polytechnic University on Saturday, April 22. Prospective students and their families arrived on campus to check out the games, learn about the computer science major and career paths, and explore campus in an accompanying open house event.
"The Game Expo provides students with a first-hand look into the type of hands-on learning and application-focused projects our students complete," said Michelle Powell, director of Florida Poly's Office of Admissions. "I've heard Dr. Randy Avent, our University president, say that STEM isn't a spectator sport, and it's so true. Seeing how skills in engineering, computer science, and STEM in general can be used to create, build, and advance society is essential in meeting the demand for continually growing STEM occupations."
The annual expo featured more than a dozen student-created games and took over the Saddle Creek Logistics Commons inside Florida Poly's Innovation, Science, and Technology building.
Computer science major Cade Riley designed "Testing Grounds," a virtual reality shooting gallery and memory game, that drew a lot of attention at the event. His game was designed as part of his internship with the University, and in its full version is intended for academic research and has features to trace hand velocity, head rotation, and more.
"It was really great to do a start-to-end gaming experience," said Riley, whose academic concentration is game development and simulation. "Game development is a very nice mix of software development and art – there's so much that goes into a game like the models, 2D art, and music – so it's so satisfying to make and experience."
Andrew Kowitt, a junior at American Heritage Schools in Plantation, Florida, was excited to play Riley's game and see all the others on display. He had toured Florida Poly the day before and is seriously considering attending the school.
"I made a game in the past using Unity (game engine) but making a VR game feels much more complicated," he said. "It's really cool to see that it's doable and in a short time of a month or two."
For the first time at the event, the expo featured a game designed by high school students. A trio of students from Nature Coast Technical High School in Brooksville, Florida, entered its game, "AI.M ."
"I'm enjoying walking around and seeing the other games and getting a good feel of what other people can do," said Charles Guillen, a junior at the high school. "I like the games people have here and I thought they were pretty unique. I think it's awesome that we're the only high school team here."
Also for the first time, students from the Florida Poly Music Association performed video game-themed songs during the event. Violet Voices, Florida Poly's choir also performed.
David Johnston, a junior majoring in computer science with a concentration in autonomous systems, was excited to be part of the whole event. His team created "Nightfall: Force of Four," a four-person networked game that sees users go from playing on their individual screens to a large common screen.
"It's a lot of fun to show it off and get feedback about what people like," Johnston said. "Overall, people like the concept and are surprised they haven't seen this more. Hearing that is interesting and it feels good."

Contact:
Lydia Guzmán
Director of Communications
863-874-8557