High-tech industry-sponsored projects featured at 2023 Capstone Showcase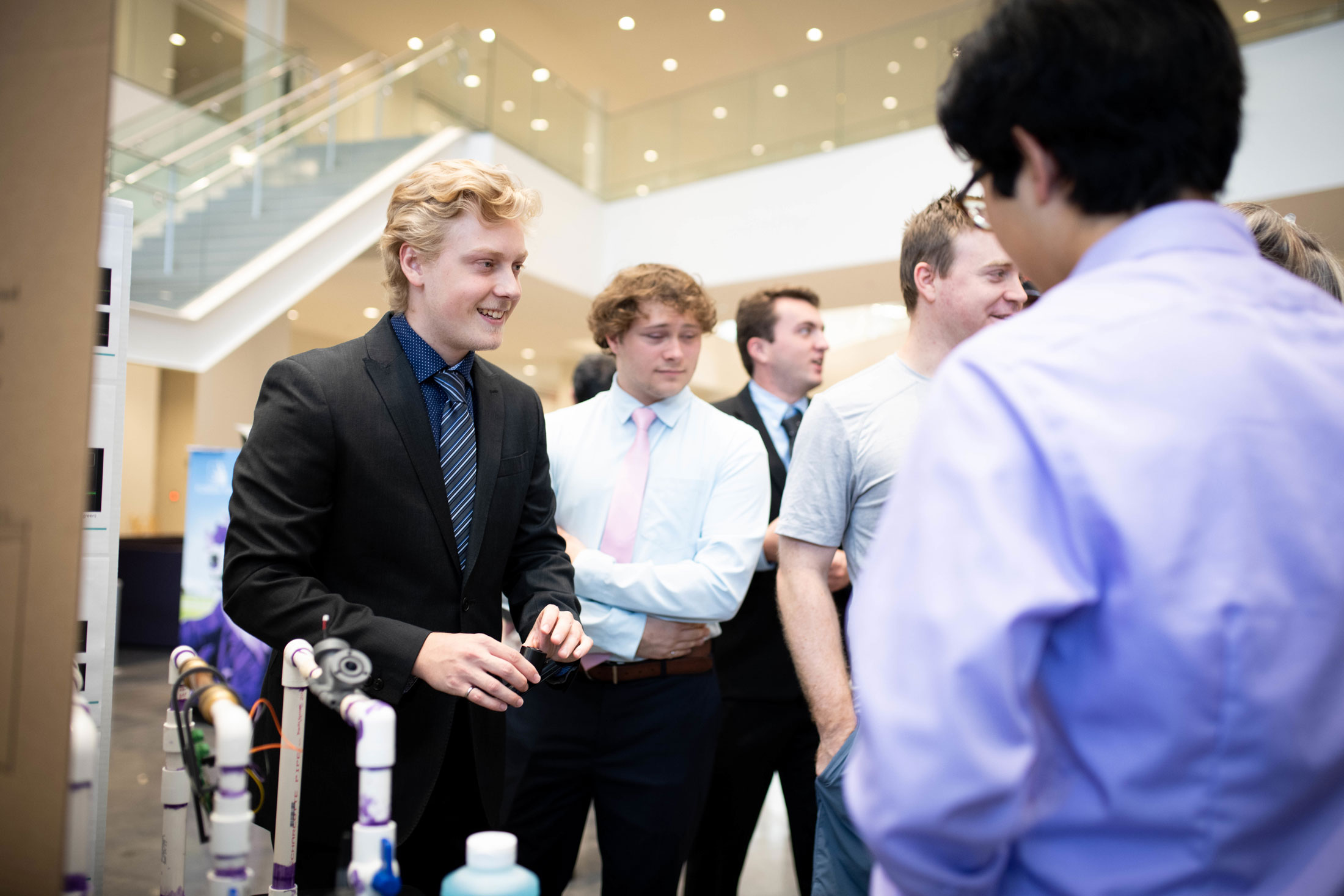 Twenty-nine teams of Florida Polytechnic University students displayed their completed industry-sponsored, leading-edge projects at the fifth annual Capstone Design Showcase on Wednesday, April. 26.
The capstone program tasks multidisciplinary teams of students to work together to complete a real-world challenge presented by a project sponsor. The students work throughout the academic year to develop solutions for these challenges.
Among this year's projects were a gravity machine for Florida Space Institute, IoT (Internet of Things) data centralization for national construction management company Whiting-Turner, and a custom handheld controller for Overhead Intelligence, which designs technological advancements for unmanned aircraft systems.
A 12-member team of environmental engineering, mechanical engineering, computer science, and computer engineering majors showed off their ultrasonic water flow sensor for Corserva, a nationwide provider of managed IT services.
When hotel guests leave their rooms, they may accidentally leave a faucet running or a pipe may spring a leak. The team's project was built to detect water flow in rooms that sensors show are unoccupied.
"We are a big team, and it was important to keep each other informed about what needs to be done and what we're currently doing," said Juhyung Kim, who will receive his degree in computer engineering. "As a computer engineer, I may not be understandable for someone in another discipline, so I learned to really understand a problem to explain and collaborate with other people."
"I'm proud of what we did," added Gabriel Sladecek, a mechanical engineering major. "We have tried our best and made a lot of progress."
Another seven-member team worked to build a civic orientations assessment tool for the American Center of Political Leadership (ACPL) at Southeastern University.
"The ACPL conducted a national survey of 5,000 people in 2021 just to get information on people's insights into civic orientation like how involved they are and their beliefs about the government," said Maggie Delgado, a business analytics major. "They wanted us to create an algorithm that would allow them to create a survey to classify a survey taker to their specific orientation costs. It was important for us to make sure what we did would replicate what they provided."
Dr. Matt Bohm, director of industry engagement and capstone projects at Florida Poly, said the Capstone Showcase results in great networking and potential job opportunities for students.
"The project sponsors are getting some work and it's a good recruiting opportunity, too," he said. "Last year, five or six jobs were handed out at the showcase. They want access to talent and were able to talk with students about what they did and what they learned before extending the offer."
Business analytics major Conner Murphy was part of a team working on a project for Polk County Waste and Recycling.
"We were looking at how to take trash and literally turn it into another man's treasure and make it beneficial to the residents of Polk County and its government," he said.
His team worked to create an interactive physical model and beneficial use for Polk County Waste and Recycling. They built a model showing landfill progression through the next 150 years, which the county can now use in planning, education, and funding requests. The team also worked on developing a solution to transform the methane produced at the landfill to liquified natural gas (LNG).
"It can be used to heat homes or sold commercially," Murphy said. "We found there is literally millions of dollars a year that they are producing in methane that can be converted into LNG and sold, reinvesting that money in the county or for other projects."
2023 Capstone Winners
Multidisciplinary Large Team Winner: Gravity Machine Phase 2.5, sponsored by Florida Space Institute. Team members are Jaleel Padin Rodriguez, Ryan Maldonado, Patrick Cole, Connor Tomihiro, Joseph Pusateri, Matthew Doyon, Garrett Fidler, Bobby Theodosiadis, Ethan Marshall, U-Gene Yang, Joshua Leyva, and Vincent Nguyen.
Multidisciplinary Large Team Honorable Mention: Antenna Tracker, sponsored by Overhead Intelligence. Team members are Oscar Tavera, Jabari Acre, Eugene Kolibas, Arthur Neudek, Catherine Abraham, Christopher Gragg, Seth Beckman, Grayson Dannecker, Shawn Chouinard, Sterling Swope, Dominique Shim, and Hannah Hensley.
Multidisciplinary Small/Medium Team Winner: Interactive Physical Model and Beneficial Use, sponsored by Polk County Waste and Recycling. Team Members are Matthew Brown, Angelina Di fiore, Anthony Cruz, Anna Swanson, Samantha Hepler, Michael Farrelly, Andrea Kelly, and Conner Murphy.
Multidisciplinary Small/Medium Team Honorable Mention: Bid EBA Photovoltaic Array Installation, sponsored by Hyperion International Holdings Corporation. Team members are Taryn McCain, Christopher Roberts, Bredi Aranya, Ryan Bogdanowicz, Trinity Brinkley, Bruce Rodriguez, Patrick Coley, Adam Bodolay
Computer Science Themed Project Winner: FBA Scorecard sponsored by the Florida BBQ Association. Team members are Joshua Merritt, Joshua Steege, Noah Coley, William Feucht, and Fernando Cuevas.
Computer Science Themed Project Honorable Mention: User Dashboard, sponsored by Confirmed LLC. Team members are Isaac Fernandes, Cameron Fisher, Mykell Spencer, and Brandon Mcfarland.
Single Discipline Winner: Customer Lifetime Value, sponsored by MidFlorida Credit Union. Team members are Alexandra Desaulniers, Donavan Dodson, John Levitt, Sulman Mohamed, Andrea Skvarova, and Alden Westfall.
Contact:
Lydia Guzmán
Director of Communications
863-874-8557