Florida Poly celebrates STEM grads at 2023 commencement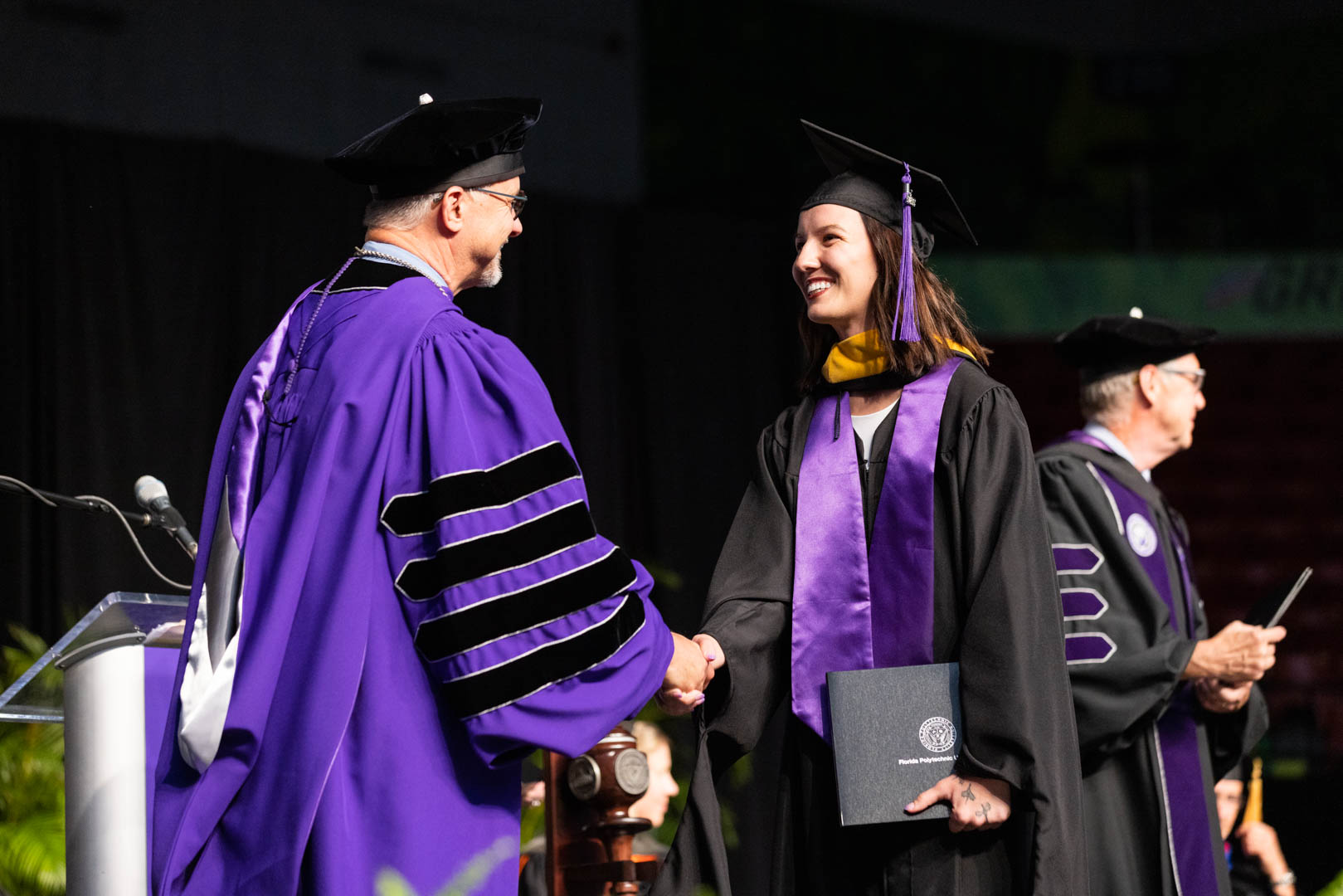 Florida Polytechnic University celebrated the graduation of more than 200 bachelor's and master's degree candidates on Sunday, May 7, at its 2023 commencement ceremony.
The event was held at the RP Funding Center in Lakeland, Florida.
"It's all happening very fast – I'm nervous but I'm also excited," said Gabriel Sladecek, who received his bachelor's degree in mechanical engineering. "I'm very happy with the progress I made, and I think I've learned a lot and gained a lot of skills. I'm very appreciative of all the opportunities I've gotten at Florida Poly and I'm excited to see what else life has for me."
Sladecek was among the 174 undergraduates and 32 graduate students to participate in commencement this year. The ceremony marked a hard-won achievement for students who completed their rigorous, hands-on coursework in engineering and applied sciences.
"Graduates, it's the day you have been waiting for and working toward for years," said Dr. Randy K. Avent, Florida Poly's president. "As you celebrate this graduation, take pride in all you have accomplished, and know that we take pride in the fact that you will carry the Florida Poly name with you as you move through your lives."
Thomas Dougherty, the Warburg Chair in International Relations at Simmons University in Boston and a former U.S. ambassador and Fulbright leader, was the event's guest speaker.
The longtime diplomat and leader urged graduates to use their expertise and their voice to guide policymakers and decision-makers on issues they may not fully understand.
"STEM leaders must also be policy leaders. In a historic and unique period of technological disruption, do not cede the policy space. Instead, lead that space," Dougherty said. "As STEM graduates, you are among the few speakers of a global language that few others understand.
"Policymakers, politicians, and diplomats – who, after all, studied history, political science, and international relations – don't speak STEM. Help them. Lead them."
One of the members of the class of 2023 also spoke to graduates and their guests about the milestone they marked together.
Maggie Cortes, who received her bachelor's degree in business analytics, was the event's student speaker. She previously was the valedictorian speaker at her graduation from Discovery High School in Lake Alfred, Florida. She urged her peers to embrace the future and continue persevering as they move through life.
"There will be times when you might find yourself asking, 'Is it all worth it? Is all the time, effort, and hard work I put in worth it?'" said Cortes, who plans to continue working as an analyst at Publix Super Markets, a position that stemmed from her internship at the company. "The answer is yes. In moments like those, we must remember to tell ourselves 'I didn't come this far to only come this far.' Your outlook on life will determine the direction of your life, so if you think you can, you will."
Contact:
Lydia Guzmán
Director of Communications
863-874-8557