Alum's dream career in aerospace blasts off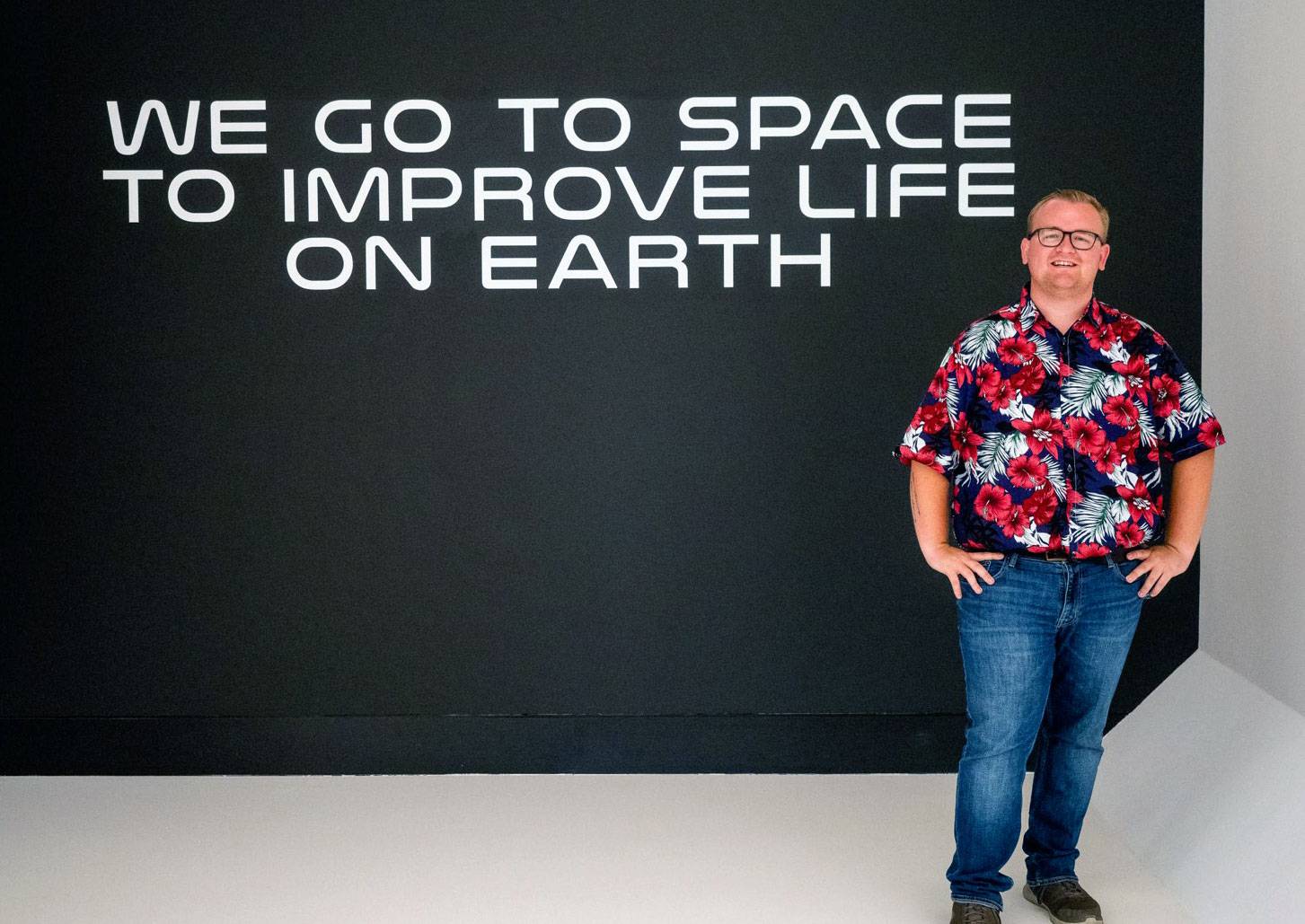 From the time Austin Adams '22 was a child, thoughts of humans making discoveries and charting new paths in space captivated his imagination.
"Space has always been my passion," said Adams, who received a bachelor's degree in business analytics from Florida Polytechnic University in 2022. "When I'd watch a rocket launch and leave the Earth to benefit humanity and make things better for the world, I knew I needed to do whatever it takes to encourage and inspire the next generation and benefit Earth – there's so much we can learn about Earth from orbit."
Today, Adams is getting his chance to be part of the future of space exploration and the advancement of science and technology as a material planner for propulsion at Rocket Lab, an aerospace manufacturer and launch service provider in Long Beach, California. He is working on the Rutherford engines, which are liquid-propellant rocket engines exclusively designed and produced by the company to power their Electron rocket.
"We have a demand and set cadence of how many launches we are aiming to do per year, which is based on customers coming to us and saying, 'We want to fly on Electron (a reusable orbital-class small rocket), and we want Rocket Lab to deliver us to orbit,'" said Adams, originally from Fremont, California. "I'm essentially doing all the backwards calculations to make sure our team can source all the material on time and do all the assembly work so we can meet our milestones for our customers."
Adams said he is continually happy about choosing Florida Poly for his undergraduate education.
"I love Florida Poly. I'm so glad I transferred there and gained a ton of knowledge from my professors," he said. "I learned lots of important skills, but I also learned how to communicate and find common ground with diverse teams."
Adams said he is excited that the work he does today with Rocket Lab also has an impact on the Florida Poly community and the entire state of Florida. The company recently launched several NASA satellites that assist with hurricane forecasting.
"They will be able to go over the tropics at a much higher rate and give researchers on the ground more timely data about storm intensity so they can analyze and refine their predictions to potentially provide advanced warning to those in storm paths."
Before joining Rocket Lab, Adams worked at Lockheed Martin: Missiles and Fire Control in a position that stemmed from his undergraduate internship there. That opportunity helped him build up his resume and eventually opened the doors to his current position.
"I wouldn't have accomplished any of this without Florida Poly," he said.
Contact:
Lydia Guzmán
Director of Communications
863-874-8557