New chair to shape future of engineering physics at Florida Poly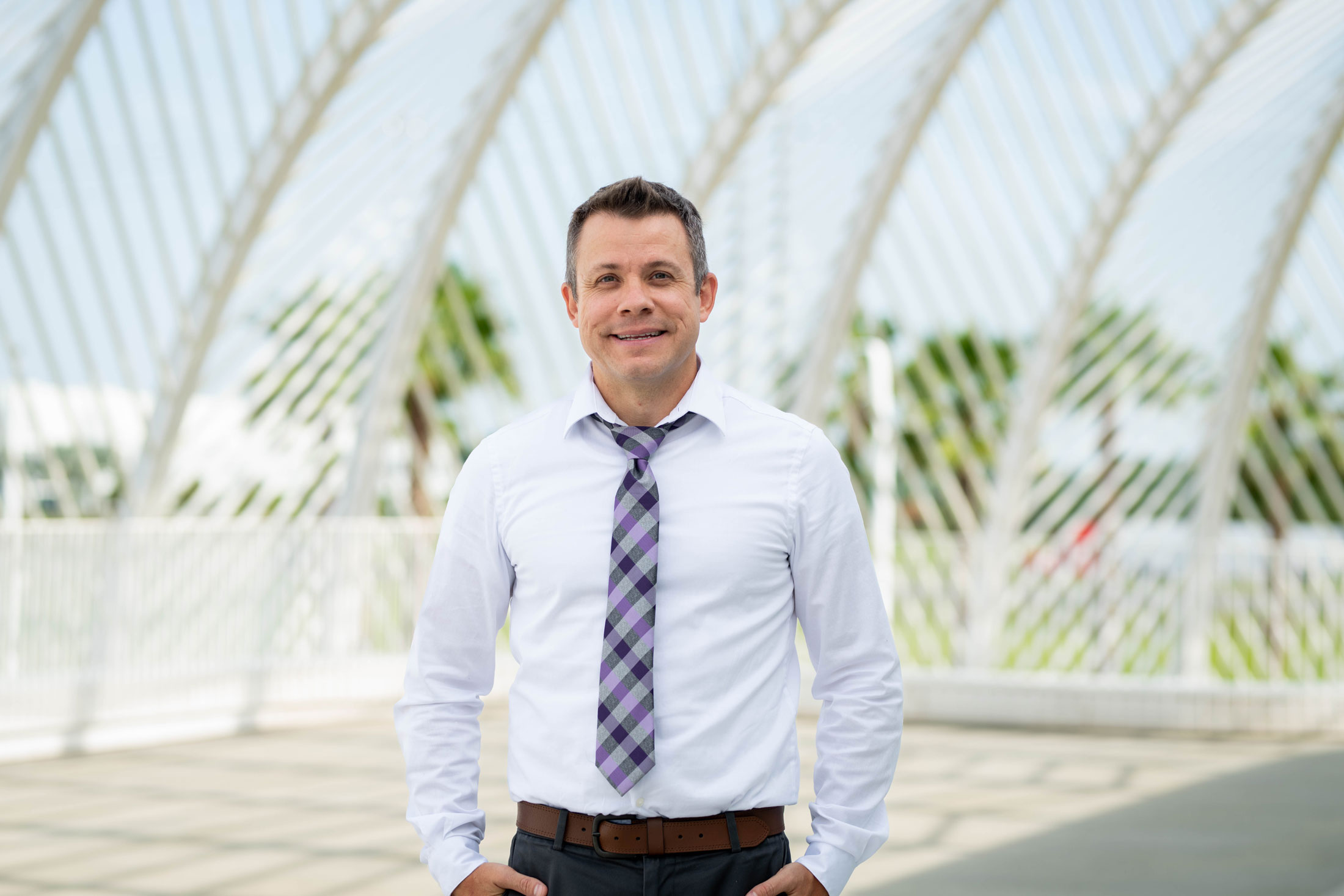 LAKELAND, Fla. – As the new chair of Florida Polytechnic University's Engineering Physics Department, Dr. Ian Bentley said he plans to redesign the physics curriculum and work with his department to take the first-year physics program to a new level.
Bentley most recently was director of the Dual Degree Engineering Program at SaintMary's College, and an adjunct associate professor at his alma mater, the University of Notre Dame, both located in Notre Dame, Indiana.
"Being at Florida Poly provides the opportunity to build the engineering physics major that I've dreamed of," said Bentley, whose areas of expertise include computational physics, nuclear structure, astrophysics, and video analysis. "I have always loved figuring out how things work and finding ways to share that information with others, to me these together are at the heart of being a physicist."
Florida Poly's engineering physics undergraduate degree launched in the fall of 2019 with the aim of improving the state's pipeline of work-ready graduates qualified to step into low-supply, high-demand roles.
"We are continuing to build a world-class University with world-class faculty and students, and Dr. Bentley will play an important role in that," said Dr. Terry Parker, Florida Poly's provost. "I am pleased to see him step into the position and eager to see his ideas put into action."
Strengthening and growing an engineering physics program is a task Bentley said he's all too familiar with – he built a physics major from the ground-up at Saint Mary's.
Now, at Florida Poly, he said his goals as chair are simple: creating a program that serves both student and faculty interests and building that into the "dream curriculum." The program will have a healthy balance of physics and engineering, combining traditional physics fundamentals with foundational engineering courses.
The courses will include more design elements to boost students' skills and knowledge as they enter the workforce.
"For physics majors on the hunt for a job, a lot of jobs will ask for mechanical engineering, electrical engineering, or a related field – physics is often that related field," Bentley said. Our Engineering Physics major will better prepare our graduates for industrial jobs than the typical physics major would."
For the most recent University news, visit Florida Poly News.
About Florida Polytechnic University: Florida Polytechnic University is ranked the number one public college in the Southern Region for two years in a row, accredited by the Southern Association of Colleges and Schools Commission on Colleges, and a member of the State University System of Florida. Nationally ranked in engineering education, Florida Poly is the only state university dedicated exclusively to STEM and offers ABET-accredited degrees. Florida Poly is a powerful economic engine within the state of Florida, blending applied research with industry partnerships to give students an academically rigorous education with real-world relevance. Florida Poly's iconic Innovation, Science, and Technology Building, designed by world-renowned architect Dr. Santiago Calatrava, has won more than 20 global awards and was named one of the 16 most breathtaking buildings in the world. Connect with Florida Poly.
Contact:
Lydia Guzmán
Director of Communications
863-874-8557 (office)
863-327-9762 (cell)
lguzman@floridapoly.edu