Mercedes internship puts computer science senior on the right track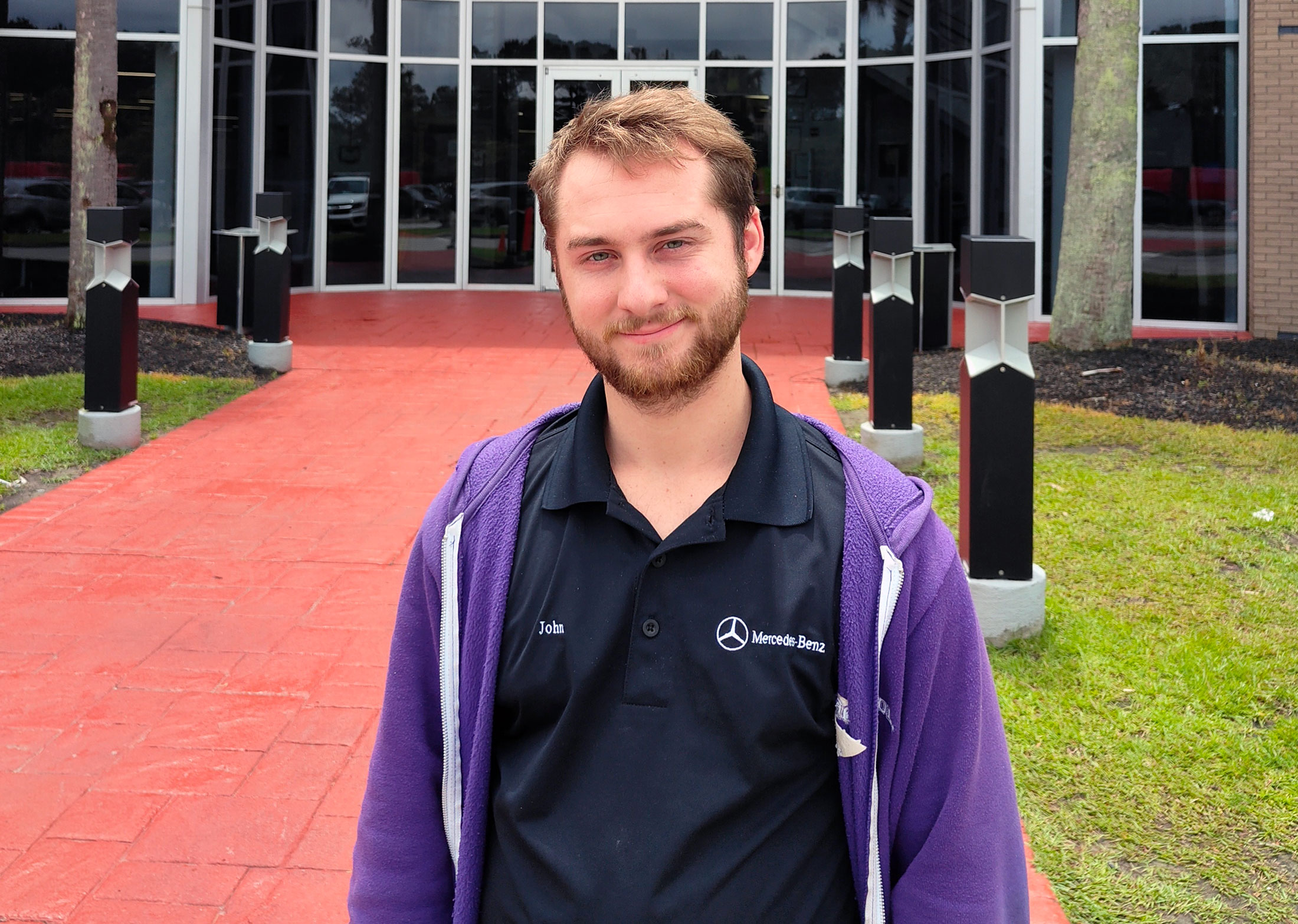 A passion for computer science and implementing technological solutions has Florida Polytechnic University rising senior John Lowery feeling right at home in his second summer internship with Mercedes-Benz Vans. He is working as a business analyst intern implementing cloud technologies into the company's everyday operation at its location in Charleston, South Carolina.
"I'm learning a lot about the business aspect of computer science as opposed to the programming parts," said Lowery, who is also from Charleston. "I'm getting to experience professional development and do deployments in real time."
He said that one of his most successful projects this summer has been improving an arduous process of gathering data from a website and copying it into an Excel sheet, a process that typically would take two-to-eight hours to complete manually. Through his work, he said the task is now handled through new technology, saving countless hours of employee time.
"In my first summer working here last year, I assisted in desensitizing the plant to these cloud technologies, and over the span of my last year at Florida Poly they've started moving toward them," Lowery said. "The infrastructure wasn't there last summer, and I taught the managers, the CEO, my boss, and all the people here the wonders of data and what we can do when we move to this."
Today, Lowery is working to put the selected technologies into action at the company's Charleston location.
"The actions we take are based on data, and using this data we have prescriptive predictions so we can say we should take these actions now so in the future we don't have these problems," he said.
Lowery said the coursework and projects he completed at Florida Poly have provided a strong foundation for his internships with Mercedes-Benz Vans.
"What I learned in my software engineering class is so important. The lifecycle of software is something I implement here for our processes," he said. "My deep learning class taught me how to put that into practice and when to use it, and my human-computer interaction class was important at teaching me good design principles – things that make people want to keep using the products we make."
The internship experiences he has had with Mercedes-Benz vans have opened his eyes to what life after graduation could be like, he said.
"It's a lot of responsibility, but it's also very exciting because it gives me an opportunity to see how the things I do at Florida Poly relate to the real world," Lowery said.
Lydia Guzmán
Director of Communications
863-874-8557