Florida Poly's class of 2027 begins STEM journey with convocation, orientation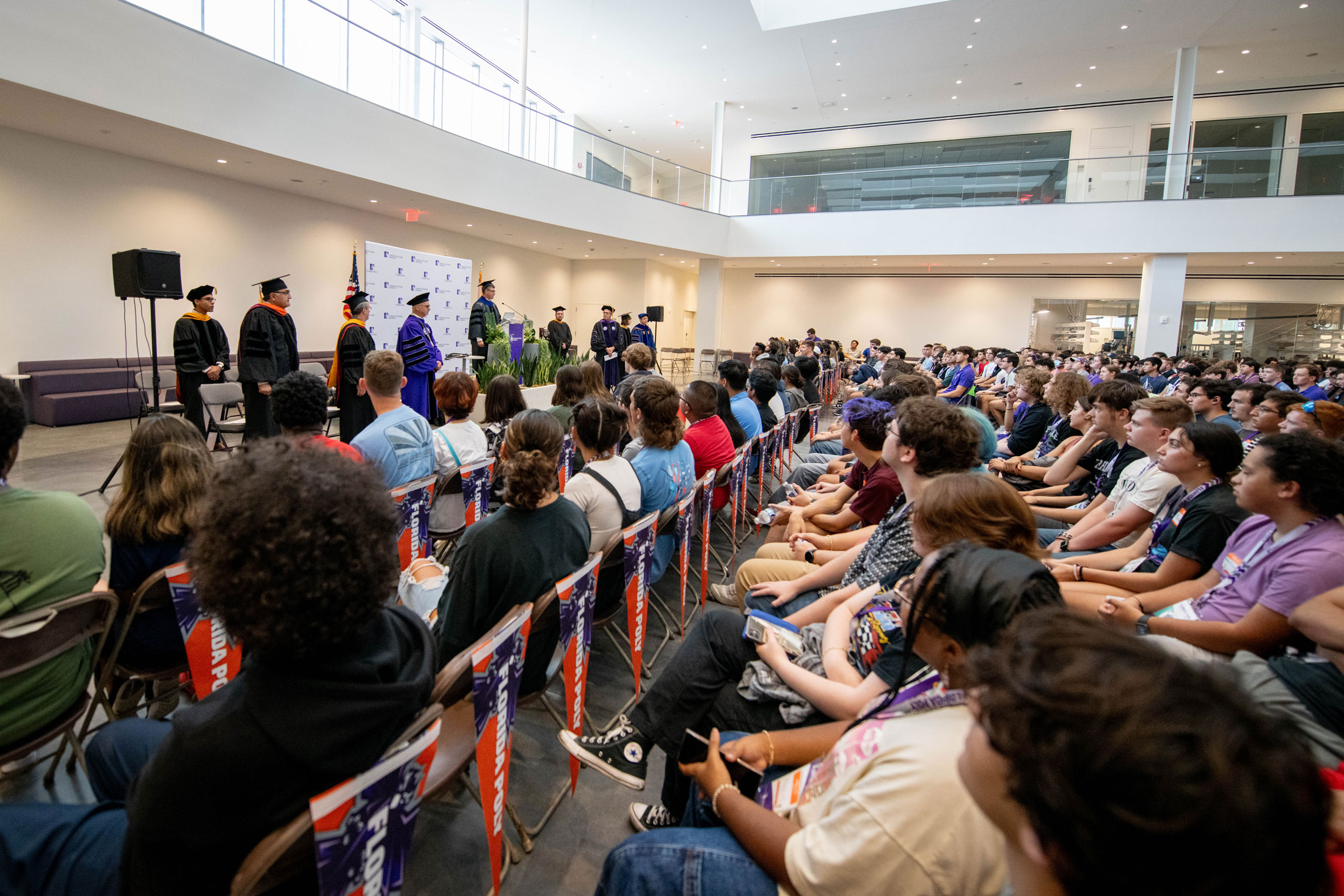 Nearly 300 incoming freshmen began exploring their new home at Florida Polytechnic University over the weekend. They moved in, made important friendships, and embarked on an educational journey toward STEM and career success.
The students' formal welcome to the University began with Florida Poly's inaugural convocation ceremony on Sunday, Aug. 20. University leadership gathered in their academic regalia and addressed the new students, emphasizing the opportunities, responsibilities, and expectations they will face during their time at college.
"Today is not just another day; it signifies the beginning of a new chapter in your lives," Dr. Randy K. Avent, the University's president, said to the gathered students. "Now that you have arrived on our beautiful campus and begin your exploration of all that it offers, you are embarking on a journey that holds the promise of endless opportunities. It's a moment of transformation, where the pursuit of excellence, creativity, and innovation will shape your future."
The class of 2027 learned at the event that orange is their class color. Each class is designated a color for their time at Florida Poly, and orange was explained to symbolize optimism, energy, and pride. The event concluded with a ceremonial crossing of the first bridge toward their new academic career.
Following the convocation, the freshman class dove into its immersive new-student orientation, which focused on camaraderie, discovery, and University resources and expectations. Events included sessions on academic degrees, how to get the most of their college experience, and navigating campus life. It also featured meals, games, and a play fair on the soccer field designed to get students out of their dorm rooms and interacting with their peers.
Chyann Lanterman, a student from Mulberry, Florida, was excited to begin pursuing her degree in environmental engineering and advancing the work of women in STEM.
"Not a lot of people know about preserving what we have in our environment because they're not taught, so I think it's really important that people who do know do their best they can to take care of what we have," she said. "There's not a lot of women engineers, so I feel very honored to be doing it."
Jannice Rivera, a computer science major studying cybersecurity, said she intends to make the most of her time at Florida Poly.
"The prospect of being at a STEM school is so exciting. Florida Poly has a bunch of clubs I'm interested in and looks like a very nice campus with small classes," she said. "I thought I could really thrive in this environment, and I would be challenged."
Rivera, a graduate of Auburndale Senior High School in Auburndale, Florida, said she is excited to get started when classes begin on Tuesday, Aug. 22.
"I'm really grateful for this opportunity," she said. "Florida Poly believed in me enough to give me a chance to attend, and I will definitely show them that they weren't wrong for giving me that opportunity."
Contact:
Lydia Guzmán
Director of Communications
863-874-8557