Florida Poly esports growing, making its mark nationally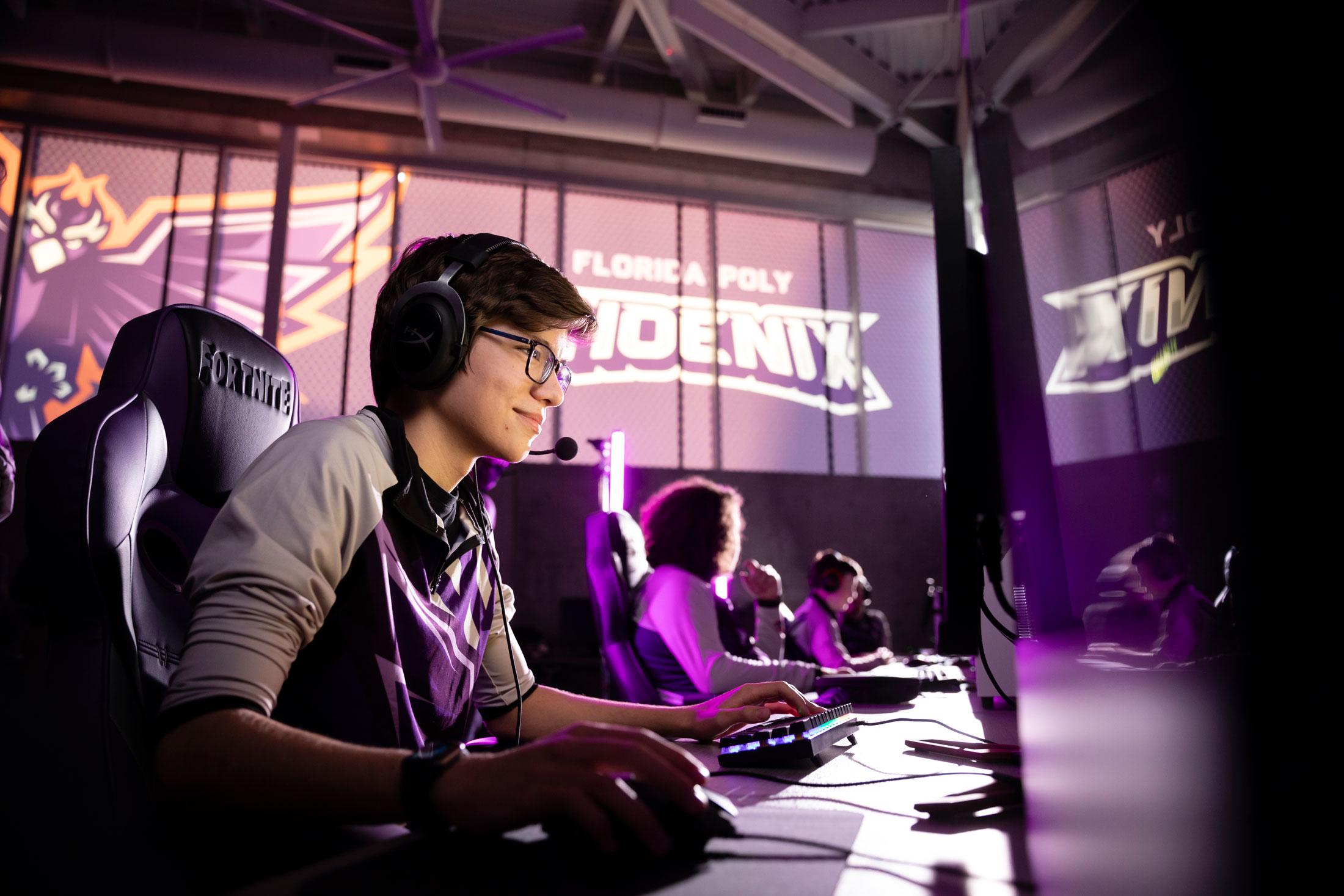 Esports at Florida Polytechnic University has achieved a remarkable level of success and recognition as it continues to make waves in the world of competitive gaming. With teams competing in several popular games, the University's esports program has quietly attracted a dedicated campus following and surging national prominence.
Most recently, Florida Poly's Valorant team captured the National Esports Collegiate Conference (NECC) Challengers Division South Atlantic Conference title in March 2023, led to victory by team captain Sarah Roach, a junior majoring in software engineering. The team enjoyed an undefeated 13-0 season and dominated in its first conference title win.
"Competing at that level was really great," Roach said. "We're looking forward to another strong year starting with this fall's competitions."
Braxton Friend '21, Florida Poly's esports coordinator, said Florida Poly's esports program is earning a nationwide reputation as an emerging force in competitive esports.
"We have a few Valorant players who are in the top 300 in the U.S., and I wouldn't be surprised if they ended up on professional teams at some point," he said.
Friend, who graduated with a bachelor's degree in computer science, has a competitive esports background and played professionally for three years.
"Esports is a great way for students to branch out and meet new people," he said. "It's also a good way to build the teamwork skills that everyone needs."
Valorant player and Florida Poly junior Tim Williams said the availability of collegiate esports was a big influence on his decision to attend the University and study business analytics.
"This is super fun and was a big draw for me because being able to play is something I look forward to all the time," Williams said. "I have a big passion for it."
Florida Poly has University-sponsored teams for Valorant, Rocket Leage, Rainbow 6 Siege, League of Legends, Overwatch, and Call of Duty. University officials are considering adding a Super Smash team as well.
"We always focus on the fact that students are here for their education, and we understand the STEM curriculum is quite difficult and immersive," said Derek Lower, Florida Poly's assistant director of campus recreation. "What recreation and outlets like esports do is provide an opportunity for students to continue or find a passion while also relieving stress."
Students don't need a strong esports background to begin exploring Florida Poly's world of competitive play. Friend said students can support the team in other ways like providing social media and communications support, and they can also hone their skills in the esports arcade inside the Student Development Center, which is equipped with a dozen gaming computers.
Friend said those new to competitive esports often don't know how intensive the training can be.
"These students are grinding away to make sure they are improving themselves," he said. "Some are training three to four hours a day."
Workshops will be held during the academic year to introduce students to competitive gaming.
Contact:
Lydia Guzmán
Director of Communications
863-874-8557