Florida Poly celebrates family, success at 2023 Phoenix Family Day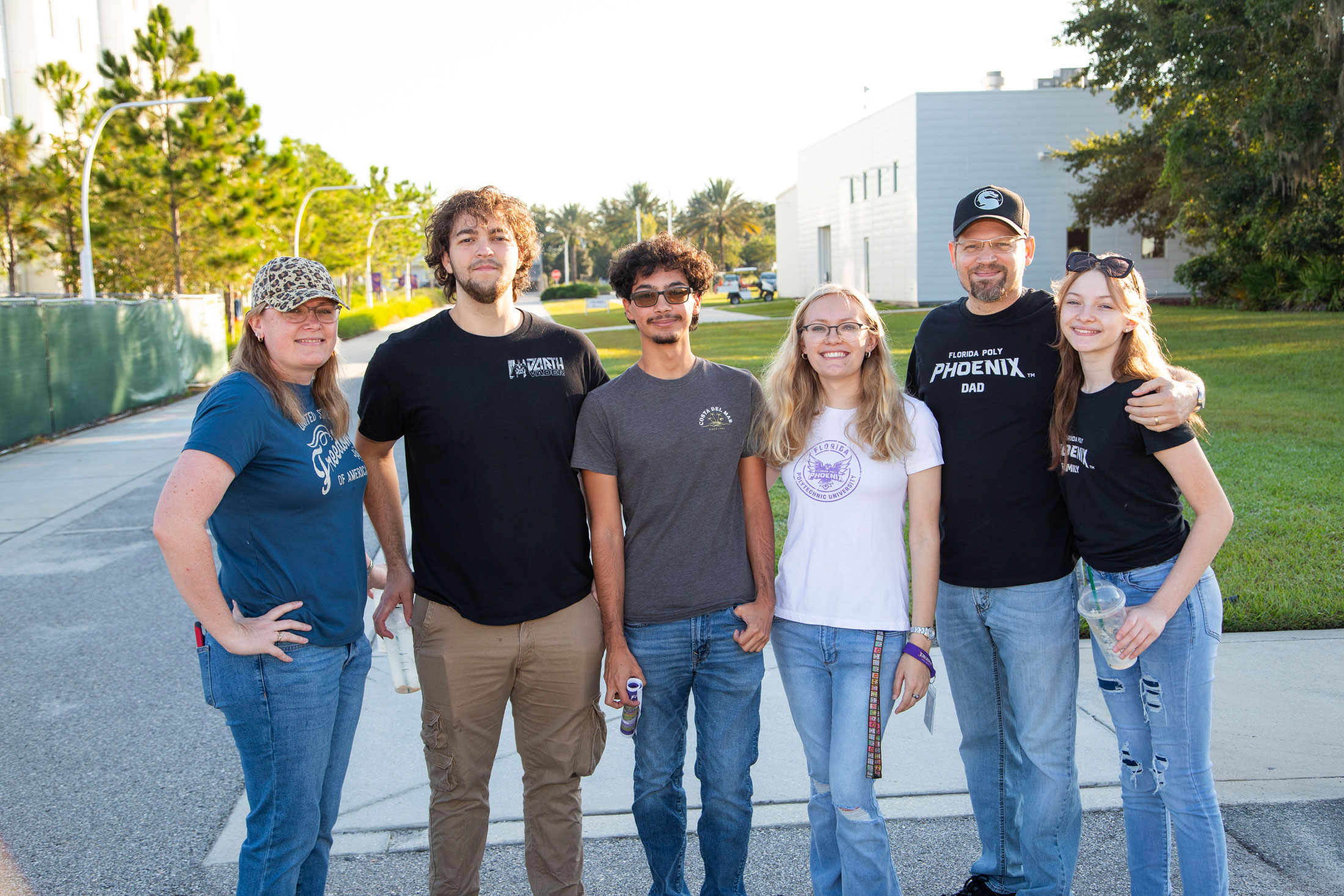 Campus tours, carnival games, and a state of the University address welcomed hundreds of students and their loved ones to the 2023 Phoenix Family Day at Florida Polytechnic University on Saturday, Sept. 23.
"I think this event is definitely a great thing," said Oscar Galdona, who traveled from Gibsonton, Florida, to see his son, Nico Galdona. "It integrates the parents and students, and it gives information from the president and faculty on how things are going – it was great learning the stats on how Florida Poly is doing."
The younger Galdona is a junior majoring in computer science and a member of the University's barbershop quartet, which performed at the event. He was excited to have his dad and brother at the event to show them around campus, watch him perform, and spend the day together.
"I love my family," Nico Galdona said. "I love spending time with them, and I don't get to see them as often now that I'm here at Florida Poly, but I love any chance I get to see them."
Highlights of the day included a family workout, family breakfast, the annual purple v. white men's lacrosse game, and a lively first birthday party for Solaris, the University's Phoenix mascot.
Students and their loved ones also had an opportunity to attend panel discussions about topics such as internships, student success, and senior capstone design projects.
During his annual state of the University address, Dr. Randy Avent, Florida Poly's president, outlined the academic and physical growth the University experienced in its first 10 years, as well as the growth on the horizon, including expanded graduate and undergraduate programs, new buildings, and more.
Avent encouraged students to use University and family resources to help them succeed, particularly when challenges may seem overwhelming.
"As you all know, this is a tough curriculum and the jump from high school to a university is a big jump, especially to one with a rigorous engineering program," he said. "Make sure you put in the effort you need in order to do well in school.
"Know when it's time to study and when it's time for fun. It's important to know the difference and it's important to do both of them."
Dr. Kathryn Miller, vice provost of student affairs at Florida Poly, told the gathered crowd that the University is on the right path and its opportunities are booming.
"Our campus is growing. Our students are excelling, and Florida Poly is becoming the University we all knew it would be," she said.
Contact:
Lydia Guzmán
Director of Communications
863-874-8557