Duke Energy receives Florida Poly's 1st Employer Engagement Award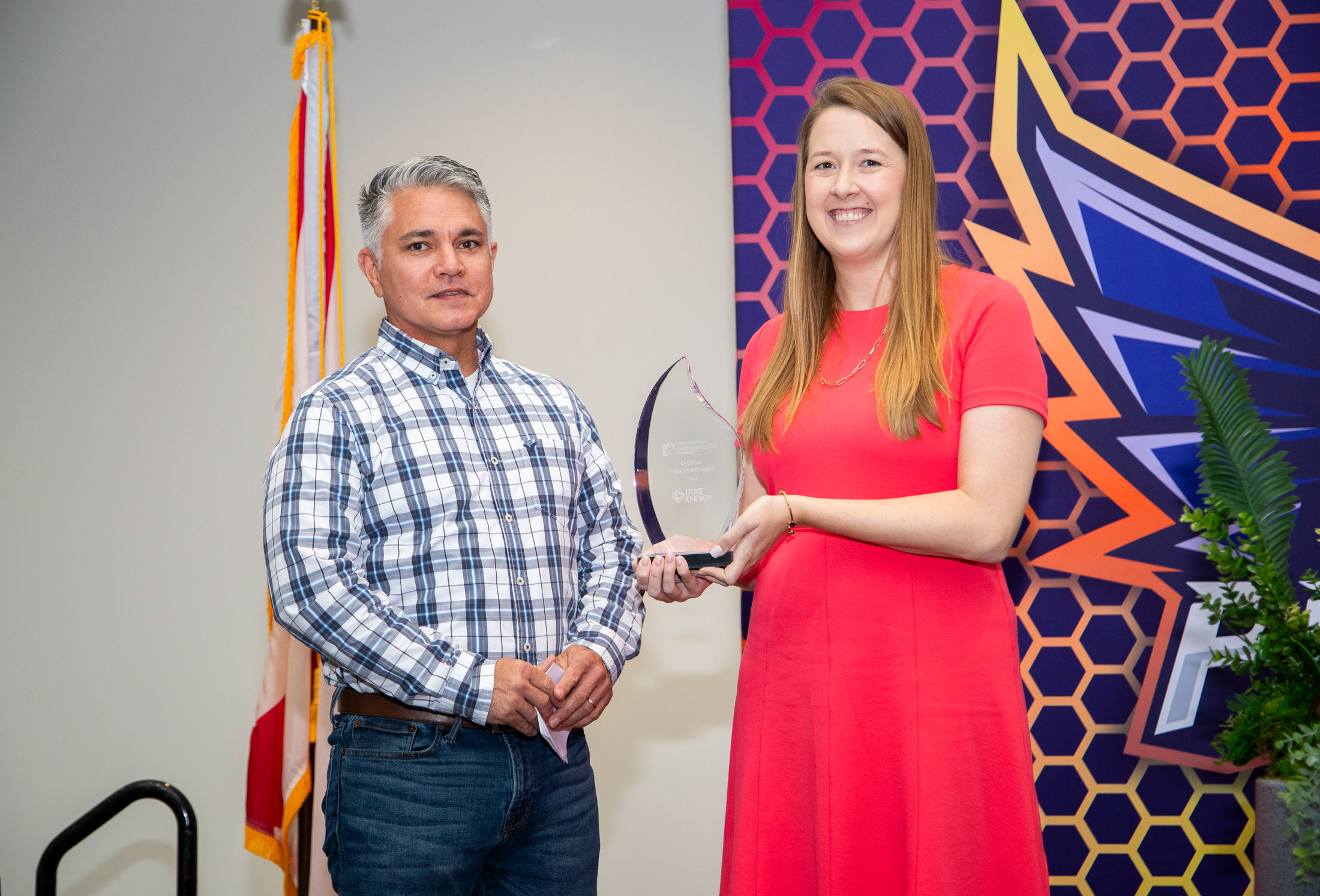 Duke Energy Corporation was recognized for its steadfast partnership with Florida Polytechnic University at the institution's annual state of the University address during Phoenix Family Day on Saturday, Sept. 23. The company received the inaugural Employer Engagement Award, which recognizes industry partners who support the rigorous all-STEM education Florida Poly students receive.
Allison Pirpich, Florida Poly's director of career services and professional development, said the annual award is presented to an exemplary employer that has showcased strong values in education, discovery, and application of engineering and applied sciences in STEM-related fields through their involvement with the Florida Poly community.
Duke Energy has consistently shown its support of the University by sponsoring internships and senior capstone projects. The company is an active Corporate Impact Network member and has made significant financial contributions to Florida Poly, supporting students and programs.
"Duke Energy has been strong partner and friend to Florida Poly since our inception, supporting the University's vision and helping to develop a highly skilled workforce in STEM industries," Pirpich said. "Their continued philanthropic support has been instrumental in providing greater access to comprehensive STEM education and professional development."
Michael Mathews, an engineering manager at Duke Energy whose son attends Florida Poly, accepted the award on behalf of the company. He said the corporation is contributing to the creation of graduates ready to work for Duke Energy and other top STEM employers.
"I was an engineering manager for seven years and would get tall stacks of resumes for a job and only a fraction had experience, so you know what happened to those," he said. "I would always call the ones with experience first, and that's something we are helping to provide."
Mathews said the company is pleased to be able to offer real-world work experience to the University's students.
"The interns we've had so far have had dynamic thinking that has led us in a different direction," he said. "It's always good to have new experience, new thought, new blood, and diversity of thought, and that's one thing Florida Poly has allowed us to do."
Pirpich said industry partners like Duke Energy are instrumental in fostering a top learning experience for students.
"This support has helped students complete their academic degrees and launched them into successful STEM careers post-graduation," Pirpich said. "We believe this support has helped Florida Poly students become more competitive in a global economy."
Contact:
Lydia Guzmán
Director of Communications
863-874-8557