Florida Poly advances campus growth with Gary C. Wendt Engineering Building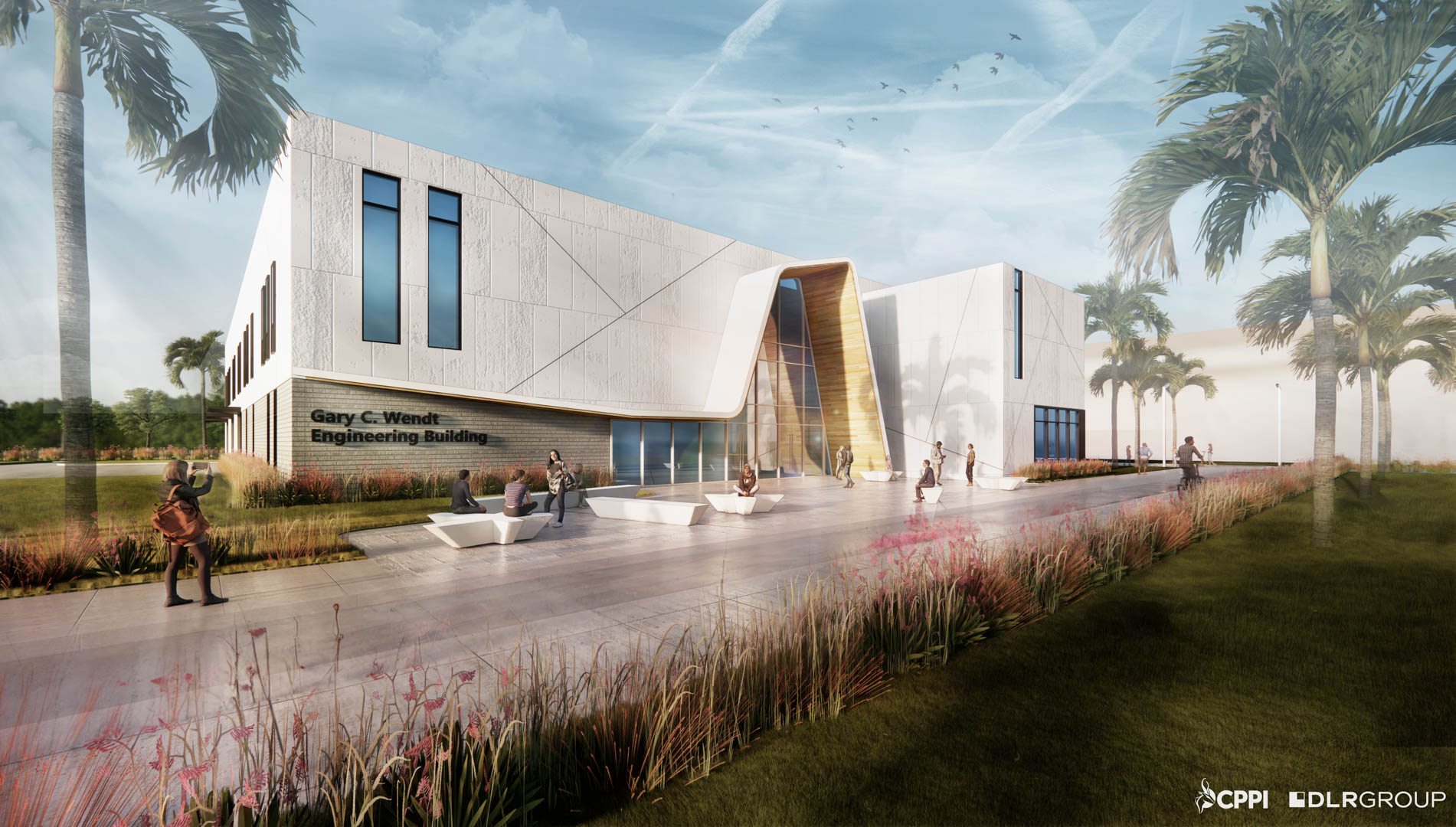 Florida Polytechnic University revealed on Monday the modern design and functionality of the new Gary C. Wendt Engineering Building, a 40,000-square-foot academic facility that will begin construction next spring.
The $15-million, two-story building will house research and development labs for a variety of engineering disciplines, staff and faculty offices, collaboration spaces, and a conference room. The facility will also feature an open courtyard on the exterior, which will connect to the Barnett Applied Research Center, providing additional recreation space.
"We're experiencing great campus growth due to our rising reputation as a premier STEM university, and the coming construction of this engineering building is a reflection of that success," said Dr. Randy K. Avent, Florida Poly's president. "The new Gary C. Wendt Engineering Building will play a pivotal role in fulfilling our academic mission, as we educate the top engineers Florida needs to keep growing industry throughout the state."
The Gary C. Wendt Engineering Building will be the third academic facility on campus, joining the iconic Innovation, Science, and Technology building, and the Barnett Applied Research Center, a 90,000-square-foot facility that opened its doors in 2022. A third student residence hall is being built to be ready by fall 2024, and Fortune 500 company IFF will open its new citrus innovation center next spring as Florida Poly's first high-tech industry partner on campus.
The building's name honors University Trustee Gary C. Wendt, who's been closely involved with Florida Poly since 2017, when he joined its Board of Trustees. Through his steady engagement and generous support, Wendt seeks innovative ways the University can provide academic excellence and strong student development. He contributed $2 million last year for the creation of new leadership programs and initiatives for students.
"It is extremely important that, as a University, we offer students opportunities to grow their leadership skills because those will open more doors for them in their careers and they'll be more successful," said Wendt, who has a civil engineering degree from the University of Wisconsin and currently lives in Ft. Lauderdale. "I believe Florida Poly is delivering an excellent academic experience, which combined with a solid leadership component, creates the perfect combination for student success."
Construction of the Gary C. Wendt Engineering Building is expected to be completed by the summer of 2025. Charles Perry Partners, Inc., a professional general contracting, design-build, and construction management firm, was the company selected for the project.
Contact:
Lydia Guzmán
Director of Communications
863-874-8557